In defense of the Iraq war
10 years later, the war remains unpopular. But that doesn't mean it was wrong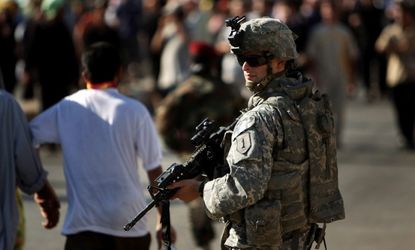 (Image credit: Spencer Platt/Getty Images)
More than 4,000 Americans have given their lives in Iraq. Many thousands more have been physically and psychologically wounded.
But the war in Iraq was just.
I know that these days, it's hard to find anyone who will defend the 2003 invasion. And yes, it's true: The U.S. effort in Iraq was characterized by a number of major failings.
Subscribe to The Week
Escape your echo chamber. Get the facts behind the news, plus analysis from multiple perspectives.
SUBSCRIBE & SAVE
Sign up for The Week's Free Newsletters
From our morning news briefing to a weekly Good News Newsletter, get the best of The Week delivered directly to your inbox.
From our morning news briefing to a weekly Good News Newsletter, get the best of The Week delivered directly to your inbox.
Post-invasion, U.S. military forces were, for many years, undermanned and unable to restrain a virulent insurgency.
A de-Baathification program characterized by zealotry rather than selective reconciliation was also a disaster. This approach crippled Iraq's service infrastructure and ensured the disconnection of many Iraqis, especially Sunnis, from the new Iraqi state.
The decision to fire hundreds of thousands of Iraqi security personnel was an act of irredeemable stupidity. This ensured that from the start, Iraq was awash with angry guns for hire.
And it's true that until late 2006, U.S. strategic doctrine was deliberately devoid of an institutionalized counter-insurgency strategy. Indeed, to this day, many in the military remain deeply uncomfortable with this form of warfare.
But in spite of all this, those who claim the invasion was an act of inherent and sustained evil are wrong.
The war's critics forget that Saddam Hussein murdered hundreds of thousands without hesitation. They ignore the fact that Saddam's "stability" was oiled by an industrial state of terror, enabled by the evisceration of entire communities, and founded in an entrenchment of power.
When it comes to the central jus ad bellum for the war — WMDs — we must remember that Iraq's purported WMD program wasn't just some lie fabricated in Washington.
Of course, we didn't find WMDs. But in the years leading up to the war, many of the world's major intelligence agencies believed he possessed those weapons. Indeed, even Saddam's senior generals thought he had WMDs. This was an intelligence failure, no doubt. However, as the post-invasion WMD report by former U.N. inspector Charles Duelfer recorded, Saddam had retained the capability and the intent to rapidly re-constitute his WMD program once U.N. sanctions had weakened. Saddam's strategy was not a delusional one. There is much evidence to suggest that this sanctions effort was crumbling.
In this sense, though Saddam didn't have his finger on the proverbial button, you can well imagine the potential threat had he retained power. This was a regime with a highly aggressive foreign policy, a flexible relationship with terrorists, and an embedded, personal hostility against the United States. And a regime that may well have been in possession of WMDs in the relatively near future.
Ending Saddam ended this potential threat.
But what about the years-long U.S. presence in Iraq? Was that justified? I believe it was.
As the insurgency progressed, many claimed that the coalition effort was doomed to failure. They were wrong. Instead, by a combination of physical and intellectual resilience, the U.S. military and its partners were able to save Iraq from an ethno-sectarian holocaust.
This was crucial. Had the United States withdrawn precipitously, Iraq would have self-destructed. Riven by sectarian fracture and dominated in part by fanatical extremists, Iraq would have become the world's terrorist HQ. Propaganda suggesting that the United States is a paper tiger would have been proven correct. In short, U.S. defeat in Iraq would have meant a humanitarian catastrophe, an international security nightmare, and a devastating blow for U.S. foreign policy.
America's durable presence provided for the development of a semi-functioning Iraqi democracy alongside the semi-marginalization of Iranian influence. These are imperfect but nonetheless major accomplishments.
Again, it's true that the Iraq war sometimes showed America at our incompetent worst. But by removing Saddam Hussein and building a fragile Iraqi democracy, one that has the opportunity to flourish with time, America has brought hope to a people once buried in despair.
America's Iraq experience has also done something else. In the service of strangers, America's perseverance in Iraq has rendered final repudiation to the dark myth of an evil American imperium. And in the thousands of Americans who have given their lives for the freedom of Iraq, the world has seen bright lanterns for the honorable courage of our country.

Continue reading for free
We hope you're enjoying The Week's refreshingly open-minded journalism.
Subscribed to The Week? Register your account with the same email as your subscription.