8 hilarious instances of plagiarism
Remember when Shia LeBeouf passed off an Esquire essay as his own poetic insight on how to be a man? Ah, that was funny.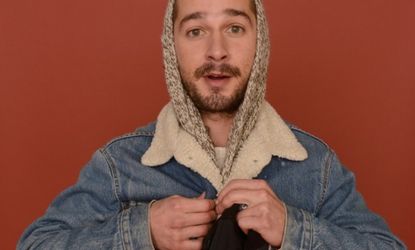 (Image credit: Larry Busacca/Getty Images)
Sign up to our 10 Things You Need to Know Today newsletter
A free daily digest of the biggest news stories of the day - and the best features from our website
Thank you for signing up to TheWeek. You will receive a verification email shortly.
There was a problem. Please refresh the page and try again.
Look, plagiarism is bad. Do not, no matter how tempting, copy another person's work and present it as your own. If the personal shame isn't enough, then take into consideration that in the digital age, when so much content is archived and readily available, you are almost bound to get caught. But plagiarism does happen despite these risks, so let's at least use it as a lesson of how not to conduct ourselves, as well as an excuse for a good chuckle at life's little ironies. Read on:
1. Shia LaBeouf shows everyone how not to be a man
Shia LaBeouf, the blockbuster-turned-art-house actor, was to make his Broadway debut this spring in the production of Orphans. Instead, just a month shy of previews, the 26-year-old bowed out, citing "creative differences," and took to Twitter to post a series of exchanges between him and his co-stars, Alec Baldwin and Tom Sturridge, as well as the play's director. One tweet included a photo of an email the actor sent in apology. In it he explains what he learned from his father about how to be a man: "A man can tell you he was wrong. That he did wrong. That he planned to. He can tell you when he is lost. He can apologize, even if sometimes it's just to put an end to the bickering." It's a nice sentiment, but unfortunately, it was plucked word for word from a 2009 Esquire essay called "How to Be a Man."
Subscribe to The Week
Escape your echo chamber. Get the facts behind the news, plus analysis from multiple perspectives.
SUBSCRIBE & SAVE
Sign up for The Week's Free Newsletters
From our morning news briefing to a weekly Good News Newsletter, get the best of The Week delivered directly to your inbox.
From our morning news briefing to a weekly Good News Newsletter, get the best of The Week delivered directly to your inbox.
2. Website mocking Guy Fieri somehow fails
It's easy to pick on Guy Fieri, the Food Network's over-the-top, spiky-haired host. Ever since The New York Times ripped apart his palatial Times Square restaurant last November, the Welcome-To-Flavortown chef has become a go-to target on Twitter. So when web developer Bryan Mytko bought the domain name GuysAmericanKitchenAndBar.com, it seemed like the jokes would write themselves. The site featured a menu of overloaded food items and descriptions that played up Guy's extreme in-your-face persona: "Honky-Tonky Double Barrel Meat Loaded Blast ($14.50): A Sammy Hagar lookalike pushes your face into a leather bag filled with oil and if you eat the whole thing, you get a 13-pound burger." It's hilarious, but sadly, not original. Mytko allegedly took his inspiration from a series of Twitter jokes that erupted after the Times review. Case in point:
Mytko was allegedly confronted over email, and soon took to Twitter to give credit where credit was due.
3. An education minister (allegedly) cheats her way to the top
At first there were the rumors that Germany's Education Minister Annette Schavan plagiarized parts of her dissertation. Then allegations shifted to her work not meeting academic standards. Soon these viral doubts began to harden, leading Schavan's alma mater to conduct an internal analysis of her 1980 doctoral thesis. A committee voted 12 to 2 to declare her work "invalid and to revoke her doctor title." Considering her prominent role in the field she allegedly disgraced, it's likely the education minister will be forced to step down. Meanwhile, Schavan will reportedly challenge the revocation of her dissertation in court. A lawyer for Schavan claimed, "There was no cheating involved."
4. A student-athlete robs his intellectual peers
It's no secret that most student-athletes at top-tier NCAA schools use the former part of that title loosely, at best. While coaches, professors, and fans are willing to accept this reality for the sake of the game, some students really take that scholastic flexibility to extremes. Case in point: University of North Carolina wide receiver Erik Highsmith, who was caught committing plagiarism on a blog post he had to write as part of a communications class fulfillment. Worse yet, his post on the subject of chickens was pilfered from an education website written by 11-year-olds.
5. A young writer steals from the best
Chick Lit is a cliché-filled genre filled with beach-friendly books that are silly, entertaining, and meant to fade from your memory just as fast as that tan. So it may seem surprising that someone would go so far as to copy their uninspired contents. But in 2006, one-time rising novelist Kaavya Viswanathan admitted she "unintentionally copied passages" from author Megan McCafferty's books about a smart New Jersey teen and her misadventures in high school and at Columbia University. A dedicated Harvard Crimson reporter was the one to spot the undeniable similiarities between McCafferty's series and Viswanathan's book How Opal Got Kissed, Got Wild, and Got a Life — about an ambitious New Jersey teen who aspires to get into Harvard. One college student wrapped the dumbfounding situation up nicely: "I have read the McCafferty books and they are in that vein of unavoidable, awesomely bad, Y.A. chick lit that one usually ends up burning through on an idle Sunday evening or ten. They are good. But they are not worth plagiarizing." Amen.
6. A romance writer taps the ever-sexy black-footed ferrets
Speaking of dubious literary genres, romance novels have also been plagued by plagiarism. In 2005, nature writer Paul Tolme went to South Dakota to write an article about black-footed ferrets. And it was this definitively un-sexy story that found its way into a book by best-selling romance writer Cassie Edwards. Edwards' particular niche is historical romances starring broad-chested, washboard-stomached Native Americans and lustful pioneer women. In the book Shadow Bear, after the title character and his full-bodied frontierswoman consummate their forbidden love, they get into an inexplicable discussion about, you guessed it, black-footed ferrets. The bizarrely informed chat about the size, weight, and mating habits of the creatures stands out as "clunky and awkward even by the standards of romance novels," writes the victim in The Daily Beast, "because Edwards didn't write it. I did." Luckily, Tolme had a sense of humor about it all. "I had to laugh," he says. "To see my textbook descriptions of ferrets in a bodice-ripper, as dialogue between a hunky American Indian and a lustful pioneer woman who several pages later have sex on a mossy riverbank, is the height of absurdity."
7. The anti-plagiarism plagiarist
In 2007, Southern Illinois University was so beset by high-profile plagiarism scandals that officials decided to do something about it. They released a 17-page report on the issue that included a "lengthy" definition on what the term covers. The problem? Their 139-word definition was nearly identical to the one released by Indiana University just two years earlier.
8. Little-known newspaper intern plagiarizes from the little-known New York Times
Hailey Mac Arthur was a second-year student at the University of Florida College of Journalism when she interned for the Colorado Springs Gazette. Despite being a lowly intern, the budding reporter filled her fair share of copy for the small town journal. Unfortunately, much of that reportage wasn't her own. As the editor of the Gazette revealed in an editorial, Arthur substantially borrowed from, if not copied outright, none other than The New York Times. She may have been caught, disgraced, and dismissed from her position, but, you know, at least she set her writing aspirations high.
Sources: ADLAND.TV, The Daily Beast, Gawker, Gothamist, Jezebel, Infinite Unknown, TechDirt, Yahoo
Continue reading for free
We hope you're enjoying The Week's refreshingly open-minded journalism.
Subscribed to The Week? Register your account with the same email as your subscription.
Sign up to our 10 Things You Need to Know Today newsletter
A free daily digest of the biggest news stories of the day - and the best features from our website
Lauren Hansen produces The Week's podcasts and videos and edits the photo blog, Captured. She also manages the production of the magazine's iPad app. A graduate of Kenyon College and Northwestern University, she previously worked at the BBC and Frontline. She knows a thing or two about pretty pictures and cute puppies, both of which she tweets about @mylaurenhansen.