10 things you need to know today: January 27, 2013
A Brazilian nightclub fire kills more than 200, hundreds march for gun control, and more in our roundup of the stories that are making news and driving opinion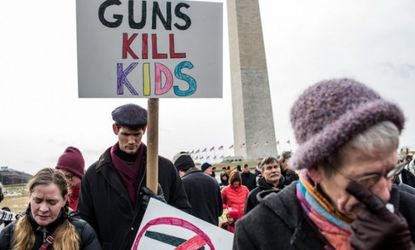 (Image credit: Brendan Hoffman/Getty Images)
1. FIRE IN BRAZILIAN NIGHTCLUB LEAVES MORE THAN 200 DEAD
A fire in the southern Brazilian city of Santa Maria left at least 245 people dead early Sunday when a band's pyrotechnic show set the building ablaze. Many of the fleeing patrons weren't able to locate the emergency exits. An estimated 500 people were in the Boate Kiss nightclub when the fire broke out. Television footage showed people sobbing outside the club, while shirtless firefighters used sledge hammers and axes to knock down an exterior wall to open up an exit. The Boate Kiss nightclub is a popular venue in Santa Maria, a university town of more than 275,000 people. [Reuters]
………………………………………………………………………………
Subscribe to The Week
Escape your echo chamber. Get the facts behind the news, plus analysis from multiple perspectives.
SUBSCRIBE & SAVE
Sign up for The Week's Free Newsletters
From our morning news briefing to a weekly Good News Newsletter, get the best of The Week delivered directly to your inbox.
From our morning news briefing to a weekly Good News Newsletter, get the best of The Week delivered directly to your inbox.
2. HUNDREDS MARCH IN WASHINGTON FOR GUN CONTROL
About 1,000 people, including a group of residents from Newtown, Conn., gathered on the National Mall on Saturday to call for stricter gun-control measures. "We're living in the middle of a crisis," said Dave Ackert, a father of two from Newtown, where 20 children were killed in a shooting massacre on Dec. 14. "Many, many people want to take action. Newtown wants to be remembered as a tipping point for positive change to reduce gun violence." Advocates said they hope that the March on Washington for Gun Control will be the first of several such events to push for tougher laws. The issue has already prompted a White House summit on gun policy, and a wide-ranging package of measures from President Obama, including a proposed ban on assault weapons. [Washington Post]
………………………………………………………………………………
3. DOZENS OF ARIZONA HIKERS RESCUED AFTER FLOODS
Forty to 50 hikers who were stranded in Arizona's Bear Canyon after heavy rains flooded trails were rescued Saturday. A series of 911 calls from hikers, after waters began rushing down mountainsides, sparked a rescue operation involving teams on the ground and in a helicopter. With some hikers, rescuers used a technique that involved roping them together with flotation devices to help get them through high water. [Associated Press]
………………………………………………………………………………
4. FRENCH AND MALIAN FORCES APPROACH TIMBUKTU
As they continue to fight off al-Qaeda-linked Islamists in Mali, French and Malian troops held a strategic bridge and an airport in the northern town of Gao as they pressed forward to Timbuktu. The French military announced late on Saturday it had liberated Gao, though other officials said the fight to control the area was still in progress. Lieutenant Colonel Diarran Kone, a spokesman for Mali's defense minister, said on Sunday the forces were patrolling the town and had maintained their hold over the bridge and airport overnight. The advance is the biggest triumph for French and Malian troops since they began the operation about two weeks ago. [Guardian]
………………………………………………………………………………
5. IOWA SEN. TOM HARKIN TO RETIRE
Sen. Tom Harkin (D-Iowa) announced Saturday that he will not seek a sixth term in 2014, in what Politico calls "the latest early break for Republicans in their long-shot bid to seize control of the Senate." The news comes on the heels of Sen. Jay Rockefeller's (D-W.V.) announcement earlier this month that he will also retire. Another possible Democratic retirement in a red state is possible in South Dakota, where Sen. Tim Johnson is expected to decide soon whether to pursue a third term. A new poll shows Republican Scott Brown, who's mulling whether to run for Senate this year or governor in 2014, up by double digits in a potential race for the seat of Democrat John Kerry, who is expected to be confirmed as Secretary of State next week. [Politico]
………………………………………………………………………………
6. EGYPTIAN RIOTS KILLS 31
Egyptian forces regained control of the northeastern city of Port Said on Sunday, after riots erupted following the handing down of death sentences to 21 people for their role in last year's soccer riots at Port Said stadium. The current riots in Port Said followed other violence stemming from unrest over Egypt's leadership. By Sunday morning, the death toll in Port Said had climbed to 31, according to Dr. Ahmed Omar, a health ministry spokesman, who spoke to state-run EGYNews. At least 322 people were injured, with 61 still hospitalized. Security forces closed roads in and out of Port Said, which sits along the Mediterranean Sea at the northern entrance of the Suez Canal. [CNN]
………………………………………………………………………………
7. DJOKOVIC WINS THIRD CONSECUTIVE AUSTRALIAN OPEN
Serbian Novak Djokovic beat Britain's Andy Murray to win his third consecutive Australian Open on Sunday. He won 6-7 (2-7), 7-6 (7-3), 6-3, 6-2. Djokovic is the first man to win three consecutive titles in Melbourne in the modern era. Only two other men, American Jack Crawford (1931-33) and Australian Roy Emerson (1963-67), have won three or more consecutive Australian championships. [USA Today]
………………………………………………………………………………
8. CASEY ANTHONY FILES FOR BANKRUPTCY
Casey Anthony, who was acquitted in 2011 of murder charges in the death of her 2-year-old daughter Caylee Anthony, has filed for bankruptcy, citing almost $800,000 in liabilities. In court documents, Anthony says she owes about 80 creditors, and has no income. Anthony is defending herself against several civil lawsuits, including a defamation suit from Zenaida Fernandez-Gonzalez, who claims Anthony ruined her reputation by saying that the last time she saw Caylee was when she dropped her daughter off at Gonzalez' home. [CNN]
………………………………………………………………………………
9. FRUITVALE WINS GRAND JURY PRIZE AT SUNDANCE
Fruitvale, a drama based on the real-life story of a young man shot to death at an Oakland BART station, took the Grand Jury Prize at the Sundance Film Festival on Saturday. The movie also won the Audience Award for U.S. dramatic film. Fruitvale is the first feature-length film from USC School of Cinematic Arts graduate Ryan Coogler, 26. Actor Forest Whitaker served as a producer on the movie, which stars Michael B. Jordan. [Los Angeles Times]
………………………………………………………………………………
10. BURT REYNOLDS IN INTENSIVE CARE AFTER FLU
Actor Burt Reynolds is in intensive care at a Florida hospital, where he went for treatment of flu symptoms. Reynolds, 76, was dehydrated when he arrived at the hospital and was transferred to intensive care. "He is doing better at this time," Reynolds' representative Erik Kritzer said. "We expect, as soon as he gets more fluids, he will be back in a regular room." Reynolds has appeared in numerous films including Cannonball Run, Deliverance, and Smokey and the Bandit. [CNN]

Continue reading for free
We hope you're enjoying The Week's refreshingly open-minded journalism.
Subscribed to The Week? Register your account with the same email as your subscription.