10 things you need to know today: January 25, 2013
The Senate modifies the filibuster, Samsung warns of slowing smartphone growth, and more in our roundup of the stories that are making news and driving opinion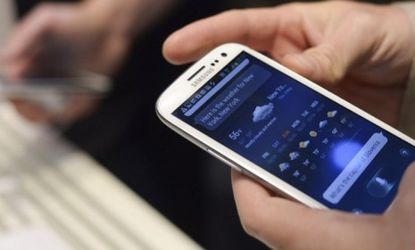 (Image credit: REUTERS/Ki Price)
1. SENATE MODIFIES THE FILIBUSTER
The Senate approved a deal Thursday to streamline but preserve the long-standing 60-vote threshold for ending a filibuster. The chamber's Democratic majority had been threatening to change the rule, which gives the minority more power to block legislation than other legislative bodies around the world allow. Republicans had called the move a "nuclear option" and warned that it would have soured looming talks on the budget and reducing the national debt. In the end, Senate Majority Leader Harry M. Reid (D-Nev.) and Minority Leader Mitch McConnell (R-Ky.) essentially accepted a compromise recommended by a bipartisan team of senior senators. [Washington Post]
………………………………………………………………………………
Subscribe to The Week
Escape your echo chamber. Get the facts behind the news, plus analysis from multiple perspectives.
SUBSCRIBE & SAVE
Sign up for The Week's Free Newsletters
From our morning news briefing to a weekly Good News Newsletter, get the best of The Week delivered directly to your inbox.
From our morning news briefing to a weekly Good News Newsletter, get the best of The Week delivered directly to your inbox.
2. FEINSTEIN UNVEILS BILL TO BAN ASSAULT WEAPONS
Sen. Dianne Feinstein (D-Calif.) on Thursday announced legislation that would ban 157 types of semiautomatic weapons. The bill would also outlaw magazines holding more than 10 rounds of ammunition. Feinstein said she knew passing the bill would be an "uphill road" despite a rise in support for tighter gun laws following the Sandy Hook Elementary School massacre in December. Senate Majority Leader Harry Reid has said he's skeptical of the bill's chances, and National Rifle Association officials said Feinstein was focusing on "curtailing the Constitution instead of prosecuting criminals or fixing our broken mental health system." [New York Times]
………………………………………………………………………………
3. BITTER COLD HITS THE NORTHEAST
The National Weather Service is warning of "bitterly cold conditions" on Friday and into the weekend across much of the Midwest, Mid-Atlantic, and Northeast. With temperatures plummeting, emergency management officials in some states, including New York, New Jersey, and Pennsylvania, are opening warming centers. Flights at some airports in the South are being canceled in anticipation of trouble, and road crews in North Carolina began salting major roads on Thursday to prevent a repeat of the Jan. 19, 2005, storm that stranded thousands. [CNN]
………………………………………………………………………………
4. THE U.K. INCHES TOWARD A TRIPLE-DIP RECESSION
Britain's economy shrank more than expected in the final quarter of 2012, nudging the country close to an unprecedented triple-dip recession, the U.K.'s Office of National Statistics reported Friday. British gross domestic product fell by 0.3 percent in the quarter, after growing by 0.9 percent in the three months before. There were several contributing factors in the slowdown, including the evaporation of the boost from the London Olympics and a decline in oil and gas output. [Bloomberg]
………………………………………………………………………………
5. INVESTIGATION COULD EXTEND BOEING DREAMLINER GROUNDING
Deborah Hersman, chairman of the National Transportation Safety Board, said Thursday that the investigation into the Jan. 7 battery fire on a Boeing 787 Dreamliner in Boston is far from complete, signaling a possibly prolonged grounding for the new jumbo jets. The damaged battery shows evidence of short-circuiting and a chemical reaction called "thermal runaway." It's not clear which happened first, and why, but the incident is unprecedented and raises a "very serious air safety concern," Hersman said. Some analysts said that suggests the Dreamliner's run of glitches is now bigger than the common teething problems faced by new planes. [Reuters]
………………………………………………………………………………
6. NORTH KOREA TURNS ITS THREATS TOWARD SEOUL
A day after threatening to test a nuclear bomb and aim test missiles at the U.S., North Korea on Friday warned that it might launch "strong physical counter-measures" against South Korea if it takes part in tougher sanctions imposed by the United Nations this week. The Security Council move was meant to punish Pyongyang for defying international agreements and launching a long-range missile carrying a satellite in December. Such threats are nothing new, but now even longtime ally China is threatening to cut back on its aid if North Korea's isolated communist regime goes through with new nuclear tests. [CNN]
………………………………………………………………………………
7. KERRY BREEZES THROUGH CONFIRMATION HEARING
Sen. John Kerry, President Obama's nominee to be the next secretary of state, sailed through a confirmation hearing before the Senate Foreign Relations Committee as expected on Thursday. Kerry, who remains the committee's top Democrat until he is confirmed as Hillary Clinton's successor, received bipartisan praise from his longtime colleagues. Sen. John McCain (R-Ariz.) praised Kerry for his "fairness to all sides" as the committee's chairman, and backed his nomination "without reservation." The committee and then the full Senate are expected to confirm Kerry early next week. [Boston Globe]
………………………………………………………………………………
8. SAMSUNG WARNS OF SLOWING SMARTPHONE GROWTH
Samsung Electronics stock dipped by 2 percent early Friday after the company announced record quarterly profit but warned that the "furious growth spurt" in the global smartphone market was slowing down. Analysts estimate that Samsung, the largest seller of cell phones and smartphones, sold 63 million smartphones in the quarter, including 15 million Galaxy S IIIs. Apple sold 47.8 million iPhones. But both companies are bracing for stiffer price competition in 2013, and competition from a slew of new gadgets. [Telegraph, Reuters]
………………………………………………………………………………
9. AMERICAN GETS 35 YEARS FOR ROLE IN MUMBAI ATTACKS
A Chicago judge sentenced an American, David Coleman Headley, to 35 years in prison for helping to plan the 2008 Mumbai terrorist attacks. Headley, 52, has confessed to scouting targets for the 10 gunmen, who killed 163 people, including six Americans. Victims and Indian government officials had demanded that Headley get a life sentence, but prosecutors pushed for the lighter sentence because Headley had provided intelligence on Lashkar-e-Taiba, the Pakistan-based group that staged the attack. [Associated Press]
………………………………………………………………………………
10. J.J. ABRAMS GETS NOD FOR NEXT STAR WARS FILM
J.J. Abrams, who rebooted the Star Trek franchise in 2009, has reportedly been hired to direct the next Star Wars film, Episode VII, which is scheduled to be released in 2015. Rumors about who would be tapped to make the next film have been circulating since October, when Walt Disney Co. announced that it was buying Star Wars maker Lucasfilm for $4 billion and planning a Star Wars trilogy. Abrams, whose Star Trek Into Darkness is set for release on May 17, was one of the directors mentioned, but he had said he believed he'd be seeing the next Star Wars "as a paying moviegoer!" [Wired]

Continue reading for free
We hope you're enjoying The Week's refreshingly open-minded journalism.
Subscribed to The Week? Register your account with the same email as your subscription.