10 curious facts from second presidential inaugurations
Who gave the shortest address in history? Who suffered the coldest weather? Read on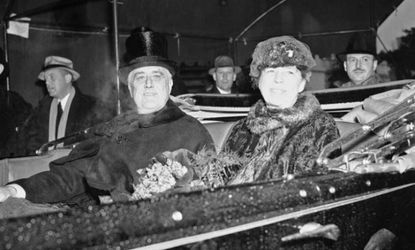 (Image credit: AP Photo)
It's unlikely that President Obama's second inauguration will top his historic first, which drew an estimated 1.8 million people to the nation's capital. But his second inaugural event will still have its fair share of pageantry, including two official balls, down from six in 2009, the fewest since Dwight Eisenhower was first sworn into office in 1953. But what second inaugurations may lack in pomp and circumstance, they can often make up for in curious occurrences that become part of our nation's history. Here are 10 such facts spun from encore inaugurations.
1. George Washington's second address, on March 4, 1793, is the shortest in history (just four lines long and 135 words). But what he lacked in verbiage he more than made up for in dress. The general really upped the fashion ante from a simple brown broadcloth suit for his first inauguration to a full black velvet suit complete with diamond buckles that sparkled at the knee.
2. During his second inauguration, on March 4, 1805, Thomas Jefferson was escorted by mechanics from the Navy yard who marched to military music. This small-scale event constituted the first inaugural parade, a tradition still upheld today — on a much grander scale, of course.
Subscribe to The Week
Escape your echo chamber. Get the facts behind the news, plus analysis from multiple perspectives.
SUBSCRIBE & SAVE
Sign up for The Week's Free Newsletters
From our morning news briefing to a weekly Good News Newsletter, get the best of The Week delivered directly to your inbox.
From our morning news briefing to a weekly Good News Newsletter, get the best of The Week delivered directly to your inbox.
3. As Abraham Lincoln crossed the Capitol Rotunda on March 4, 1865, a young man broke through police ranks, but was apprehended before reaching the president. The man, who was questioned and released, was Lincoln's eventual assassin, John Wilkes Booth. Presidents at this time were in the habit of opening the White House to well wishers as part of the inauguration festivities. During Lincoln's second "open house," he willingly shook some 6,000 hands, despite security concerns.
4. Woodrow Wilson's second inauguration, on March 5, 1917, marked the first time women were allowed to participate in the parade, and they used the opportunity to their advantage, protesting for the right to vote. By the next presidential election, women had won that right.
5. Franklin D. Roosevelt's second inauguration, in 1937, was the first held on Jan. 20, rather than March 4, thanks to the ratification of the 20th Amendment. The weather was miserable that day and the bible had to be wrapped in cellophane to protect it from the freezing, heavy rain. Despite the elements, FDR and Mrs. Roosevelt rode back to the White House in an open limousine to wave at on-lookers. The president reportedly commented, "If they can take it, I can."
6. Thanks to the passage the previous year of the Presidential Inaugural Ceremonies Act, Dwight Eisenhower's second inauguration, on Jan. 21, 1957, was one of the grandest of the 20th century. The public portion of Ike's parade included a guided missile and elephants. The First Couple was celebrated at multiple daytime receptions sponsored by committees for governors and distinguished ladies, among others. The events were rounded out by four inaugural balls.
7. Though temperatures hovered around 42 degrees on Jan. 20, 1973, Richard Nixon remained in a jubilant mood and refused to wear a winter coat to the outdoor ceremony. However, as a chilling wind dipped the temperature down further, Nixon was forced to borrow one from a secret service agent. The coat is now part of the Smithsonian collection.
8. Ronald Reagan's second inauguration, on Jan. 21, 1985, is the coldest on record, just 7 degrees, which easily beat the record held by Ulysses S. Grant, on the occasion of his second inauguration, on March 4, 1873, when the temperature dipped to 16 degrees. The weather forced the swearing-in to be conducted inside the Capital Rotunda instead of at its steps. During his speech, Reagan showed his sense of humor and improv skills with a slight gaffe: "We stand again at the steps of this symbol of our democracy," he said before realizing they were in fact indoors. He added, "or we would've been standing at the steps if it hadn't gotten so cold. Now we're standing inside this symbol of our democracy."
9. Second inaugurations aren't always so paltry in the party department, certainly not if you're Bill Clinton. After his official public ceremonies on Jan. 20, 1997, the 42nd president made sure to stop by each of the record 14 inaugural balls. His day didn't end until 4 a.m.
10. When President Obama takes his second oath of office, he will throw a twist into tradition, placing his hand on not one but two bibles (as only three presidents have done before him) — one owned by Martin Luther King Jr., and one by Abraham Lincoln. The inclusion of King's bible is in honor of the eponymous federal holiday, which will coincide with the public inauguration events this year. The venerable civil rights leader delivered his "I Have a Dream" speech 50 years ago at the Lincoln Memorial, which Obama will face as he takes the sacred oath.
Sources: The Augusta Chronicle, The Clinton White House, CBS News, George Mason University, Hauenstein Center, Joint Congressional Committee on Inaugural Ceremonies

Continue reading for free
We hope you're enjoying The Week's refreshingly open-minded journalism.
Subscribed to The Week? Register your account with the same email as your subscription.