10 things you need to know today: January 9, 2013
The U.S. mulls pulling all troops from Afghanistan, Cuomo pushes for gun control, and more in our roundup of the stories that are making news and driving opinion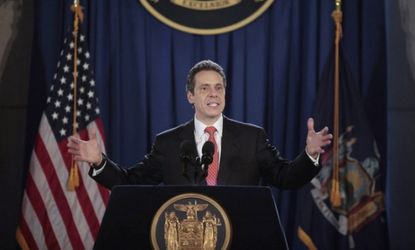 (Image credit: Getty Images)
1. U.S. MIGHT WITHDRAW ALL TROOPS FROM AFGHANISTAN
As President Obama prepares to meet in Washington with Afghan President Hamid Karzai on Friday, White House officials say the administration is considering withdrawing nearly all U.S. troops from Afghanistan after 2014. Military commanders have recommended keeping as many as 15,000 American soldiers in the country, and the U.S. and NATO allies were discussing maintaining a force of 10,000 to 30,000 as recently as a year ago. Now, with the public pressing for closure following a long and increasingly unpopular war, some administration officials are calling for keeping as few as 2,500 troops there, even though that would make it harder to keep the promise of fully training and equipping the Afghan forces taking over security duties after the withdrawal. Some are pushing for the so-called zero option, pulling everyone out as the U.S. did in Iraq in 2011. "That would be an option that we would consider," U.S. deputy national security adviser Ben Rhodes said. [Washington Post, Reuters]
………………………………………………………………………………
Subscribe to The Week
Escape your echo chamber. Get the facts behind the news, plus analysis from multiple perspectives.
SUBSCRIBE & SAVE
Sign up for The Week's Free Newsletters
From our morning news briefing to a weekly Good News Newsletter, get the best of The Week delivered directly to your inbox.
From our morning news briefing to a weekly Good News Newsletter, get the best of The Week delivered directly to your inbox.
2. CUOMO PUSHES GUN CONTROL FOLLOWING SANDY HOOK MASSACRE
New York Gov. Andrew Cuomo is proposing to make his state the first in the nation to impose major new gun-control laws in the wake of the Sandy Hook Elementary School massacre in Newtown, Conn. On Wednesday, Cuomo plans to unveil a ban on semi-automatic assault weapons, like the Bushmaster rifle police say Adam Lanza used to kill 26 people at the Newtown school. "What the nation is saying now after Connecticut, what people in New York are saying is 'Do something, please,'" Cuomo said recently. Gun rights advocates say Cuomo is grandstanding, as only five of New York's 769 homicides in 2011 were committed with rifles. [New York Times]
………………………………………………………………………………
3. JUDGE SAYS MANNING SUBJECTED TO HARSH TREATMENT
A military judge says that if accused WikiLeaks leaker Bradley Manning is convicted, his sentence will be reduced by 112 days to make up for harsh treatment he has received in military custody. The judge, Army Col. Denise Lind, said Manning's strict confinement in a Quantico, Va., Marine Corps brig, which included being kept alone and sometimes unclothed in a windowless cell for up to 23 hours a day, was "more rigorous than necessary." The ruling will only help Manning if he has at least a little luck in his trial. The 25-year-old Army private is facing 22 charges. One of them is aiding the enemy, which carries a maximum sentence of life in prison, so the reduction in the prison time he faces only applies if he's cleared of that charge or receives a reduced sentence. [Reuters]
………………………………………………………………………………
4. AURORA SHOOTING SUSPECT'S LAWYERS TO ARGUE HE'S UNFIT FOR TRIAL
Prosecutors this week made their case that James Holmes, who's accused of a July massacre in an Aurora, Colo., movie theater, should face trial. On Wednesday, defense lawyers will begin presenting their argument that the former neuroscience doctoral student isn't mentally fit for trial. In what observers said could be a preview of the defense's strategy, defense attorney Tamara Brady asked federal firearms supervisor Steven Beggs, who explained for the prosecution how Holmes had legally purchased more than 6,000 rounds of ammunition, whether there was a process in Colorado "to screen out purchases by a severely mentally ill person." Beggs replied, "No." [AFP]
………………………………………………………………………………
5. 2012 OFFICIALLY HOTTEST YEAR ON RECORD
Americans have just sweated out the hottest year on record in the contiguous U.S., according to the National Oceanic and Atmospheric Administration. The average temperature for 2012 was 55.3 degrees, a full degree above the previous high mark, set in 1998. The new record is 3.2 degrees above the yearly average over the 20th century. For the first time since the government started recording temperatures in 1895, temperatures were higher than normal for a 16-month stretch, from June 2011 to September 2012. The trend, says Thomas R. Karl of NOAA's National Climatic Data Center, is "clearly symptomatic of a changing climate." [Washington Post]
………………………………………………………………………………
6. INDIA SAYS PAKISTANIS BEHEADED A KASHMIRI SOLDIER
India is accusing troops from Pakistan of killing two Indian soldiers in a cross-border attack in the disputed territory of Kashmir. India's foreign ministry released a statement saying that one of its soldiers was beheaded in the "barbaric and inhuman" attack, which it said was "in contravention of all norms of international conduct." Pakistani officials denied the accusations, and said their troops hadn't breached or fired across the Line of Control that splits Kashmir in two. [BBC]
………………………………………………………………………………
7. AMERICANS GO DEEPER IN DEBT
Consumers in the U.S. racked up bigger loans in November to pay for cars and school, pushing their borrowing up by $16 billion from October to a seasonally adjusted record of $2.77 trillion, according to the Federal Reserve. The category of debt that includes automobiles and student loans has jumped by 22.8 percent since July 2008, in part because many newly unemployed people are returning to school to train for new careers. The change doesn't mean people are spending a lot more in stores. Only about $817 million of the extra debt went onto credit cards. [Associated Press]
………………………………………………………………………………
8. SYRIAN REBELS RELEASING 48 IRANIANS
Syrian rebels and the government of President Bashar al-Assad are exchanging prisoners on Wednesday, according to a Turkish charity that has helped in similar swaps before. The government is reportedly handing over 2,130 civilians, including 73 women, in exchange for the release of 48 Iranians. Rebels say the Iranians were sent by their government's Revolutionary Guard to help Syrian forces counter the opposition. Tehran says the prisoners were Shiite pilgrims visiting a Muslim holy site in Damascus. [CNN]
………………………………………………………………………………
9. APPLE CONSIDERS OFFERING CHEAPER IPHONE
Apple, its smartphone dominance slipping, is developing a cheaper iPhone in hopes of winning over new customers, The Wall Street Journal reports, citing people briefed on the project. The lower-end version of Apple's flagship mobile device would have similar capabilities to the standard version, but a less expensive shell, possibly made of polycarbonate rather than aluminum and glass. The budget iPhone could be available later this year, according to one of the Journal's sources. [Wall Street Journal]
………………………………………………………………………………
10. ARMSTRONG TO DISCUSS CHEATING ALLEGATIONS WITH OPRAH
Former cycling champion Lance Armstrong has agreed to a "no holds barred" interview with Oprah Winfrey, fueling rumors that he plans to publicly admit to doping. Armstrong was stripped of his seven Tour de France titles in October following a damning report by the U.S. Anti-Doping Agency, but has maintained his innocence despite a lifetime ban from the sport. Winfrey's OWN network says her 90-minute talk with Armstrong will address "years of accusations of cheating." [BBC]

Continue reading for free
We hope you're enjoying The Week's refreshingly open-minded journalism.
Subscribed to The Week? Register your account with the same email as your subscription.