10 things you need to know today: January 7, 2013
The U.S. dismisses Assad's peace pitch, Obama braces for Hagel confirmation fight, and more in our roundup of the stories that are making news and driving opinion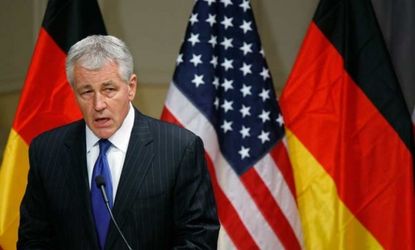 (Image credit: Alex Wong/Getty Images)
1. U.S. SAYS ASSAD 'DETACHED FROM REALITY'
State Department officials dismissed Syrian President Bashar al-Assad's call for a national reconciliation conference, which he made Sunday in his first public speech since June, saying that Assad's speech showed that the embattled leader is "detached from reality" and desperately seeking ways to "cling to power." In the address, Assad denounced his opponents as "puppets of the West," and demanded that foreign governments stop funding rebels. Assad made no mention of stepping down, however. He spoke of his "enemies" but denied he was facing any legitimate popular dissent. The United Nations estimates that 60,000 people have died over the last 22 months as the Assad regime has tried to stamp out a popular uprising. The European Union renewed calls for Assad to step down, saying his speech merely undermined peace envoy Lakhdar Brahimi's efforts to broker a cease-fire. [Voice of America]
………………………………………………………………………………
Subscribe to The Week
Escape your echo chamber. Get the facts behind the news, plus analysis from multiple perspectives.
SUBSCRIBE & SAVE
Sign up for The Week's Free Newsletters
From our morning news briefing to a weekly Good News Newsletter, get the best of The Week delivered directly to your inbox.
From our morning news briefing to a weekly Good News Newsletter, get the best of The Week delivered directly to your inbox.
2. EX-GOVERNOR, GOOGLE EXEC START CONTROVERSIAL NORTH KOREA TRIP
Google Chairman Eric Schmidt and former New Mexico Gov. Bill Richardson started a private trip to North Korea on Monday. They're part of an unofficial delegation making what has been described as a "private humanitarian visit." Richardson has said he hopes to meet with Kenneth Bae, a South Korea-born American citizen who entered North Korea as a tourist in November and has been arrested on charges of "hostile acts" against the closed, communist regime. Google and Schmidt — a staunch supporter of internet openness visiting a country that denies its people online freedom — have not said why he is participating in the delegation, which the State Department criticized as "unhelpful." [New York Times]
………………………………………………………………………………
3. OBAMA BRACES FOR HAGEL CONFIRMATION FIGHT; NOMINATES BRENNAN TO CIA
President Obama is reportedly pushing ahead with his plan to nominate former Republican Sen. Chuck Hagel on Monday to be his next secretary of defense, setting the stage for what could be a heated confirmation battle. Hagel, a Vietnam War veteran, opposed his party on the Iraq War as a Nebraska senator, and he has demonstrated a commitment to veterans who have served in Iraq and Afghanistan. Hagel's supporters say that Obama is making good on promises of bipartisanship by nominating a Republican to replace the outgoing Leon Panetta, but critics say Obama is naming someone he knows many senators don't want in the job, in part because they believe he hasn't shown sufficient support for Israel. "This is an in your face nomination by the president," Sen. Lindsey Graham (R-S.C.) told CNN Sunday. Obama is rounding out his national security team with the appointment of counterterrorism adviser John Brennan, who has overseen Obama's policy of using armed drones to kill suspected terrorists, to head the CIA two months after its former chief, David Petraeus, resigned over an extramarital affair. [ABC News, New York Times]
………………………………………………………………………………
4. INDIA GANG-RAPE SUSPECTS APPEAR IN COURT
Five suspects in the horrific, deadly gang-rape of a 23-year-old woman appeared in a New Delhi courtroom on Monday to formally hear the rape and murder charges that have been filed against them. The judge, on the request of police, cleared reporters and onlookers from the courtroom and held the session behind closed doors, out of concern for the suspects' safety. The men are accused of raping and torturing the woman for an hour on a moving bus on Dec. 16. She died two weeks later. The case has provoked widespread outrage across India. As Monday's hearing began, 50 police officers were stationed outside the court, where lawyers berated the attorneys who agreed to represent the suspects, saying, "You will not defend those barbarians!" [CNN]
………………………………………………………………………………
5. WOMAN WHO ESCAPED AURORA HOME SHOOTING IDENTIFIED AS GUNMAN'S WIFE
The Colorado woman who jumped out of a second-story window and alerted police about a deadly shooting rampage has been identified as the alleged shooter's wife. Sonny Archuleta, 33, the suspected shooter, was killed by police after a six-hour standoff. Police say Archuleta killed his wife Stephanie Wurzbacher's stepfather, one of her sisters, and the sister's boyfriend. Wurzbacher told relatives that Archuleta sprayed gunfire indiscriminately in a "drug fit," her stepsister said Sunday. "Stephanie said she couldn't understand how the bullets missed her." The shooting occurred a few miles from an Aurora movie theater where 12 people were killed in a July massacre at a screening of The Dark Knight Rises. The suspect in that shooting, James Holmes, is due in court Monday as prosecutors try to convince a judge they have enough evidence to bring him to trial. [New York Post]
………………………………………………………………………………
6. WRECKED OIL DRILLING SHIP PULLED OFF ROCKS IN ALASKA
Rescue workers have refloated a Shell oil-drilling ship that ran aground in Alaska, officials said Monday. The rig, named the Kulluk, has no engines of its own, and was washed onto rocks near a remote island as it was being towed to port during a violent storm. The Kulluk was carrying 140,000 gallons of diesel and about 12,000 gallons of lube oil and hydraulic fluid, but officials say there's no evidence any spilled out of its reinforced hull. Workers are examining the damage to see whether the ship is seaworthy. If it is, they'll tow it to shelter in Kodiak Island's Kiliuda Bay, about 30 miles away. [Associated Press]
………………………………………………………………………………
7. BERLUSCONI PLOTS COMEBACK IN ITALY
Former Italian Prime Minister Silvio Berlusconi said on Monday that he planned to run in February elections as part of a center-right coalition, and hoped to become economy minister in the new government. Berlusconi has allegedly agreed to throw his People of Freedom party behind the presidential candidacy of the regionalist Northern League's Roberto Maroni as part of the deal. Berlusconi is the most successful Italian politician in decades. He survived a series of sex-tinged scandals, but was forced from power 14 months ago in the upheaval caused by Europe's sovereign debt crisis. Berlusconi had supported the technocratic government led by Mario Monti until last month, when he rejoined his former Northern League allies and vowed to bring down taxes imposed under Monti. [Reuters]
………………………………………………………………………………
8. HILLARY CLINTON RETURNS TO WORK
Secretary of State Hillary Clinton is returning to work Monday, officials said, after resting up following treatment for a blood clot in her head. Clinton fainted, fell, and hit her head in December, while she was battling a stomach virus. Doctors later detected the clot near her brain, and sent her to a New York hospital Dec. 30 for treatment with blood thinners. She was released last week, and is scheduled to meet with assistant secretaries on Monday morning. Later in the week she will meet with visiting Afghan President Hamid Karzai, although she is expected to resign when President Obama begins his second term later this month. Obama has nominated Sen. John Kerry (D-Mass.) to take Clinton's place. [Associated Press]
………………………………………………………………………………
9. RAND PAUL'S TEENAGE SON FACES UNDERAGE DRINKING CHARGE
William Hilton Paul, the 19-year-old son of Sen. Rand Paul (R-Ky.) was detained by police as he got off a U.S. Airways flight at the Charlotte, N.C., airport over the weekend. Police say they were acting on reports that the underaged Paul may have been served alcohol on the flight, and was acting disorderly. U.S. Airways spokespeople had made no comment as of early Monday. Paul's office wouldn't comment on the reported arrest, but asked for privacy. "Sen. Paul is a national public figure and subject to scrutiny in the public arena," his office said. "However, as many parents with teenagers would understand, his family should be afforded the privacy and respect they deserve in a situation such as this." [New York Daily News]
………………………………………………………………………………
10. DOWNTON ABBEY RETURNS
Downton Abbey addicts got some long-awaited relief on Sunday, as the wildly popular British TV drama debuted its third season on PBS. As the new season gets underway, Robert Crawley, the current Earl of Grantham and family patriarch, deals with the consequences of some bad investment decisions that threaten to erode the family fortune — which Forbes estimates at $1.1 billion. [Forbes]

Continue reading for free
We hope you're enjoying The Week's refreshingly open-minded journalism.
Subscribed to The Week? Register your account with the same email as your subscription.