Welfare states are unfair states
America must avoid replicating the failed European model of government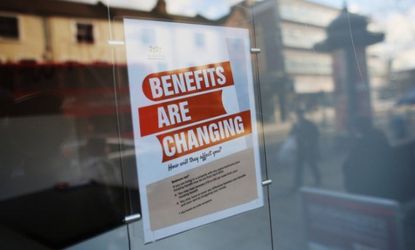 (Image credit: Oli Scarff/Getty Images)
Many liberals make welfare states sound like a dream. It's a style of government that rests upon a simple, perhaps even unassailable moral narrative — the balancing of self-interest with connected social interest. It's a system that allows for personal gain, but alleviates personal suffering. So what's the problem with welfare states?
Unfortunately, they are almost too many to count.
Ultimately, welfare states actually don't help people in need. Instead, they perpetuate empty, short-term remedies for social problems that require far deeper attention. In establishing a governing premise that removes consequential risk from calculations of conduct, welfare states weaken the incentives for initiative and sacrifice the social benefits that are born of personal responsibility. And welfare states represent the epitome of crony capitalism — they exchange redistributive patronage for political power.
Subscribe to The Week
Escape your echo chamber. Get the facts behind the news, plus analysis from multiple perspectives.
SUBSCRIBE & SAVE
Sign up for The Week's Free Newsletters
From our morning news briefing to a weekly Good News Newsletter, get the best of The Week delivered directly to your inbox.
From our morning news briefing to a weekly Good News Newsletter, get the best of The Week delivered directly to your inbox.
In contrast to some of my fellow conservatives, when it comes to welfare states, I actually know what I'm talking about. I spent 24 of my 26 years living in a welfare state: The U.K.
By studying the U.K.'s example, we can see at least three good reasons why an American welfare state would be bad for all of us. The first: Welfare states encourage economic inactivity. By offering citizens a cradle-to-grave system of unconditional government support, welfare states disincentivize personal responsibility. When the benefits of not working are conceived to outweigh the benefits of working, major problems arise. Consider this 2012 BBC story on a standard, long term U.K. benefits recipient. The report (probably inadvertently) illustrates how, far from encouraging a return to the workplace, welfare states actually encourage unemployment. In the U.K., unemployment benefits cover housing, cable TV, an effective bar allowance, and cell phone contracts. Not a bad day's reward for a non-existent day's work! The impact of the absence of means testing access for benefits can further be seen in the explosion of U.S. disability claims over the past 10 years. The tragedy of this absurdity is not just its drain on taxpayers, but also the welfare system's willful destruction of social mobility. As Professor Casey Mulligan points out, incentivizing unemployment serves to sustain unemployment. This isn't complex. Clearly, where a condition of relative but perpetual comfort is offered in return for social disengagement, then the attraction of social engagement is obviously and seriously degraded.
Reason number two: Welfare states punish success. Big government expenditures require heavy taxation, and where taxes are higher, disposable income is reduced. Although many American liberals peddle the notion that the "rich" alone can pay for an American welfare state, this argument is fundamentally disingenuous. Consider taxation levels in the U.K. In the next British tax year, earnings over $52,000 will be taxed at 40 percent. Earnings over $241,000 will be taxed at 45 percent. Combined with the U.K.'s payroll tax, this will mean that a 2013-14 U.K. income of $250,000 would owe a $100,300 tax bill, while an $100,000 income would incur $30,500 in taxes. Staggering as they are though, these figures don't even take into account the U.K.'s high fuel tax, 20 percent sales tax, or local taxes! Oh, and forget deductions; the U.K. has far less tolerance for those than the U.S. tax system.
So why such wealth extraction? Simple. U.K. government expenditures have had to grow dramatically to cope with welfare demands. The British government is now trying to restrain public finances, but until massive reform of the welfare state is undertaken, these efforts are likely to be in vain. Until then, the middle class will have to pay an ever more exorbitant price. This is an important example for America.
Third reason: Welfare states cause social fractures. In redistributing earned income to those who choose not to work, welfare states are not only unfair, they are intractably unfair. In the millions of government workers who require the welfare state for their continued employment, a powerful political class emerges. Thus, when economically disengaged beneficiaries of the welfare state are combined with these government workers, the result is politicians who have a major interest in the ballooning welfare state. Social interest is rendered irrelevant in this client-patron relationship. Then, in the space of understandable public anger over "freeloading" and its intractable political guardians, extremists find openings. Consider the rise of the far right BNP, a political party which, ludicrously, blames U.K. immigrants for the growth of the state.
Furthermore, by blurring the lines between the job-seeking unemployed, those who cannot work, and the professional unemployed, welfare states fuel a stratification of class biases. This feeds a dissection of social groups shaped by perceptions of social identity rather than by common affinity. Not good at all. Certainly, opposition to an American welfare state needs to be vested in facts rather than fear. Yes, conservatives need to offer more solutions to advance economic and social mobility in our poorest communities. And yes, we must accept that denying medical care to those who cannot help themselves is devoid of moral justice. However, an American welfare state won't provide a solution to these challenges. The European example is clear. If Americans want a system in which the apparatus of government and its arms of taxation grow undaunted, then establishing a welfare state is the way to go. But don't be misled by false prophets. A welfare state will also bring a society in which personal responsibility and economic freedom rot at the altar of big government.
Tom Rogan is a conservative writer who blogs at TomRoganThinks.com. Follow him on Twitter: @TomRoganTweets.

Continue reading for free
We hope you're enjoying The Week's refreshingly open-minded journalism.
Subscribed to The Week? Register your account with the same email as your subscription.