10 things you need to know today: October 16, 2012
Obama and Romney will face off, Clinton takes the blame for the Libya attack, and more in our roundup of the stories that are making news and driving opinion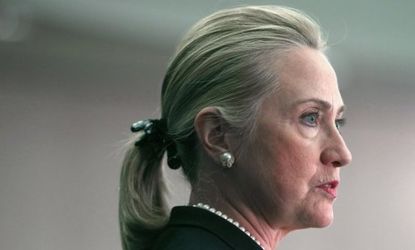 (Image credit: Mark Wilson/Getty Images)
1. CLINTON: I'M TO BLAME FOR LIBYA ATTACK
Secretary of State Hillary Clinton tried to ameliorate the political storm brewing around the attack on the U.S. Consulate in Libya, insisting she was to blame for the deadly situation. "I take responsibility" for the protection of U.S. diplomats, Clinton said, adding that the feds are still probing what exactly happened in the attack that left four Americans dead, including U.S. Ambassador Chris Stevens, on Sept. 11. Team Obama has been skewered by the Right after Vice President Joe Biden said during last week's debate that the White House didn't know there had been requests to increase security in Benghazi. [CNN]
………………………………………………………………………………
Subscribe to The Week
Escape your echo chamber. Get the facts behind the news, plus analysis from multiple perspectives.
SUBSCRIBE & SAVE
Sign up for The Week's Free Newsletters
From our morning news briefing to a weekly Good News Newsletter, get the best of The Week delivered directly to your inbox.
From our morning news briefing to a weekly Good News Newsletter, get the best of The Week delivered directly to your inbox.
2. OBAMA, ROMNEY TO FACE OFF IN SECOND DEBATE
It's Round 2 for President Obama and Mitt Romney. The candidates will face off in the second presidential debate, at Hofstra University in New York on Tuesday night. The pressure is on for Obama following his passive debate performance earlier this month. The 90-minute showdown will be in a town hall format, where individual voters ask the questions. [Associated Press]
………………………………………………………………………………
3. DOCS HOPEFUL ABOUT PAKISTANI GIRL'S RECOVERY
The 14-year-old Pakistani schoolgirl shot in the head by the Taliban last week has a good chance of recovering, British doctors said on Monday. Young Malala Yousafzai was airlifted to a hospital in central England for her severe injuries. Yousafzai has received international recognition for promoting the education of girls and criticizing the Taliban. "Doctors... believe she has a chance of making a good recovery on every level," said the hospital's medical director. Meanwhile, reports emerged that police were questioning several people at the hospital where the teen is located, because the individuals had been pretending to be her relatives in order to gain entry. Security has been heightened because the Taliban has threatened to finish the job they started. [Reuters, Associated Press]
………………………………………………………………………………
4. SCOTUS TO WEIGH IN ON ARIZ. VOTER ID LAW
The Supreme Court agreed Monday that it would weigh in on the controversial voter identification law in Arizona. The justices will hear arguments in the case early next year, and in the meantime the law will remain suspended. The legislation requires prospective voters to prove they are citizens by providing documentation. Critics say the move targets minority voters, and that there is no evidence of people trying to cast ballots by impersonating others at polling places. [New York Times]
………………………………………………………………………………
5. UNDERAGE INTERNS FOUND AT IPHONE PLANT
Foxconn Technology Group, which manufactures Apple's iPhone, says it has discovered underage interns as young as 14 working at one of its factories in China. The minimum legal working age in the country is 16. Foxconn said it was probing schools near the eastern city of Yantai to find out how the interns were sent to the factory. The company faced a complaint two months ago alleging that vocational students were forced by their schools to work in its factories in China. [Associated Press]
………………………………………………………………………………
6. RYAN UNDER FIRE FOR ALLEGED FAKE PHOTO OP
Republican vice presidential candidate Paul Ryan is taking heat for allegedly stopping by a soup kitchen in Ohio so he could get his picture taken cleaning pots and pans in the dining hall. Brian J. Antal, president of the charity, told The Washington Post that the photo op wasn't accurate and that Ryan "did nothing." According to The New York Times, the Ryan family "put on aprons and washed several large pans though they did not appear to need washing." [Washington Post, New York Times]
………………………………………………………………………………
7. GEORGE MCGOVERN NEARING END OF HIS LIFE
Former Sen. George McGovern has moved into hospice care near his home in South Dakota and is "coming to the end of his life," his family said Monday. The 90-year-old has faced several health problems within the last year. During his 30-year stint in Congress, McGovern was known as the leader of the Democrats' liberal wing. He lost to Richard Nixon for president in 1972. [Associated Press]
………………………………………………………………………………
8. MICHELLE OBAMA'S MOTORCADE CRASHES
First Lady Michelle Obama was late to a campaign stop in Ohio after two motorcycles that were part of her motorcade crashed into each other. The two drivers were taken to a hospital in Columbus after the crash. The First Lady was not injured. [The Hill]
………………………………………………………………………………
9. AMAZON TO HIRE 50,000 SEASONAL EMPLOYEES
'Tis the season. Giant online retailer Amazon has announced that it will hire 50,000 seasonal employees, significantly boosting its current workforce of 20,000. The company said it anticipates that thousands of the workers will stay at the company in full-time positions even after the holiday shopping season is over. Other companies have also been on a hiring spree. Bloomingdale's and Macy's both will take on 80,000 temporary workers, while Toys R Us said last month it will hire 45,000 seasonal employees. [CNN]
………………………………………………………………………………
10. TINA FEY, AMY POEHLER TO HOST GOLDEN GLOBES
Move over, Ricky Gervais. Tina Fey and Amy Poehler will host the 2013 Golden Globes on Jan. 13. The comedic duo co-starred in films like Mean Girls and Baby Mama, and worked for years together on Saturday Night Live. Gervais has hosted the event the past three years but has been criticized for his brash performance. [Entertainment Weekly]

Continue reading for free
We hope you're enjoying The Week's refreshingly open-minded journalism.
Subscribed to The Week? Register your account with the same email as your subscription.