10 things you need to know today: October 11, 2012
Biden and Ryan will face off in Kentucky, tensions escalate in Syria and Turkey, and more in our roundup of the stories that are making news and driving opinion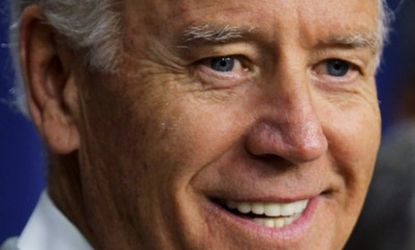 (Image credit: Alex Wong/Getty Images)
1. BIDEN, RYAN TO FACE OFF IN VP DEBATE
It's game day for Vice President Joe Biden and Rep. Paul Ryan (R-Wis.) The two will debate each other in the first and only vice presidential debate in Danville, Ky., on Thursday night. The face-off is being seen as crucial for the Democrats following President Obama's poor debate performance last week. Ryan is forecasted to win in three polls, by a margin of 55 percent to 39 percent (CNN/ORC International), 46 percent to 30 percent (Zogby), or 40 percent to 34 percent (Pew). [Reuters]
………………………………………………………………………………
Subscribe to The Week
Escape your echo chamber. Get the facts behind the news, plus analysis from multiple perspectives.
SUBSCRIBE & SAVE
Sign up for The Week's Free Newsletters
From our morning news briefing to a weekly Good News Newsletter, get the best of The Week delivered directly to your inbox.
From our morning news briefing to a weekly Good News Newsletter, get the best of The Week delivered directly to your inbox.
2. YEMENI OFFICIAL SHOT DEAD AT U.S. EMBASSY
A gunman opened fire and killed the Yemeni chief of security at the U.S. Embassy in Sanaa on Thursday. Officials said Qassem Aqlani was on his way to work when he was assassinated by a gunman on a motorcycle. The shooter fled the scene and has not been identified or apprehended. Aqlani was in his 50s and had been working for the U.S. Embassy for nearly two decades. [Associated Press]
………………………………………………………………………………
3. TURKEY-SYRIA TENSIONS HEAT UP
Turkish jets on Wednesday forced a Syrian passenger plane to land in Ankara on suspicion the aircraft might be carrying weapons. Tensions have been heating up between the two countries since five Turkish civilians were killed by Syrian shelling last week, prompting Turkey to fire into Syria. According to reports, military communication devices were confiscated before the plane was allowed to take off hours later. [BBC]
………………………………………………………………………………
4. SUPREME COURT HEARS AFFIRMATIVE ACTION CASE
On Wednesday, the U.S. Supreme Court heard the case of Abigail Fisher, a white student who says she was denied entry to the University of Texas because of the color of her skin. The decision on affirmative action will be made in the spring and could have big implications for admission standards at universities across the country. It's the first time the court is revisiting the issue since Grutter v. Bollinger, which determined in 2003 that racial quotas do not infringe on the U.S. Constitution. [AFP]
………………………………………………………………………………
5. U.S. FORECLOSURES HIT FIVE-YEAR LOW
In a sign that the economy is slowly recovering, U.S. foreclosure filings have hit a five-year-low in September. According to foreclosure listing firm RealtyTrac Inc., foreclosures fell 7 percent from August and 16 percent from September of last year. There were 180,427 filings reported for September. [Associated Press]
………………………………………………………………………………
6. ROMNEY MAKES GAINS IN SWING STATES
Mitt Romney is making headway in key battleground states since his strong debate performance last week. According to an NBC News/Wall Street Journal/Marist poll, Romney edged ahead of President Obama in Virginia, 48 percent to 47 percent, which is a 3-point reversal from last week. In Florida, the two are now in a virtual tie, and in Ohio, Obama leads 51 percent to 45 percent. That's a 2-point increase for Romney in the Buckeye State. [NBC News]
………………………………………………………………………………
7. PC SALES PLUMMET
It's not a good time for the personal computer business. Sales of PCs have plummeted as consumers are purchasing more and more tablets amid a lethargic economy. According to a new report, PC shipments in the third quarter fell more than 8 percent in a year, the biggest drop since 2001. Microsoft is hoping to boost PC sales when it releases a new version of Windows later this month. [Wall Street Journal]
………………………………………………………………………………
8. PINCH HITTER DELIVERS BIG WIN FOR YANKEES
Alex Rodriguez is baseball's highest paid player, but the pricey New York Yankee is mired in a years-long playoff slump, so when he came to bat in the ninth inning of a crucial playoff game Wednesday night against the upstart Baltimore Orioles, Yankees manager Joe Girardi put in a pinch hitter: 40-year-old Raul Ibanez. The aging slugger hit a game-tying home run, then another home run in the 12th inning to win the game for the Yankees, putting his squad up 2-1 in the best-of-five playoff series. In other MLB playoff news, the St. Louis Cardinals beat the Washington Nationals to go up 2-1, the San Francisco Giants beat the Cincinnati Reds to tie their series 2-2, and the Oakland A's topped the Detroit Tigers to tie their series 2-2. [Associated Press]
………………………………………………………………………………
9. COPS FIND BODY IN JESSICA RIDGEWAY SEARCH
Police in Arvada, Colo., have found an unidentified body just a few miles from where 10-year-old Jessica Ridgeway went missing last Friday. While cops haven't officially linked the crime scene to the missing girl, three sources told ABC News that investigators believe the body is Ridgeway's. The girl sparked a closely watched hunt after she vanished while walking to school. [ABC News]
………………………………………………………………………………
10. POLICE CALLED TO LINDSAY LOHAN'S HOME
Lindsay Lohan just can't seem to stay out of trouble. Police were called to the struggling starlet's childhood home in Mineola, N.Y., on Wednesday after she got into a fight with her mom, Dina. The blowout began the night before when the two went to a nightclub in New York. The two left for home around 4 a.m. but Lindsay reportedly wanted to go back to her hotel in the city. They started arguing in the car, and in the process Lindsay's leg was cut and a bracelet was broken. Cops were eventually called to their home. [USA Today]

Continue reading for free
We hope you're enjoying The Week's refreshingly open-minded journalism.
Subscribed to The Week? Register your account with the same email as your subscription.