4 reasons the U.S.-Pakistan alliance will survive
Islamabad is furious with Washington after NATO airstrikes kill two dozen Pakistani soldiers. Still, a diplomatic divorce may not be in the cards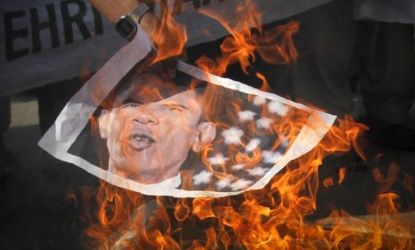 (Image credit: REUTERS)
Pakistan, outraged over cross-border NATO airstrikes that killed 24 Pakistani soldiers over the weekend, reportedly plans to boycott next week's talks in Germany on the future of Afghanistan. Pakistan has also shut down a crucial route used to get supplies to U.S. troops in neighboring Afghanistan, and has given the U.S. 15 days to vacate a shadowy base used in America's drone war against Taliban insurgents. U.S. officials have apologized for the incident, calling it "a tragedy," and NATO has promised an investigation. Despite the increasingly tense atmosphere, once the dust has settled, both America and Pakistan are expected to work hard to patch things up. Here, four reasons the latest U.S.-Pakistan fight won't wreck this marriage of convenience:
1. Pakistan wants U.S. aid money
The U.S. and Pakistan "lurch from crisis to crisis" because neither really trusts the other, says Agence France Presse. They are strange bedfellows "forced into partnership by 9/11 and the war on al Qaeda." But "the two governments are totally reliant on one another." Pakistan wants America's money. It has received $20 billion in U.S. aid in the past decade. Yes, the Chinese could always swoop in and make up for any lost American aid, says Barry Lando at The Huffington Post. But Pakistan still probably doesn't want to screw up the generous "mercenary payments" it already gets from the U.S.
Subscribe to The Week
Escape your echo chamber. Get the facts behind the news, plus analysis from multiple perspectives.
SUBSCRIBE & SAVE
Sign up for The Week's Free Newsletters
From our morning news briefing to a weekly Good News Newsletter, get the best of The Week delivered directly to your inbox.
From our morning news briefing to a weekly Good News Newsletter, get the best of The Week delivered directly to your inbox.
2. Pakistan also needs U.S. military technology
Pakistan's military could stop the CIA from attacking Taliban and al Qaeda fighters with airborne drones "tomorrow if they wished," says Rob Crilly at Britain's Telegraph. But Pakistan's military leaders are "much closer to Washington than they would ever care to admit." They'll publicly condemn the U.S. for violating Pakistan's sovereignty and for killing its soldiers. But Pakistan's military needs "spare parts for its American-purchased F-16s, spy gear from the U.S. taxpayer," and other aid, says Spencer Ackerman at Wired, so they'll be careful not to push things to the breaking point.
3. The U.S. needs Pakistani supply routes
The U.S. is scheduled to withdraw troops from Afghanistan in 2014, says Scott Neumann at NPR, "but Washington needs Pakistani cooperation to sustain operations at least until then." NATO had been transporting 70 to 80 percent of its troops' supplies, excluding weapons, across two Pakistani border crossings into Afghanistan. But Pakistan shut down the traffic to protest the airstrikes, leaving trucks carrying food, fuel, and other necessities stranded, and making them easy targets for Islamist militants. Alternative routes would send transport costs "far higher," says Amar Latif at Global Post, at a time when the Obama administration "is under pressure to cut spending." U.S. soldiers in Afghanistan "can't afford to go too long without the essential supplies," so the easiest solution for Washington is to mend relations with Islamabad, fast.
4. Washington worries about Pakistan's nukes
The U.S. really wants Pakistan's help keeping the Taliban from regaining the upper hand in Afghanistan, says Paul Koring in the Toronto Globe & Mail, but the real "nightmare is that Islamic jihadists seize control of Pakistan's ready-made nuclear arsenal. To avoid that worst-case scenario, America has long propped up Pakistan's military." America has even overlooked "Pakistan's odious record of shopping nuclear secrets to outlaw states, including North Korea, Syria and Iran." The U.S. will remain committed to the same "pragmatic tradeoff" to keep Pakistani nukes out of the wrong hands, long after it has grown tired "of meddling in Afghanistan."

Continue reading for free
We hope you're enjoying The Week's refreshingly open-minded journalism.
Subscribed to The Week? Register your account with the same email as your subscription.