The Champ: Saddest movie ever?
It's official: Watching a young Ricky Schroeder bawl uncontrollably is scientifically proven to make most humans reach for a hanky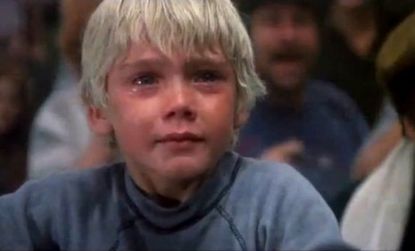 (Image credit: YouTube)
Need a good, prolonged, cathartic cry? You best watch The Champ, the 1979 drama starring Jon Voight as a doomed boxer, and a young Ricky Schroeder as his not-exactly-cheery son. "Scientifically" speaking, the film boasts the saddest movie scene of all time, according to researchers who concluded that The Champ's heart-walloping punch has never been equalled. Here, a brief guide:
What exactly did scientists discover?
In 1988, psychologists Robert Levenson and James Gross began studying film clips that elicit "strong emotional responses in laboratory settings," says Richard Chin at Smithsonian. After evaluating more than 250 films and surveying almost 500 test subjects, they found that the three-minute climax of The Champ provoked detectible sadness in more lab subjects than the other contenders. Not even the death of Bambi's mom could measure up.
Subscribe to The Week
Escape your echo chamber. Get the facts behind the news, plus analysis from multiple perspectives.
SUBSCRIBE & SAVE
Sign up for The Week's Free Newsletters
From our morning news briefing to a weekly Good News Newsletter, get the best of The Week delivered directly to your inbox.
From our morning news briefing to a weekly Good News Newsletter, get the best of The Week delivered directly to your inbox.
What goes on in this sobber of a scene?
(Warning: Spoilers lie ahead.) At the emotional highpoint of The Champ, Schroeder's character cheers on his father to a win in the boxing ring, only to watch him die from injuries, inconsolably moaning over him, "Champ, wake up!" (Watch the video below.) The scene efficiently inspires instant weeping because "most human beings find nothing more heartbreaking than a grief-stricken child," suggests Jen Chaney at The Washington Post.
Is this finding widely known?
Levenson and Gross' findings were published in 1995, but it wasn't until Smithsonian's article this month that a wider swath of Americans discovered The Champ's status as the ultimate weeper. Still, starting in the mid-1990s, the scene became a "must-see in psychology laboratories around the world," says Chin, used in "innumerable" experiments to induce sadness that could then be analyzed. Scientists have long struggled to find ethical ways to elicit negative emotions and, since "people are willing to pay money to see tearjerkers," The Champ clip fits the bill. It's also simply the quickest way to get people to cry "without punching them in the face," says Adam K. Raymond at New York.
What scientific theses has this clip been used to test?
Whether depressed people are more likely to cry than those who aren't, whether sad people are more likely to spend money, and the effect of sadness on binge-eating. A study that went viral in January, revealing that women's tears are a sexual turnoff to men, relied on The Champ to produce tears in its subjects.
Did Levenson and Gross only study sad films?
Nope. They used the same method to identify film scenes that reliably induced seven other emotions, including disgust and surprise. The fake orgasm scene in When Harry Met Sally "evoked maximum amusement," says the International Business Times, along with scenes from Robin Williams Live!. The Shining and Silence of the Lambs were most likely to cause fear, while My Bodyguard and Cry Freedom elicited anger most reliably — at least in the relatively small sample of subjects involved in the study.
Does everyone agree that The Champ is the saddest?
Of course not. Haley Joel Osment's tearful conversation with Toni Collette in the car at the end of The Sixth Sense "always guts me," says Chaney. Sally Field's funeral monologue in Steel Magnolias and the "exquisitely sad montage" that begins Pixar's Up also "kills me every time." The "to me, you are perfect" scene in Love Actually is good for an "unrequited love" weep, says Kate Ward at Entertainment Weekly, while Sam carrying Frodo up Mount Doom in the final Lord of the Rings film never fails to cause a "disgusting, snot-filled" cry.
Sources: Entertainment Weekly, Intl. Bus. Times, New York, Smithsonian, Wash. Post

Continue reading for free
We hope you're enjoying The Week's refreshingly open-minded journalism.
Subscribed to The Week? Register your account with the same email as your subscription.