9 strange ways to power your cellphone [Updated]
From T-shirts to wind power to a special pan, researchers are coming up with some inventive ways to make sure your iPhone never goes dead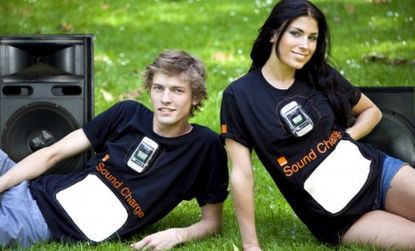 (Image credit: Orange Sound Charge)
Sure, you could always charge your phone the old fashioned way by plugging it into a wall outlet. But where's the fun in that? Here, nine strange and ingenious ways to power your mobile device on the go:
1. A hand-cranked charger
This one requires a bit of elbow grease. Eton's BoostTurbine2000 is a backup battery powered by a hand crank. A minute of cranking will create enough power to make a short phone call or send a few text messages — so don't expect to fully charge a dead phone without a serious workout.
Subscribe to The Week
Escape your echo chamber. Get the facts behind the news, plus analysis from multiple perspectives.
SUBSCRIBE & SAVE
Sign up for The Week's Free Newsletters
From our morning news briefing to a weekly Good News Newsletter, get the best of The Week delivered directly to your inbox.
From our morning news briefing to a weekly Good News Newsletter, get the best of The Week delivered directly to your inbox.
2. A fuel cell powered by lighter fluid
A Zippo-like fuel cell promises 10 to 14 full charges for your iPhone before your charger has to be recharged. Developed by Lilliputian Systems, the pocket-friendly device runs on recyclable butane cartridges, and can restore the juice of any USB-compatible gadget. Better yet: You can take it anywhere (including planes), making the deck-of-cards-sized device perfect for frequent flyers and coffee shop freelancers facing a dearth of open outlets.
3. AIRE mask
Using wind power to generate electricity is nothing new. But the AIRE mask takes the windmill concept and shrinks it to your face, using tiny wind turbines to harness the air you exhale when you go on a run. "Besides saving energy and helping environmental preservation, it also encourages physical exercise," says Joco Paulo Lammoglia, the device's creator.
4. Heartbeat charger
Scientists are developing a system to give devices a charge from the human body. It would involve embedding stacks of tiny microchips in the body that would get power from the movement of an organ or body part. "It's conceivable that you could have them implanted inside your body, so that, say, every time your heart beats you can power your handheld device," says Nicholas Deleon at TechCrunch.
5. Wind-and-solar-powered charger
In 2010, two engineering undergrads in India created bicycle helmets that store wind and solar energy. Wear the helmet, which is equipped with solar cells and a small fan for wind energy, on a 40-minute bike ride, and you collect enough juice to charge your phone. Though it's still being developed, it could soon offer bicyclists further reason to be smug about their energy conservation efforts.
6. Pan Charger
Camping with your Android? Fear not, you don't need an outlet to keep it working. The Pan Charger, created by a Japanese company, allows the tech savvy cave man to charge his phone using any heat source — a campfire will do. Just set the pan over the fire and plug in your phone or MP3 player via a USB cord. "Unlike a solar power generator, our pot can be used regardless of time of day and weather, while its small size allows people to easily carry it in a bag in case of evacuation," says co-developer Ryoji Funahashi.
7. Voice charger
South Korean researchers are working on a device that would power your phone using the sound of your voice — or, better yet, a noisy traffic jam or a plane overhead. While it's still in development — don't expect it at the Apple store just yet — it works using a special sound-absorbing pad. When sound waves hit it, they cause zinc wires to move, generating a small electrical current.
8. Fan charger
Another iPhone charger, this one from the Netherlands, also uses wind power, but the bike ride is optional. The iFan looks like an iPhone case with a small fan attached to the top to harness wind energy. It can charge a phone in 6 hours. But you can speed up the process by holding it out a car window or, you guessed it, taking your iPhone on a bike ride, attached to your handlebars.
9. The sound of music
During the 2011 Glastonbury festival in the U.K., music fans got to try out a new T-shirt that powers up their mobile phones. The shirts are made of a special material called piezoelectric film that is able to turn vibrations from the concert music into an electrical charge — which then gives your cellphone a quick boost.
Sources: PC Mag, Daily Mail, TechCrunch, CNET, Your Digital Space, Geek.com, GizMag
This article — originally published on July 11, 2011 — was last updated on October 24, 2012.

Continue reading for free
We hope you're enjoying The Week's refreshingly open-minded journalism.
Subscribed to The Week? Register your account with the same email as your subscription.