The Navy SEALs: Elite, terrorist-killing commandos
A Q&A guide to the highly trained, fearless, and lethal commandos who killed Osama bin Laden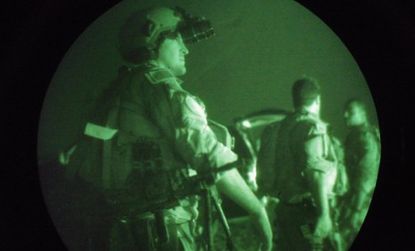 (Image credit: John Moore/Getty Images)
Sign up to our 10 Things You Need to Know Today newsletter
A free daily digest of the biggest news stories of the day - and the best features from our website
Thank you for signing up to TheWeek. You will receive a verification email shortly.
There was a problem. Please refresh the page and try again.
What are the Navy SEALs?
Named for the environments in which they are trained to work—Sea, Air, and Land—the SEALs are an elite unit of the U.S. Special Operations Command. The 2,500 SEALs are considered some of the nation's finest soldiers. SEALs maintain fitness levels close to the human maximum, and also must have exceptional eyesight, above-average intelligence, and nearly superhuman pain tolerance. They are trained to develop an iron determination to fulfill their mission—no matter what. In a now-legendary display of the spirit of these commandos, Marcus Luttrell and three other SEALs held off more than 100 Taliban fighters after an ambush in Afghanistan in 2005; when Luttrell was blown off a cliff by a rocket-propelled grenade, he crawled seven miles with three broken vertebrae and a bullet in his leg to get help. He killed six Taliban fighters along the way.
When were they formed?
Subscribe to The Week
Escape your echo chamber. Get the facts behind the news, plus analysis from multiple perspectives.
SUBSCRIBE & SAVE
Sign up for The Week's Free Newsletters
From our morning news briefing to a weekly Good News Newsletter, get the best of The Week delivered directly to your inbox.
From our morning news briefing to a weekly Good News Newsletter, get the best of The Week delivered directly to your inbox.
The SEALs were created by President John F. Kennedy in 1962, and received their first taste of combat in the Vietnam War. The Vietcong dubbed them the "men with green faces" for the way they seemed to spring from the ground to kill or kidnap guerrilla leaders. Since then, they have fought in Grenada, Panama, Somalia, Bosnia, Iraq, Afghanistan, and elsewhere. They are usually sent into conflicts where there is no traditional battleground, in which stealth, discipline, and a lethal skill set are paramount.
How are SEALs chosen?
Through an extremely arduous, two-year-long training regime that tests both mental and physical strength, and weeds out 75 to 90 percent of applicants. In "drown proofing," trainees are bound hand and foot, thrown into deep water, and told to get to the surface somehow while holding their breath and then to swim 50 meters while still tied up. In "sugar cookie" drills, wet trainees are forced to roll in the sand before doing push-ups, sit-ups, and sprints that leave their bodies chafed, sore, and bleeding. Worse still is "Hell Week," in which trainees are kept awake 20 hours a day, performing relentless, physically punishing drills, while being constantly invited to quit. Former SEAL Howard Wasdin describes being hosed with freezing cold water to induce hypothermia, then forced to swim two miles through the ocean. When he emerged, Wasdin was handed a mug of steaming hot chocolate by an instructor—but told he could only drink it if he admitted failure and dropped out of the SEAL program. "Handing him back that cup of hot chocolate was the hardest thing I'd ever done," he says.
What kind of people are these guys?
Many SEALs don't fit the crew-cut, clean-shaven military stereotype. They are more likely to be bearded, with a rough look "like a street urchin," says former SEAL Richard Marcinko, so that they don't stick out. Many are former college athletes, with exceptional agility and upper-body strength. They're quiet and self-effacing in public, operating under a mandate of total secrecy, but the brutal nature of their training makes them fearless. "They've learned to compartmentalize it," says former Navy psychologist Mark Russell. "Their training takes over and allows them to overcome whatever fear response they have."
Who killed Osama bin Laden?
The SEALs will never say, but he was one of the two dozen members of SEAL Team Six (ST6) who charged into bin Laden's compound. ST6 is a special "black ops" unit made up of the top soldiers from each of the nine other SEAL units, operating under a cloak of secrecy outside of military protocol and, often, international law. The unit's members specialize in targeted assassinations and "snatch-and-grab'' missions requiring lots of experience, tremendous precision, and cool decision-making. In 2009, ST6 snipers killed three Somali pirates with simultaneous head shots from a bobbing ship 40 yards away. ST6 is made up of experienced soldiers—many in their 30s—who have more than 100 operations under their belts.
What is their recent record of success?
Mostly impressive. Special operations forces reportedly killed or captured nearly 3,000 Taliban and al Qaida fighters and leaders in Afghanistan over a recent, 90-day period. But the Navy SEALs do make mistakes. Last year, ST6 inadvertently killed British aid worker Linda Norgrove during a botched rescue attempt in Afghanistan. The SEALs' reputation was tarnished too by an incident in 2008, when an ill-planned firefight in Pakistan left several civilians dead. The casualties were caught on cell phone video, forcing the U.S. military to acknowledge the covert mission and apologize for it.
What motivates SEALs?
It's not money. A Navy SEAL is paid about $54,000 a year, and is expected to spend up to 300 days a year in deployment. Most SEALs do as many as 15 tours in their lifetimes, but leave the service with little more than a standard military pension. Elite soldiers have motivations that are hard for other people to understand, says Eric Haney, a former member of the Army's Delta Force commando unit. "Some people are driven to this. Just be damn glad they are."
A SEAL's best friend
The Navy SEALs who stormed Osama bin Laden's hideaway last week had support from a heavily armored four-legged soldier—a bomb-sniffing combat canine described by The New York Times as the "nation's most courageous dog." The military pooch was likely equipped with the very latest in military technology—a "canine tactical assault suit" with wireless infrared cameras and a built-in speaker to hear its trainer's orders. The unit's dogs—German shepherds or Belgian Malinois—can alert SEALs to the presence of suicide belts or other explosives, and are trained to chase down fleeing suspects, bite them on the leg or arm, and hold them for capture. "SEALs are the deadliest fighting force on the planet," said former SEAL Brandon Webb. "You better believe these dogs are the same."
Continue reading for free
We hope you're enjoying The Week's refreshingly open-minded journalism.
Subscribed to The Week? Register your account with the same email as your subscription.
Sign up to our 10 Things You Need to Know Today newsletter
A free daily digest of the biggest news stories of the day - and the best features from our website