Britain's first family
The world seems enthralled by the royal wedding. But what's the real state of the British monarchy?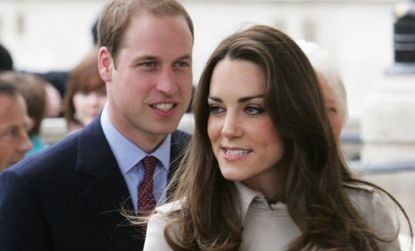 (Image credit: Corbis)
Sign up to our 10 Things You Need to Know Today newsletter
A free daily digest of the biggest news stories of the day - and the best features from our website
Thank you for signing up to TheWeek. You will receive a verification email shortly.
There was a problem. Please refresh the page and try again.
Do the British still believe in the crown?
It's complicated. Polls consistently show that around 70 percent of Britons support the monarchy. And if you tune in to Prince William and Kate Middleton's wedding on April 29—when at least 500,000 people are expected to crowd into central London to cheer on the happy couple—you'll likely come away thinking Britain is a nation of ardent royalists. But much of the population is apathetic about this ancient institution. Almost three quarters of British citizens believe the country would be worse off without a royal family, but in a recent survey, four out of five respondents declared they were either "largely indifferent" or "couldn't care less" about the upcoming nuptials. "The British public are simply not excited about the royals anymore," said Graham Smith of the anti-royal group Republic, which wants the monarch replaced with an elected head of state.
How does the wedding affect the royals' popularity?
Subscribe to The Week
Escape your echo chamber. Get the facts behind the news, plus analysis from multiple perspectives.
SUBSCRIBE & SAVE
Sign up for The Week's Free Newsletters
From our morning news briefing to a weekly Good News Newsletter, get the best of The Week delivered directly to your inbox.
From our morning news briefing to a weekly Good News Newsletter, get the best of The Week delivered directly to your inbox.
Smith said that his organization's membership has grown by 50 percent since William and Kate announced their engagement in November. That spike in anti-royalist sentiment is partly due to negative headlines noting that the government is spending up to $33 million on security for the wedding at a time of massive public-sector spending cuts. But Brits won't be booting Queen Elizabeth II and family out of Buckingham Palace anytime soon. Republic still has only 10,000 paying members, less than 0.02 percent of the population. And royal wedding fever seems to have drained the radicalism from some republicans: Today only 13 percent of people want the monarchy scrapped, down from 19 percent six years ago.
Does it cost much to keep a royal family?
The crown receives $62 million a year from the government—about $1 for every citizen—to pay for palaces, staff, and travel. However, critics argue the true cost is closer to $300 million a year, if you include the royals' security costs and deferred taxes. But even if this last figure is correct, royalists say the monarchy is good value for the money, as foreign tourists spend $820 million a year visiting royal castles and attractions. "The German presidency costs about the same as the queen," wrote conservative commentator Gerald Warner in the London Telegraph. "But how many tourists line the streets of Berlin to catch a glimpse of, er, what is his name?"
How have the royals lasted so long?
By moving with the times. The British monarchy—usually dated from William the Conqueror, who led the Norman invasion of 1066—is an "eminently adaptable institution" that evolves with its subjects, said British historian Tristram Hunt. In the 19th century, Queen Victoria served as a "ceremonial figurehead" who united the culturally diverse British Empire. George V—Elizabeth II's grandfather—reinvented the dynasty after the chaos of World War I as a stabilizing "family monarchy" built on sturdy, middle-class values. And following the death of Princess Diana in 1997, the Windsors have tried to shake off their cold, stuffy image by becoming a "welfare monarchy" dedicated to charitable work. Will and Kate's marriage is the latest phase in this modernization process. Prince William might have chosen his commoner wife-to-be "for romantic reasons," said historian Dominic Sandbrook, but he has also picked a perfect candidate "to show that the royal family is ready to embrace a more democratic century."
Is everyone happy with William's choice?
Some class-conscious snobs are not amused that the 28-year-old prince has settled for a commoner descended from coal miners and laborers over a bride with a hereditary title. Charles Mosley, editor in chief of Burke's Peerage, Baronetage and Knightage, the Who's Who of British blue bloods, said that even after eliminating "the married women and those too old," 10,000 noble women would be eligible. A few of William's well-heeled friends have reportedly mocked Middleton's humble family background, dismissing her mother—a former flight attendant—with the phrase "doors to manual." Many ordinary Brits are derisive of such comments because while Middleton, 29, might technically be a commoner, she's anything but common. Her parents are millionaires thanks to their party-planning business, and Middleton was educated at Marlborough College, a top boarding school that charges $50,000 a year in fees.
What is the monarchy's future?
The Windsors could be in for a tough decade. Australia's Prime Minister Julia Gillard has said that she wants her country—one of 15 former British colonies where the monarch is still head of state—to become a republic when the 85-year-old queen dies or abdicates. Her death could also spell trouble in the U.K., as Elizabeth II is "the glue that holds the monarchy together," said Roy Greenslade, a columnist for the London Guardian. He notes that heir apparent Prince Charles doesn't command the respect his mother does, because of his failed marriage to Princess Diana and his eccentric campaigns against modern architecture and for alternative medicines. The public also has doubts about other clan members, such as scandal-prone Prince Andrew. "You have a dysfunctional family," said Greenslade. "So it really falls on William and Kate to actually be an upright couple that can engage with the public and be glamorous at the same time."
The German connection
They seem like the quintessential English family. But from the 1714 ascension of George I—the "Elector of Hanover"—until the early 20th century, the royal clan was predominantly and proudly German. Once war broke out with Germany in 1914, though, those Teutonic roots became a dangerous liability. So in July 1917, King George V announced in the London Times that his family was changing its name from Saxe-Coburg-Gotha—which had replaced Hanover when Queen Victoria married Prince Albert in 1840—to Windsor, after his favorite castle. When news of the name change reached Germany, George's cousin, Kaiser Wilhelm II, quipped that he was looking forward to the next production of that famous Shakespearean play The Merry Wives of Saxe-Coburg-Gotha.
Continue reading for free
We hope you're enjoying The Week's refreshingly open-minded journalism.
Subscribed to The Week? Register your account with the same email as your subscription.
Sign up to our 10 Things You Need to Know Today newsletter
A free daily digest of the biggest news stories of the day - and the best features from our website