Black swans
From 9/11 to Japan's earthquake, history is shaped by events that seem impossible — until they happen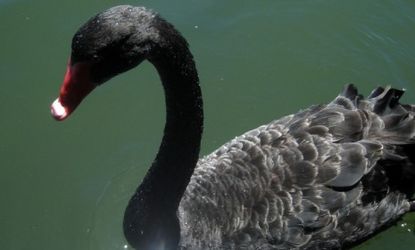 (Image credit: CC BY: JoshBerglund19)
Sign up to our 10 Things You Need to Know Today newsletter
A free daily digest of the biggest news stories of the day - and the best features from our website
Thank you for signing up to TheWeek. You will receive a verification email shortly.
There was a problem. Please refresh the page and try again.
Why call big surprises black swans?
It goes back to the 2nd-century Roman poet Juvenal, who said that some events are "as rare a bird as a black swan." In reality, black swans aren't so rare, but Europeans once believed there was no such thing because they had never seen one. Their certainty evaporated when early European explorers of Australia came upon swans whose feathers were black. The term has recently come into vogue thanks to Nassim Nicholas Taleb's book The Black Swan: The Impact of the Highly Improbable, which became a surprise best seller after the 2008 financial crisis. As defined by Taleb, a black swan is not just an unprecedented event but one with a large, widespread impact. "A small number of black swans," Taleb writes, "explain almost everything in our world."
What are some past examples?
Subscribe to The Week
Escape your echo chamber. Get the facts behind the news, plus analysis from multiple perspectives.
SUBSCRIBE & SAVE
Sign up for The Week's Free Newsletters
From our morning news briefing to a weekly Good News Newsletter, get the best of The Week delivered directly to your inbox.
From our morning news briefing to a weekly Good News Newsletter, get the best of The Week delivered directly to your inbox.
Start with the terrorist attacks of Sept. 11, 2001. On Sept. 10, it was all but inconceivable that terrorists armed only with box cutters would use hijacked passenger jets as weapons of mass murder. The consequences of that unforeseen event include the wars in Afghanistan and Iraq, a complete overhaul of airport security, the U.S.'s use of waterboarding and other "enhanced interrogation" tactics, and the establishment of the prison for suspected terrorists in Guantánamo Bay, Cuba. Like most black swan events, 9/11 seems entirely predictable in retrospect. Investigations conducted by Congress, security officials, and the press all concluded that U.S. officials could have "connected the dots" and prevented the 9/11 attacks, had they looked at the clues with open minds.
Was Japan's earthquake one?
An earthquake of magnitude 9.0 fell well outside normal expectations; the largest tremor that earthquake-prone Japan had previously experienced measured 8.5. Nor did nuclear engineers expect that a 40-foot tsunami would overwhelm the seawalls protecting the Fukushima Daiichi nuclear complex and knock out backup power systems. The prospect of both these events occurring simultaneously seemed extremely remote. Naturally, many commentators have since argued that officials could have planned even for events well beyond the limits of their experience. "The Fukushima reactors are facing a scenario that theoretically should have been foreseen at the design stage," said engineering professor Kamran Nikbin of Imperial College London, "since the plant is built in a known earthquake region."
Why can't we foresee these events?
Blame it on the way the human mind makes sense of the world. Most human experience falls within a tightly bounded range that we call "the norm." We tend to focus on that narrow range, preparing only for events we've experienced before. City governments in Boston and Chicago are ready to respond to heavy snowstorms; those in Dallas and Atlanta are not. Most San Francisco buildings can survive major earthquakes; most of New York City's could not, even though the city does have fault lines. Our lack of imagination often proves costly. After World War I, for example, the French government built a barrier, known as the Maginot Line, across the territory the German army had crossed during its invasion. Two decades later, Hitler's army simply went around the Maginot Line, invading from a different direction.
Can we predict the next black swan?
Surprises are by definition unforeseen. "You don't get to pick the next disaster," said Craig Fugate, administrator of the Federal Emergency Management Agency. Nonetheless, he's paid to think about unexpected catastrophes that could befall the U.S., and there are plenty. A massive solar flare could knock out the entire national electrical grid, including all computer systems, and bring the nation to a screeching halt. A direct hit by a large meteor could kill millions of people and fill the air with enough dirt to blot out the sun for months. An eruption of the Yellowstone caldera—essentially a gigantic dormant volcano beneath Wyoming and Idaho—could bury several states in lava and kill millions.
Can we prevent such events?
Safeguards against some rare occurrences are possible, but most would be prohibitively expensive. A better approach, said Jack Hayes, director of the National Earthquake Hazard Reduction Program, is to develop systems that can bounce back quickly from the shock of a black swan. "Think of resilience in terms of the old Timex commercial," he recently told The Washington Post's Joel Achenbach. "It can take a licking and keep on ticking." He advocates decoupling systems that are critical to society, so that the failure of, say, electrical systems doesn't undermine nuclear safety. Nature and evolution already take this approach, Taleb points out; that's why we have two lungs, two kidneys, and two eyes. The redundancy provides a fail-safe, Taleb writes, and "Mother Nature does not like overspecialization."
The black swan in your pocket
Not every black swan is negative, nor are all black swans produced by natural forces. Case in point: the Apple iPod. It wasn't the first digital music player—such portable devices had become a sizable consumer-electronics product category in the late 1990s. But when Apple unveiled the iPod in 2001, it created an entirely new digital infrastructure, where users could download new music, update software, get maintenance tips, and share recommendations and gripes. Still, the iPod had many doubters, such as stock analyst Charles Wolf, who confidently predicted that the iPod "is likely to capture only a small share of the MP3-player market, despite its breakthrough features." As of January 2011, 304 million iPods had been sold worldwide, accounting for 70 percent of the market for all such devices. The iPod single-handedly transformed the music industry, decimating CD sales and leaving the record companies that depend on them scrambling for a new business model. Today the music industry is rapidly evolving so that almost all music will be transmitted digitally online from seller to buyer, with no physical "record." No one imagined that before the iPod.
Continue reading for free
We hope you're enjoying The Week's refreshingly open-minded journalism.
Subscribed to The Week? Register your account with the same email as your subscription.