The New Yorker's Scientology expose: 7 key revelations
The magazine launches a major investigation into the powerful Church of Scientology — and unearths startling new information about its alleged abuses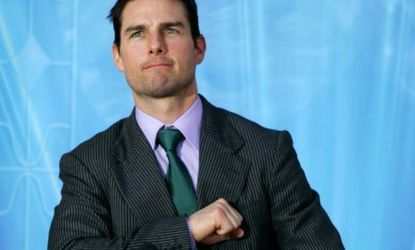 (Image credit: Corbis)
The New Yorker has published "The Apostate," a 24,000-word investigation into the Church of Scientology, examining many of its biggest controversies and focusing in particular on Oscar-winning director Paul Haggis' defection from the religion. A member of the church for 35 years, the Crash director attained one of its highest levels of enlightenment, but fell out with church leaders over their stand on gay rights, and publicly left Scientology in 2009. "The article is fairly exhausting to read," says Nina Shen Rastogi at Slate, but Lawrence Wright's "diligent" reporting makes this "pure candy" for lovers of investigative journalism. Here, a concise guide to seven of the article's biggest revelations:
1. The FBI is investigating the Church of Scientology
The FBI's human trafficking task force has been interviewing former Scientologists over claims that members of the church's elite Sea Organization order were held against their will and forced to perform manual labor for little or no pay. Several former Sea Org members claim they were physically abused and held in "punitive re-education camps," reports Wright. (Watch an NBC discussion about the charges.) The church says that Sea Org members were free to travel or leave at any time, and denies any physical or mental abuse. "The case remains open," says Wright. Scientology's worst abuses "always seemed to barely skirt the edges of legality," says Adrian Chen at Gawker. Now, it "looks like they might have crossed over into outright slavery. How Biblical."
Subscribe to The Week
Escape your echo chamber. Get the facts behind the news, plus analysis from multiple perspectives.
SUBSCRIBE & SAVE
Sign up for The Week's Free Newsletters
From our morning news briefing to a weekly Good News Newsletter, get the best of The Week delivered directly to your inbox.
From our morning news briefing to a weekly Good News Newsletter, get the best of The Week delivered directly to your inbox.
2. Miscavige has led a cutthroat game of musical chairs
David Miscavige, the 50-year-old head of the church, comes across as the "villain of the piece," says Kyle Buchanan at New York. Many defectors allege Miscavige would regularly lose his temper and physically attack those around him — claims the church denies — and Wright recounts the tale of a particularly sadistic Miscavige exercise. Miscavige allegedly gathered almost a hundred church leaders who refused to enforce the church's "aggressive, even violent, discipline," and told them they were going to play a game of musical chairs. Only the last person standing, said Miscavige, would be allowed to stay. The rest would be sent home to their families, from whom they had long been cut off. As Miscavige played Queen's "Bohemian Rhapsody," church leaders "fought over the chairs, punching each other and, in one case, ripping a chair apart." The church confirmed that a game of musical chairs had taken place as an administrative exercise — but called claims of violence and coercion "nuts."
3. L. Ron Hubbard may have faked his war record
Scientologists revere the church's founder as a near-God, but Wright discovers that L. Ron Hubbard may have been all too fallible. Hubbard wrote Dianetics, the church's founding text, after claiming to have healed himself of his World War II injuries. But Hubbard's actual military records — all 900 pages of them — contradict the story. "Nowhere in the file is there mention of Hubbard's being wounded in battle," reports Wright. The Church says that it hired veteran intelligence agent Fletcher Prouty back in the '80s to unearth documents proving Hubbard's claims. Prouty's evidence, according to an archivist interviewed by Wright, is a "forgery."
4. Tom Cruise cannot take a joke
Director Haggis met the world's most famous Scientologist on just a few occasions, reports Wright. One encounter took place on the set of Steven Spielberg's War of the Worlds, where Cruise had set up a tent to distribute Scientology materials. Haggis and Spielberg spoke briefly, and the latter reportedly said that the Scientologists seemed very nice. "Yeah," replied Haggis, jovially. "We keep all the evil ones in a closet." The director's offhand remark saw him summoned to the church's "Celebrity Centre," where he was cautioned by officials for upsetting the movie star. "Did Spielberg rat the guy out?" asks Kyle Buchanan at New York.
5. John Travolta healed Marlon Brando, claims Josh Brolin
Wright interviews the movie actor Josh Brolin — star of Haggis' The Valley of Elah — who recalls attending a Hollywood party with John Travolta, a noted Scientologist, and Marlon Brando. The Godfather star arrived with a painful cut on his leg. Travolta "offered to help, saying that he had just reached a new level in Scientology," and touched Brando's leg. As Brolin, who is not a Scientologist, watched this very "physical" process unfold, he says, "I was thinking, this is really fucking bizarre! Then, after ten minutes, Brando opens his eyes and says, 'That really helped. I actually feel different!'" Travolta denies the incident, notes Wright. "Best. Story. Ever," says S. T. Vanairsdale at Movieline.
6. American Rastafarians outnumber Scientologists by two to one
The church "informally" claims to have about 8 million members, says Wright, but a survey of American religious affiliations found that only 25,000 Americans actually call themselves Scientologists. "That's less than half the number who identify themselves as Rastafarians," says Wright.
7. Haggis fears for his future
The penalty for going public with your doubts about Scientology may go deeper than lawsuits or excommunication, Haggis tells Wright. "My bet is that, within two years, you're going to read something about me in a scandal that looks like it has nothing to do with the church."

Continue reading for free
We hope you're enjoying The Week's refreshingly open-minded journalism.
Subscribed to The Week? Register your account with the same email as your subscription.