The New Yorker's Mark Zuckerberg profile: 7 key revelations
A rare, intimate look at the 26-year-old Facebook founder and chief executive is generating huge buzz. Here, a guide to the story's best talking points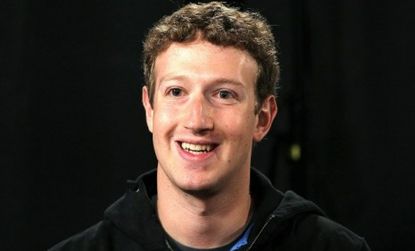 (Image credit: Getty)
The New Yorker's new profile of Mark Zuckerberg, the wunderkind creator of Facebook, is getting attention for the light it sheds on the 26-year-old's private life and the nearly unprecedented access the social-media guru granted writer Jose Antonio Vargas. "It's a fun, thorough piece," says Anthony Ha at VentureBeat, and "one that lives up to the subtitle 'Mark Zuckerberg opens up.'" Though not everyone agrees — The Atlantic's Alexis Madrigal says Zuckerberg comes across as a "boring guy who seems to suck the life out of any writing about him" — insights into this enigmatic figure are rare. Here are the key revelations:
1. Zuckerberg has 879 friends
A look at Zuckerberg's Facebook page reveals that he has a total of 879 friends and is something of an "oversharer," says Vargas. Zuckerberg posts both his e-mail address and cell phone number, mentions Green Day and Jay-Z as favorite musicians, and the sci-fi novel Ender's Game by Orson Scott Card as a top read. His interests include "Minimalism," "Revolutions," and "Eliminating Desire."
Subscribe to The Week
Escape your echo chamber. Get the facts behind the news, plus analysis from multiple perspectives.
SUBSCRIBE & SAVE
Sign up for The Week's Free Newsletters
From our morning news briefing to a weekly Good News Newsletter, get the best of The Week delivered directly to your inbox.
From our morning news briefing to a weekly Good News Newsletter, get the best of The Week delivered directly to your inbox.
2. Zuck the 'Robot'
Vargas describes "Zuck," as his friends know him, as "distant and disorienting, a strange mixture of shy and cocky" and finds justification for the common complaint that Zuckerberg is a "robot": "He sometimes talks like an Instant Message — brusque, flat as a dial tone." There is an upside to his robotic ways, however, say friends: He is an "intense listener."
3. He turned down AOL and Microsoft
As a young computer prodigy, Zuckerberg designed a software system named Synapse not unlike Pandora, the popular personalized "Internet radio" service. After news of Synapse spread online, says Vargas, both AOL and Microsoft expressed an interest in hiring its teenage creator. Zuckerberg turned them both down to go to Harvard.
4. He regrets the 'dumb f***s' instant message
An instant message sent by Zuckerberg to a friend while he was at Harvard described Facebook's users as "dumb f***s" — a detail reported by Silicon Valley Insider earlier this year. The young CEO tells Vargas he "absolutely" regrets sending the message: "If you're going to go on to build a service that is influential and that a lot of people rely on, then you need to be mature, right?... I think I've grown and learned a lot." Sounds good, says Ryan Tate at Valleywag, but has Zuckerberg really changed his tune? "The old quote resounds precisely because Facebook continues to stir up privacy controversies at regular intervals."
5. His favorite show used to be "The West Wing"
Zuckerberg says he's a huge fan of "The West Wing," the NBC political drama that ran from 1999 to 2006, until Vargas informs him that it was created by Aaron Sorkin — who also penned The Social Network, an unauthorized biopic about Zuckerberg that hits screens in October. A few days after the interview, Vargas recounts, Zuckerberg removed "The West Wing" from the favorite TV shows section of his Facebook profile. When Vargas informs Sorkin of Zuckerberg's erstwhile admiration, the screenwriter says, "I wish you hadn't told me that." "Suck it up, Aaron," says Kara Swisher at AllThingsDigital. "Mark surely will have to when the movie comes out."
6. Zuckerberg's "imperial tendency"
Sean Parker, Facebook's first president and an old friend of Zuckerberg, tells Vargas that the young executive has a "kind of imperial tendency. He was really into Greek odysseys and all that stuff." Zuckerberg quotes two phrases from The Aeneid to Vargas: "Fortune favors the bold" and "a nation/empire without bound."
7. Why Facebook is blue
The interior of Zuckerberg's house is beige and blue, except for a bright yellow kitchen, says Vargas. But "colors don't matter much to Zuckerberg" — a few years ago he was diagnosed with red-green color blindness. He chose blue as Facebook's dominant color because "blue is the richest color for me," he tells Vargas. "I can see all of blue."

Continue reading for free
We hope you're enjoying The Week's refreshingly open-minded journalism.
Subscribed to The Week? Register your account with the same email as your subscription.