Tim Tebow's Super Bowl ad scandal
Liberals are condemning CBS' decision to run a pro-life ad starring the quarterback during the broadcast. Should CBS rethink its play?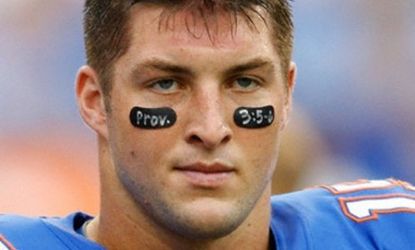 (Image credit: Corbis)
Do "political" TV commercials have a place on the Super Bowl broadcast? CBS has long said "no," rejecting ads from left-leaning groups like PETA and the pro-gay United Church of Christ. Accordingly, liberals and women's-rights groups have reacted fiercely and swiftly to news that the network will air an anti-abortion advertisement produced by conservative Christian group Focus on the Family during this year's show. The ad tells the story of Heisman Trophy–winning (and outspoken Christian) college quarterback Tim Tebow, whose mother rejected her doctor's advice to abort him, despite concerns that he'd be stillborn. While a Tebow spokesperson says the ad is "absolutely not" political, women's groups and others have condemned CBS—which, for its part, says it's permanently changed its stance on "advocacy advertising." Is CBS guilty of hypocrisy? (Watch a Fox report about Tim Tebow's pro-life Super Bowl ad.)
The ad needs to go—immediately: Why would CBS want to associate itself with the kind of "anti-abortion vitriol" that has led to the murder of doctors?, asks the Women's Media Center in an open letter. By giving Focus on the Family—"an anti-equality, anti-choice, homophobic organization"—the forum to preach its views to millions of Super Bowl viewers, CBS is taking an "ethically, economically, and politically disastrous" step.
Subscribe to The Week
Escape your echo chamber. Get the facts behind the news, plus analysis from multiple perspectives.
SUBSCRIBE & SAVE
Sign up for The Week's Free Newsletters
From our morning news briefing to a weekly Good News Newsletter, get the best of The Week delivered directly to your inbox.
From our morning news briefing to a weekly Good News Newsletter, get the best of The Week delivered directly to your inbox.
Liberals' outrage just shows how clueless they are: Apparently liberals don't understand that "we live in a capitalist country," says Cassy Fiano in Hot Air. "If CBS wants to air only Christian pro-life ads, I believe they have every right to do so"—just as viewers have every right to boycott the broadcast. I predict that this ad won't offend anyone except liberals—proving, "once again," that they "are completely out of touch" with the beliefs of mainstream Americans.
"The liberal reaction to Tim Tebow's Super Bowl ad"
It's the feminist outrage that's hypocritical: Why are feminist liberals reserving their predictable fury for this ad alone, says Matthew Philbin in News Busters, when so many Super Bowl advertisements "tastelessly use sex and the objectification of the female body to attract attention." If women's groups are going to criticize a "Christian" ad, "you'd think [they] might have something to say" about those arguably misogynous commercials.
"Predictable lefty outrage at Tebow pro-life Super Bowl ad"
Education is one thing; manipulation is another: "No part of me wants to prevent women from hearing that story," says Tracy Clark-Flory in Salon. "Being pro-choice means fully educating women about the potential outcomes of their decision—including, yes, the slim possibility that against doctors' best predictions a woman and her baby survive a life-threatening pregnancy." But "in Focus on the Family's hands" this opportunity won't be used to "educate"—but "to manipulate."
Can't I just watch the Super Bowl in peace? I'm sure Tim Tebow's "commercial has a beautiful, undeniable message," says Gregg Doyel in CBS Sports. In fact, it "might just make me cry." But please—"not during the damn Super Bowl." Football should give Americans a break from the exhausting political back-and-forth. If the talking heads want to blather about anti-abortions ads elsewhere, "fine. But leave my football alone."
"Left? Right? No, just wrong to mix politics, football"
.............................................
SEE RELATED STORIES ON THE WEEK:
• Sarah Palin's pro-life tabloid cover: Sell out?
• Abortion: A pro-choicer converts
• Does the media hate Christians?

Continue reading for free
We hope you're enjoying The Week's refreshingly open-minded journalism.
Subscribed to The Week? Register your account with the same email as your subscription.