Going organic
Are organic foods really healthier, or is it all a high-priced fad?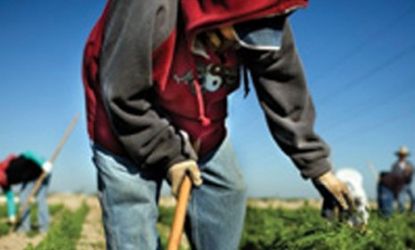 (Image credit: Corbis)
Sign up to our 10 Things You Need to Know Today newsletter
A free daily digest of the biggest news stories of the day - and the best features from our website
Thank you for signing up to TheWeek. You will receive a verification email shortly.
There was a problem. Please refresh the page and try again.
What does 'organic' mean?
It varies, depending on the product being sold. Under rules set by the U.S. Department of Agriculture, in 2002, fruits and vegetables can be called "100 percent organic'' only if they are raised completely without man-made pesticides and fertilizers. Pesticides made from natural ingredients, such as cayenne pepper soaked in water, are permitted; chemical pesticides, such as malathion or copper sulfate, are not. Fertilizers consisting of manure are allowed; those created from industrial processes, such as phosphates and potash, are not. Meat and dairy products can be labeled organic if they come from animals that are given only organic feed and allowed "access to pasture," rather than raised entirely indoors. But when applied to products such as shampoos and skin lotions, "organic" means, well, nothing, since regulators don't police such claims about personal products. "It's kind of like the Wild West in there," says Joe Smillie of Quality Assurance International, a company that certifies organic-labeling claims.
Is there much demand for organic food?
Subscribe to The Week
Escape your echo chamber. Get the facts behind the news, plus analysis from multiple perspectives.
SUBSCRIBE & SAVE
Sign up for The Week's Free Newsletters
From our morning news briefing to a weekly Good News Newsletter, get the best of The Week delivered directly to your inbox.
From our morning news briefing to a weekly Good News Newsletter, get the best of The Week delivered directly to your inbox.
The market is relatively small, but growing rapidly. U.S. sales have more than doubled since 2002, to about $23 billion in 2008. In fact, although organic food accounts for only about 3 percent of food sold in the U.S., it's the fastest-growing food category, with sales climbing nearly 16 percent a year, compared with less than 5 percent for conventional foods. That growth rate has caught the notice of big companies such as Wal-Mart, which is doubling the number of organic products it sells, and Coca-Cola, which has acquired Odwalla, an organic juice producer. Organics have also gotten a big boost from President Obama, who has appointed an organics expert to the Agriculture Department's No. 2 post and budgeted $50 million to promote organic farming. Michelle Obama is championing organic gardens by famously planting one on the White House grounds. "If it's fresh and grown locally," she recently told a group of visiting schoolchildren, "it's probably going to taste better."
What's the appeal of organic foods?
Like the First Lady, most consumers believe organic food tastes better, is more nutritious, and is safer because it doesn't contain cancer-causing pesticides. Organic food's image also benefits from the belief that organic farming does less harm to the environment, by leaving the soil free of pesticides and artificial fertilizers. And like the hybrid car, organic food has become a status symbol among a subset of affluent shoppers, although some have cut back since the recession began. Farmers, food producers, and retailers have their own reasons for liking organics. "We can get a little better price" for organic produce, says Oregon farmer David Brown. Some vegetables might fetch only pennies more per pound, but organic milk and meat can command twice the price of their conventional counterparts.
Is organic food really healthier?
That's a matter of heated debate. Many nutritionists urge consumers to buy organic apples, raspberries, strawberries, and other soft-skinned produce, because the conventional versions retain high levels of pesticide residue, even after washing. And British researchers have found higher levels of "beneficial compounds" such as vitamins and antioxidants in organic produce than in conventional crops. But the data isn't conclusive, and skeptics such as plant scientist Alex Avery of the conservative Hudson Institute say the idea that organic food is nutritionally superior is "a total con." Many nutritionists do play down the difference between organic and conventional. "The most important thing to consider is the health benefit of consuming five servings of fruits and vegetables every day," says Baylor Medical Center dietitian Ashley Mullins, "whether or not they're organic."
Is big business changing the organics game?
Yes, and not for the better, according to longtime organic farmers and food producers. Small organic dairy farmers complain, for example, that Dean Foods slaps the "organic" label on its Horizon Dairy brand of milk, even though it comes from cows that spend as little as five minutes a day outdoors. "That might be technically organic," says Mark Kastel of the Cornucopia Institute, an advocacy group for small organic farms, "but it's not what people think they're paying for." Fruit and vegetable farmers say that agribusiness giants such as General Mills use large-scale industrial-farming techniques on their organic farms, undermining the organic movement's original small-scale philosophy. "'Organic' doesn't mean what the original users of the word meant it to be," says Tennessee farmer Jeff Price.
Will all our food eventually be organic?
That's highly unlikely. Because organic farms yield smaller crops than conventional ones, they can't possibly meet the demands of the country's growing population, food experts say. And though the idea of allowing all farm animals to range free is appealing, there's not enough pastureland in the U.S. to accommodate them all. But with about half the U.S. population already eating organics occasionally, most analysts expect the category to continue growing for the foreseeable future. "Everyone wants a piece of the pie," says George Siemon, CEO of the Organic Valley farm cooperative. "Kraft and Wal-Mart are part of the community now, and we have to get used to it."
The man who invented 'organic'
Though organic farming has only recently drawn wide notice in the U.S., the term dates back to 1940, when it appeared in a book by Walter James, a British aristocrat and agricultural scientist. He argued that the farm should be seen "as a living whole" that has "within itself a balanced organic life" and warned that "chemical farming," which relies on "imported fertility," would disrupt the delicate balance of forces that made life possible. He also anticipated the current fashion for locally grown food. "It is ludicrous to cart stuff about all over the world," he wrote, "when that stuff could be much better produced where it is wanted." Big business is now adopting much of his philosophy, though not his contempt for the profit motive. "We have come to have no idea of profit other than financial profit," he wrote. "The delusion is that cheapness leads to plenty. But what use is plenty of rubbish?"
Continue reading for free
We hope you're enjoying The Week's refreshingly open-minded journalism.
Subscribed to The Week? Register your account with the same email as your subscription.
Sign up to our 10 Things You Need to Know Today newsletter
A free daily digest of the biggest news stories of the day - and the best features from our website