The Eurozone must choose: Democracy or austerity?
Anti-austerity political parties in Greece and Spain are surging in popularity. But eurozone bureaucrats have other ideas.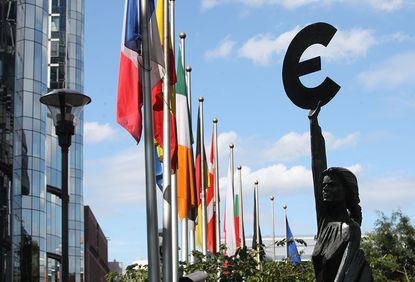 (Image credit: (Mark Renders/Getty Images))
Something strange is happening in Europe: Democracy is starting to work.
Mass unemployment is typically absolute poison for elected officials — just ask Herbert Hoover. With the eurozone depression now officially worse than that of the 1930s, one would think that up-and-coming politicians would get elected on promises to fix the situation.
But in the years since 2011, when eurozone policymakers decided to pointlessly brutalize their citizenry with austerity and hard money, no member of the currency union has managed to directly challenge Brussels for its gross failure to fight unemployment. Elected officials were ousted at the polls, yes, but the leaders who replaced them were successfully co-opted or intimidated into accepting bone-crushing austerity.
Subscribe to The Week
Escape your echo chamber. Get the facts behind the news, plus analysis from multiple perspectives.
SUBSCRIBE & SAVE
Sign up for The Week's Free Newsletters
From our morning news briefing to a weekly Good News Newsletter, get the best of The Week delivered directly to your inbox.
From our morning news briefing to a weekly Good News Newsletter, get the best of The Week delivered directly to your inbox.
Change finally appears to be here. It comes in the form of two left-wing political parties from the two nations most savagely harmed by eurozone elites: Greece and Spain. In the former, the party is Syriza, led by Alexis Tsipras; in the latter, Podemos, led by Pablo Iglesias. They are loosely allied, and have similar overall perspectives. They are both leading in recent polls. An election is scheduled for Jan. 25 in Greece, and Tsipras has promised to renegotiate the terms of the country's austerity agreement.
If Syriza wins, eurozone elites will have to choose: do they want democracy or austerity? The answer may dictate the fate of the euro itself.
The two parties' platforms are a mix of trendy left-wing ideas (Podemos has proposed a universal basic income and sharply reducing the retirement age), but the heart and soul of their political appeal is their argument against austerity. They have a clear and compelling case for why their nations' job markets are wrecked: hard money and spending cuts dictated by eurozone leaders.
The fundamental reality is that eurozone elites (led mostly by Germany, but also France to some extent) have utterly screwed the pooch on economic policy. Austerity has not helped Greece's debt problem — it has made it worse. A pack of random frat bros high out of their minds on ether and rubber cement could not possibly have done worse.
Viewed from one angle, this is a huge stroke of luck for eurozone mandarins. It's a fairly gentle wake-up call — historically, fascist parties are what one gets after a prolonged period of economic depression, and indeed fascism has reared its ugly head in Europe. Syriza and Podemos, by contrast, are basically reasonable. They're both left-wing, but not zealots or fanatics. When I met Tsipras a couple of years ago, he used language that was far starker than the average politician, but his policy ideas could easily have come from a center-left economist like Dean Baker.
But eurozone elites don't see it that way. As Matt Yglesias argues, there's a good chance that they will view a Syriza victory as a threat to their hegemony, and use their economic power to crush their opponents:
This is hardly far-fetched. Eurozone leaders have shown a blatant disrespect for democracy — they took down Italy's Silvio Berlusconi in what amounted to a coup d'etat — but this would be going much further. Berlusconi was removed for corruption (supposedly), but this would be smashing a nation simply for reasons of policy disagreement. It would all but proclaim that the economic policy of individual eurozone nations shall not be subject to any democratic accountability.
This ought to be highly alarming for every member of the common currency. Leaving the euro would be an economic disaster for Greece and Spain, but taking the hit and starting from scratch would likely be better in the long term. Estimates project that Spain will not reach full employment again for 25 years — and that's in the highly unlikely case that there isn't another recession or two in the meantime. It might be better to revert to developing nation status for a time than to spend decade after decade chained to insane austerity cultists.
Moreover, the arguments Syriza and Podemos are making would also benefit the rest of the eurozone, including France, Austria, and the Netherlands, which are suffering significant economic slack. Even Germany itself is below full capacity and starved for investment.
It's high time for eurozone elites to see sense — and if not, then their victims will have to take a stand sooner or later. It might as well be now.

Continue reading for free
We hope you're enjoying The Week's refreshingly open-minded journalism.
Subscribed to The Week? Register your account with the same email as your subscription.