Sorry, social conservatives: A Supreme Court defense of gay marriage won't be the next Roe v. Wade
Social conservatives seem to think so. But it's more complicated than that.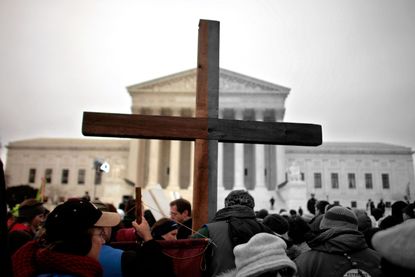 (Image credit: (Illustration | Image courtesy Chip Somodevilla/Getty Images))
The timing couldn't have been more perfect.
Every year in the week surrounding the Jan. 22 anniversary of Roe v. Wade, abortion foes organize marches and rallies to proclaim their opposition to the decision, which in 1973 declared the procedure a constitutional right.
The Supreme Court guaranteed that the rhetoric surrounding the anniversary would be especially heated this year when on the Friday of the previous week it granted cert in four cases that could produce a majority opinion declaring a constitutional right to same-sex marriage.
Subscribe to The Week
Escape your echo chamber. Get the facts behind the news, plus analysis from multiple perspectives.
SUBSCRIBE & SAVE
Sign up for The Week's Free Newsletters
From our morning news briefing to a weekly Good News Newsletter, get the best of The Week delivered directly to your inbox.
From our morning news briefing to a weekly Good News Newsletter, get the best of The Week delivered directly to your inbox.
Right on cue, social conservatives responded by linking any such declaration to Roe and its rancorous aftermath. No, the right asserted, a Supreme Court ruling on gay marriage will not "settle" the issue. On the contrary, it will recapitulate the powerful and polarizing reaction to the landmark abortion-rights decision, galvanizing a grassroots movement of opposition to the ruling that could eventually reverse it.
Sorry, but this is nonsense.
To begin with the most obvious and decisive point, gay marriage (unlike abortion) isn't a life-and-death issue. No one can claim that a person dies when a gay couple weds. They can't even convincingly demonstrate that anyone is hurt in any way by a gay wedding. The harm, in the present, is purely figurative — and when projected into an imagined future in which the institution of marriage eventually collapses as a result of its judicial redefinition to include homosexual couples, purely speculative. That's a pretty significant difference, wouldn't you say?
Then there's the fact that gay marriage has been on an upward trajectory in public opinion, with no significant interruptions or backlashes, for as long as it's been measured by pollsters. This is reflected in the incredibly rapid surge in states that have legalized same-sex marriage in the 11 years since Massachusetts became the first state to permit the practice. Some of this has been the result of lower court rulings, but in other places it has taken place democratically. It seems certain that one way or another gay marriage will eventually be legal in all 50 states, whether or not the Supreme Court makes it so this June.
That deprives same-sex marriage opponents of the most potent talking point of the anti-abortion movement, which is that in 1973 the high court undemocratically overruled the will of the people by summarily overturning abortion regulations in all 50 states. That isn't at all true today. In fact, it's the anti-gay-marriage side that, if it got its way, would overturn laws — and nullify same-sex marriages — in 36 states. Now that's an outcome that would energize a grassroots movement — in defense of gay marriage.
If the court comes down on the pro–gay marriage side, as seems likely, the result will be much less dramatic. Sure, champions of traditional marriage will howl in outrage. And the gay community and its supporters (myself included) will cheer loudly and rejoice. But most Americans will likely shrug their shoulders and adjust to it pretty quickly, understanding that (to paraphrase Thomas Jefferson on a different subject) allowing gay couples to wed neither picks their pockets nor breaks their legs.
This is not simply because public opinion is turning so decisively in favor of gay marriage. More fundamentally, it's because of the underlying change in sexual morals that preceded and made that shift possible in the first place. Where most Americans once conceived of marriage as a one-flesh procreative union between a man and a woman, they now view the institution as a contractual partnership between two people (of either gender) for the sake of friendship, companionship, and emotional and sexual fulfillment. Procreation may be a part of this union, but it need not be.
An analogous shift in attitudes about the autonomy of women took place in the years before Roe v. Wade, preparing the way for its acceptance by millions of Americans. But the conviction that the fetus has dignity and rights that must be protected by the state against lethal violence did not vanish or even weaken prior to 1973, and it remains there today for millions of (other) Americans, bolstered by the most cogent anti-abortion arguments and abetted by the latest advances in ultrasound technology. That's why abortion is still so polarizing and likely to remain so: because there are very strong publicly legitimate arguments on both sides of the issue.
On gay marriage, there are no cogent arguments on the "anti" side. Which is why it is bound to be accepted by an overwhelming majority of Americans, and very soon. Even, I'd predict, by many of the traditionalist Christians who will persist (for a time) in rejecting the validity of such marriages in theological terms. They may deny same-sex unions are real marriages in the eyes of God. But they will recognize and respect those marriages in civil terms. And then we'll move on.
Which means that no matter what the Supreme Court does this year in late June, there will be no Roe v. Wade redux on gay marriage.

Continue reading for free
We hope you're enjoying The Week's refreshingly open-minded journalism.
Subscribed to The Week? Register your account with the same email as your subscription.