Fortitude: Yes, you should watch another grim TV murder mystery
Fortitude may be a member of TV's most overplayed genre. But it has a few tricks up its sleeve.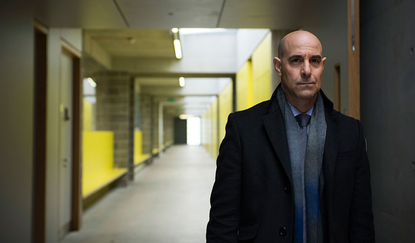 (Image credit: (Courtesy Fortitude via Sky.com))
I wouldn't blame anyone who refuses to watch another grim TV murder mystery. The sheer number of quality TV shows is impossible to keep up with — Vulture recently reported that first-run scripted programs on cable television had increased by 683 percent since the year 2000 — and dark murder mysteries are by far the most over-represented type of show. The past few years have brought us True Detective, Fargo, The Fall, Broadchurch, and Top of the Lake — and those are just the ones worth watching.
Bear all that in mind when I say that yes, you should spend your time and DVR space on Pivot's new murder mystery Fortitude — at least the first episode, to see whether or not you have room for one last chilly crime drama somewhere in your heart.
Fortitude takes place in one of those small towns where everyone seems friendly while harboring all kinds of dark secrets, from mundane (extramarital affairs) to slimy (backdoor political deals) to lethal (the murder that launches the series into motion). Fortitude's biggest hook is that this small town happens to be located deep in the Arctic Circle, surrounded by nothing but glaciers and endless snowy fields. Though its population numbers just 713 people, Fortitude is endlessly multicultural, made up of an eclectic mix of people whose professional interests or personal problems have led them to build their lives in a place of such extreme isolation.
Subscribe to The Week
Escape your echo chamber. Get the facts behind the news, plus analysis from multiple perspectives.
SUBSCRIBE & SAVE
Sign up for The Week's Free Newsletters
From our morning news briefing to a weekly Good News Newsletter, get the best of The Week delivered directly to your inbox.
From our morning news briefing to a weekly Good News Newsletter, get the best of The Week delivered directly to your inbox.
This is a trick that we've seen before, in movies like Insomnia and Whiteout, but never as effectively as it's used in Fortitude, which plays up the town's beauty and claustrophobia in equal doses. Murder is generally frowned upon in any community, but it's a particularly messy problem for Fortitude. The town's inhabitants are literally forbidden from dying within the town's limits; anything buried in the frozen ground is preserved forever, so dead bodies need to be sent to a warmer climate. And the local police chief (Game of Thrones' Richard Dormer) is woefully ill-equipped to deal with the corpse of a murder victim; as the primary source of law enforcement in a town that's virtually crime-free, he spends most of his time drinking and harassing local women.
Into this landscape comes a quintessential outsider: DCI Morton, a Scotland Yard investigator sent to represent London's interests in the case (Stanley Tucci, one of those great character actors who is even better as a leading man). Television is overloaded with prickly, uber-competent detectives, but Morton isn't one of those Sherlock Holmes knockoffs who stands at a crime scene and plucks out all the hidden clues like he's playing the world's most macabre game of Where's Waldo. He's smart, unflappable, capable, and ruthless in pursuit of the truth — but never needlessly cruel about it, unlike some of TV's more irritating riffs on this trend.
I've seen just three episodes of Fortitude, but the series lays out enough breadcrumbs and supporting characters for an entire season. There's Sofie Gråbøl as the town's ambitious leader; Luke Treadaway as a fresh-off-the-plane young scientist; and Michael Gambon as an artist and drunk whose presence seems to make everyone feel a little uneasy. For a show that could be easy to write off as another murder mystery, Fortitude handles the introductions of these non-murder elements with unusual patience and grace. Promotional materials compared the series to Twin Peaks, and while those comparisons aren't wholly accurate — you won't find a single dancing dwarf or log-toting lady here — Fortitude does share Twin Peaks' deliberate pacing and specificity of location.
At a time when there are way, way too many grim murder mysteries on the air, perhaps the highest praise I can offer is that the murder mystery is one of the least interesting aspects of Fortitude. That doesn't mean it's unimportant or boring; it offers a basic framework for the narrative, and an excuse to bring Stanley Tucci into the narrative. But it's also easy to imagine a different, non-homicidal version of Fortitude, following these characters through day-to-day life at the end of the world. All murder mysteries begin with a corpse, but the true test comes in whether the living characters are interesting enough to keep watching — and Fortitude certainly passes.
Fortitude premieres on Jan. 29.

Continue reading for free
We hope you're enjoying The Week's refreshingly open-minded journalism.
Subscribed to The Week? Register your account with the same email as your subscription.