Mad Men recap: 'New Business' feels like old news
With just a handful of episodes left, it's frustrating to see Mad Men waste time on new characters and old stories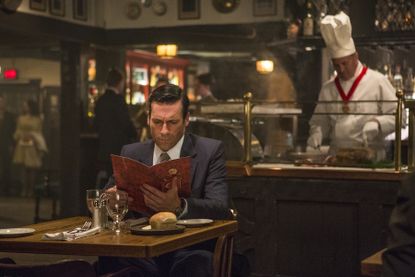 (Image credit: (Justina Mintz/AMC))
Unfortunately, Mad Men saved one of its weakest episodes in a long time for its final season. At times, this week's "New Business" had the feeling of a bad piece of fan fiction, with ill-defined guest characters like Pima Ryan (Mimi Rogers) dominating the episode and pushing the central cast aside. I understand the desire to introduce a little new blood, and there's no reason that a one-off character can't be as important or interesting as a cast regular. But "New Business" was an episode without Sally Draper or Joan Harris or Ted Chaough or Jim Cutler, and with so few episodes left, it's frustrating to see Mad Men burning off a valuable hour on flat, one-dimensional archetypes.
By the end of last week's premiere, I was convinced that Mad Men was actually finished with Don's latest romantic obsession: Di (Elizabeth Reaser), the ominously named, thematically convenient waitress he swore he had met before. If only I'd been right. Di makes her unwelcome return in this week's "New Business," with Don himself strong-arming her back into the story as he tracks her from her old diner to a newer, more upscale restaurant.
Di is a disaster — less a coherent character than an assemblage of details that could have come straight from a book of screenwriting clichés. She chose New York over San Francisco on a coin flip. She has six dollars, a run-down apartment, and a bottle of vodka. She says things like "You've never had a worse day than me." She feels like she's been assembled, Frankenstein-like, from the parts of the various women Don Draper has loved in the past. She even comes with her own (inevitably tragic) backstory: one dead child, and one she abandoned, along with her husband, back in Racine, Wisconsin.
Subscribe to The Week
Escape your echo chamber. Get the facts behind the news, plus analysis from multiple perspectives.
SUBSCRIBE & SAVE
Sign up for The Week's Free Newsletters
From our morning news briefing to a weekly Good News Newsletter, get the best of The Week delivered directly to your inbox.
From our morning news briefing to a weekly Good News Newsletter, get the best of The Week delivered directly to your inbox.
Di isn't just boring in her own right; she stands in the way of Mad Men doing something more interesting with Don, and of letting him interact with someone who doesn't bring out the exact same qualities we've seen in his many, many similar affairs. There's a difference between a character like Di and a character like Stevie, the subject of Peggy's blind date in last week's "Severance." Stevie wasn't just different than the kind of man we normally see in Mad Men; he was a vessel for the audience to see a different side of Peggy, revealing the romantic yearning she tamps down in her day-to-day life at Sterling Cooper & Partners. Di merely tells us that Don is still Don: impulsive, desperate, unhappy, skipping out on work, and treating his existential crises with an endless string of slender brunettes.
The best thing I can say about Di is that Mad Men also seems to recognize that she's a greatest-hits version of all the women from Don's past. "New Business" is haunted by Don's old loves. It opens with a brief encounter between Don and Betty, who is living a version of the life she and Don used to share with Henry Francis and their children. It continues with an appearance by Don's former fling Sylvia (Linda Cardellini), who joins Don and Di on a brief and uncomfortable elevator ride. And it ends with Megan, exiting Don's life — presumably forever — with a truck full of furniture and a million-dollar check.
With just five episodes left in the series, it's entirely possible that "New Business" will be the last time we see Megan Draper, and the episode certainly spends plenty of time on the transition between her old life and her new one. As the final details of her divorce are hammered out, Megan enlists the help of her mother Marie (Julia Ormond) and her sister Marie-France on her goodbye trip to New York. In the time since we last saw Megan, her feelings about Don have hardened, and the terms of the divorce have grown unexpectedly contentious. (Frustratingly, "New Business" fails to clarify why Megan has grown so enraged with Don following their relatively amicable breakup in "Waterloo" — but given Marie's rage, maybe her family talked her into it.)
Megan's trip to New York will likely make her very, very happy she chose to settle thousands of miles away. She has a miserable time with her melodramatic sister and her hot-headed mother, who hooks up once again with Roger Sterling. She has a disastrous lunch meeting with Harry Crane, who tries to ply her with promises, compliments, and wine in an effort to get her into bed. And she lashes out at Don, finally responding to his million-dollar settlement offer by leaving her wedding ring and walking out of the room. In her final conversation with her sister, Megan shows that she hasn't entirely rejected the lessons Don imparted, praising Marie for doing something about her unhappiness — even if the answer was cheating on her husband.
Don and Megan's personal stories largely pulled the episode away from Sterling Cooper & Partners — but what did happen at the office was just as repetitious and thin. Peggy enlists Pima Ryan, a provocative photographer, for an advertisement. During the process, Pima successfully seduces Stan and makes a similar pass at Peggy, in what seems like an effort to secure steady work. "She's a hustler," says Peggy, deflating Stan's crush at the end of the episode. "She tried the same thing with me, but she didn't get as far. And that's why I'm not going to give her another job."
There are some intriguing thematic resonances here — questions about salesmanship, and prostitution, and power, and the uneasy lines between all three. Unfortunately, they're wrapped up in Pima, an unconvincing character that's never been mentioned before and will likely never be seen or mentioned again. Mad Men has addressed these same questions, with much more depth and insight, using characters like Bobbie Barrett and Joan Harris. Tackling them again in this diluted form feels like misplaced nostalgia.
Of course, nostalgia is the subject of one of Mad Men's most famous moments — and a scene that gets revisited, once again, in "New Business." When Di describes the "twinge" in her chest as she reflects on her past, Don quickly calls it a "pain" — slipping, nostalgically, into the same kind of nostalgia-laden haze he endorsed so convincingly in his pitch for Kodak's Carousel.
There's an aspect of that old Carousel pitch that often gets overlooked: Harry Crane, guilt-ridden after cheating on his wife during a drunken office party, leaving the room in tears. It's a powerful moment in Mad Men history — but it's also, as "New Business" implictly reminds us, a moment those characters have long moved past. This version of Don isn't the man who would mourn his past with pictures of Betty; this version of Harry wouldn't blink at having an extramarital affair. Looking back, it's easy to imagine these characters being nostalgic for their own nostalgia, and painfully aware of how much they've lost.
Where does that leave Mad Men? Whatever the answer, it will represent the ultimate philosophical argument of the series — and given the cyclical nature of last week's episode and "New Business," a full-blown redemption for Don probably isn't in the cards.
If there is some kind of salvation on the horizon for Don, Di isn't the answer. There have certainly been women that have rattled his worldview more, or done him more damage by rejecting him more forcefully. (Think Dr. Faye Miller, whose insistence that Don "only likes the beginning of things" was infinitely more insightful and incisive than Megan's dismissal of Don as an "aging, sloppy, selfish liar" in "New Business.") Given his romantic history, Don would clearly be better off avoiding his own baser instincts, and shifting his focus to something like his intimate friendship with Peggy, or his bond with his daughter Sally.
He needs something to fill this latest void. Don ends "New Business" in his empty apartment, staring at the last vestiges of a home once filled by his wife. It's as blunt as symbolism gets: with nothing left except the walls, Don's home is as empty and bleak as he is. It's a point the show has made before, and ground that Mad Men didn't really need to retread. I'm fine with Don not growing, but I'd rather see him not growing in a more interesting way.
Prevous Mad Men recaps:

Continue reading for free
We hope you're enjoying The Week's refreshingly open-minded journalism.
Subscribed to The Week? Register your account with the same email as your subscription.