Game of Thrones recap: In the mood for love
In George R.R. Martin's world, is love anything more than a liability?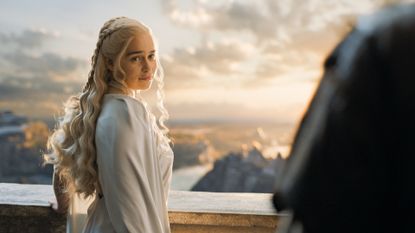 (Image credit: (Courtesy of HBO))
Sign up to our 10 Things You Need to Know Today newsletter
A free daily digest of the biggest news stories of the day - and the best features from our website
Thank you for signing up to TheWeek. You will receive a verification email shortly.
There was a problem. Please refresh the page and try again.
There's one surefire way to guarantee yourself an early death on Game of Thrones: Fall in love.
Any Game of Thrones relationship actually based on love — Khal Drogo and Daenerys, Robb Stark and Talisa, Jon Snow and Ygritte, Renly Baratheon and Loras Tyrell, Oberyn Martell and Ellaria Sand — has ended with the brutal death of at least one of its lovebirds. In theory, the best you can hope for in Westeros is a relationship like the one between Ned and Catelyn Stark, which started with politics and grew into a genuine affection. Then again, both Catelyn and Ned were eventually murdered, too.
As we saw in last week's "High Sparrow," the most fruitful marriages in Game of Thrones tend to be the political ones. Margaery's wedding to the boyish King Tommen gives her unmatched control over the Iron Throne, and Ramsay Bolton's impending marriage to Sansa Stark gives the former an opportunity to increase his claim on the North, and the latter an opportunity to subvert it. Are these marriages guaranteed to be happy? Probably not. But they do come with clear political benefits, and episode after episode has shown that's the most valuable currency Westeros offers.
Subscribe to The Week
Escape your echo chamber. Get the facts behind the news, plus analysis from multiple perspectives.
SUBSCRIBE & SAVE
Sign up for The Week's Free Newsletters
From our morning news briefing to a weekly Good News Newsletter, get the best of The Week delivered directly to your inbox.
From our morning news briefing to a weekly Good News Newsletter, get the best of The Week delivered directly to your inbox.
This week's "Sons of the Harpy" backs away from the pragmatic side of male-female relationships in Westeros to look at the beating, lustful heart that drives them. That's literally true in the case of Melisandre and Jon Snow; when she opens her dress and asks Jon to feel her heartbeat with his bare hand, it's clear that neither of them is focused solely on the metaphor.
"The Lord of Light made us male and female. Two parts of a greater whole," says Melisandre as she attempts to seduce Jon. "In our joining is power. Power to make life. Power to make light. And power to cast shadows." Jon resists her, which is a smarter choice than even he realizes; coitus probably would have resulted in a Jon Snow-faced shadow killing Roose Bolton by next week's episode. Still, Melisandre's final, eerie evocation of Ygritte's unforgettable catchphrase — "You know nothing, Jon Snow" — is a sign that her knowledge of Jon's inner heart runs deeper than he realizes, and that she's not likely to give up on him so easily.
Unrequited love is also the driving force behind Jorah Mormont, who kidnapped Tyrion at the end of last week's episode, promising to take him to "the queen." It's only in "Sons of the Harpy" that Tyrion realizes Jorah's "queen" isn't Cersei Lannister, but Daenerys Targaryen — the very woman Varys was taking him to see in the first place. Jorah's gambit to win back Daenerys' affection by delivering Tyrion is — as Tyrion himself notes — pretty desperate. Jorah has never been what you'd call lucky in love; he was banished after he was caught slaving, in a desperate (and ultimately unsuccessful) attempt to make enough money to please his wife. Jorah is smart enough to know that he'll always need to love Daenerys from afar, but hundreds of miles is apparently unacceptable; if Daenerys chops his head off, it may still be preferable to him than his drunken exile at a brothel with a prostitute who apes her style without any of her substance.
Back in King's Landing, Margaery Tyrell is quickly learning the limits of her control. Tommen is utterly infatuated with his new wife, but Margery's newfound power over the king has also reinforced Cersei's enmity. Cersei's alliance with the High Sparrow pays immediate dividends as Lancel Lannister, Cersei's cousin (and former lover) turned religious fanatic, arrests Margaery's brother Ser Loras for having sex with men. When Margaery insists that he wield his power to free Loras, Tommen agrees, but quickly fails a pivotal test by backing down at the threat of open violence in the streets of King's Landing. His meekness shows just how ill-equipped Tommen is to rule, and the lesson isn't lost on Margaery, who announces that she'll be consulting with her iron-willed grandmother about the matter.
While there are clear limits to what Tommen will do for love, there are plenty of other Westerosi power players who would do anything, as Littlefinger reminds Sansa in the crypts of Winterfell. The seeds of Robert Baratheon's rebellion against the Targaryen dynasty began with a grand romantic gesture, when Rhaegar Targaryen publicly snubbed his wife in favor of Ned Stark's sister Lyanna. When Rhaegar ran off with Lyanna, Robert Baratheon started a war to get her back. "How many tens of thousands had to die because Rhaegar chose your aunt?" Littlefinger asks — ironically, given his own love for Catelyn, and his eventual betrayal of her husband.
In a way, the origin of the war that engulfs Westeros isn't so different. You could say that the unjust execution of Ned Stark was the beginning the War of the Five Kings, but the seeds were sown much earlier, when Cersei and Jaime Lannister began the affair that led to the birth of Joffrey. "The things I do for love," said Jaime as he pushed Bran Stark out of a window in the show's first episode — a desperate attempt to hide his incestuous relationship with Cersei.
"Sons of the Harpy" pushes "the things I do for love" to a new extreme, as Jaime continues his quest to win back Cersei's love by traveling to Dorne to rescue Myrcella. (Of course, that's assuming Myrcella even wants to be rescued; when last we saw her, she seemed pretty happy wandering around the Water Gardens with a handsome young Dornish prince.) With the help of Bronn, Jaime manages to survive the first wave of guards who want to stop him, but there are plenty more obstacles on the horizon.
Jaime may or may not reach Myrcella. Either way, it seems likely that his ultimate goal will elude him. Tellingly, Jaime's desperate rescue mission isn't about his love for his daughter Myrcella, who only knows him as an uncle; it's about proving himself to Cersei, and making up for the key role he played in Tyrion's escape and Tywin's death. Jaime tells Bronn he'd like to die in the arms of the woman he loves, but as Bronn perceptively notes, there's no real indication that Cersei feels the same way; when Cersei last flirted with death, it was sitting on the Iron Throne, clutching her child.
"Sons of the Harpy" also gives us an unexpected father-daughter scene that represents one of the show's purest depictions of familial love. Stannis Baratheon is as gruff and unfeeling as they come, but his daughter Shireen is an exception. When Shireen asks Stannis if he's ashamed of her, he tells her a story. When the infant Shireen contracted greyscale, the often-fatal disease that led to the scarring on her face, Stannis' counselors told him to send her away. Instead, he contacted every healer within reach of Dragonstone and managed to save her life. "You did not belong across the world with the bloody Stone Men," he says. "You were the Princess Shireen of House Baratheon. And you are my daughter." It's the kind of selfless love that has proven, throughout Westerosi history, to be a liability. Given the way things have been going lately, the safest bet may be training yourself not to care about anyone at all.
Continue reading for free
We hope you're enjoying The Week's refreshingly open-minded journalism.
Subscribed to The Week? Register your account with the same email as your subscription.
Sign up to our 10 Things You Need to Know Today newsletter
A free daily digest of the biggest news stories of the day - and the best features from our website
Scott Meslow is the entertainment editor for TheWeek.com. He has written about film and television at publications including The Atlantic, POLITICO Magazine, and Vulture.