Two cheers for David Cameron!
Britain's PM isn't perfect. He's not even great. But he's the best available option.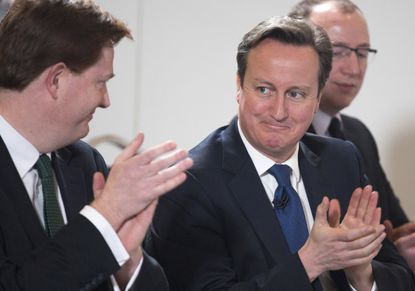 Sign up to our 10 Things You Need to Know Today newsletter
A free daily digest of the biggest news stories of the day - and the best features from our website
Thank you for signing up to TheWeek. You will receive a verification email shortly.
There was a problem. Please refresh the page and try again.
Britain's general election today is very exciting politically. The two main parties, Tories and Labour, are neck and neck, with a number of wild cards in the mix. There's the murky fate of the Liberal Democrats, currently sitting in government but widely unpopular. There's also the spoiler potential of the country's smaller parties, like the Scottish National Party and the United Kingdom Independence Party, who have grown fearsome thanks to popular dissatisfaction with establishment politicians. Because of these factions and the nature of parliamentary politics, Britain's next government could look like anything: a Tory majority, a Labour majority, a coalition, or a minority government backed by smaller parties.
This is all very exciting for bookies and pundits, but the fact of the matter is that while the election is exciting politically, it is crushingly boring in terms of policy.
The Tories strode into power with a very ambitious agenda to remake the welfare state for the 21st century, advancing a communitarian-conservative vision where a vibrant marketplace would be complemented by a combination of strengthened families, private charity, and local government, all with carefully limited central government support. Cameron's Tories had bravely campaigned on tough spending cuts, and still won a mandate (limited, but real) for reform. Yet, as anyone who hadn't fallen off the turnip truck could have told me, if I had been willing to listen, those ambitions were doomed by political realities. Whatever reforms did get passed were pretty much piecemeal.
Subscribe to The Week
Escape your echo chamber. Get the facts behind the news, plus analysis from multiple perspectives.
SUBSCRIBE & SAVE
Sign up for The Week's Free Newsletters
From our morning news briefing to a weekly Good News Newsletter, get the best of The Week delivered directly to your inbox.
From our morning news briefing to a weekly Good News Newsletter, get the best of The Week delivered directly to your inbox.
Nobody believes that Britain's next Parliament, if it lasts — which, absent a clear majority, it almost certainly won't — will see ambitious policymaking, no matter who ends up in 10 Downing Street.
Britain's budget parameters are set. More than half of government spending is made up of debt repayments and the sacred cow of the NHS. On the revenue side, the UK already pretty much taxes as much as it can. Both of these facts pretty much rule out a serious reshaping of the size of government, in either direction. British conservatives have never had a taste for the kind of supply-side tax-cutting that American conservatives favor and that would shake up the policy status quo (and, I would argue, is sorely needed).
On other areas of policy, the consensus again remains hopelessly fixed and narrow. On issue after issue, the choice between Labour and the Conservative seems nonexistent. Education? Well, we're probably going to do something involving some kind of partnership between the government and private schools. Health care? Well, we're probably going to try some reorganization of the NHS, which isn't going to be a real reorganization anyway because employees have too much clout. Welfare? Count on us to tinker around the edges. Foreign policy? Yep, we're still the 51st state. Defense? Eh.
While all this is true, I — as a conservative — still endorse David Cameron to be Britain's next prime minister. He hasn't been a great prime minister, but he hasn't been a bad one, either. He hasn't carried his reforms as far as he should have, but he did show spine in implementing tough spending cuts and trusting that his agenda would deliver an economic recovery. (While the latter has been impossible to prove, it certainly hasn't been as bad as critics feared at the outset.)
Britain's problems, at the end of the day, are the same as those of the rest of Western Europe: an overbloated welfare state which taxes too much to service an aging population. If Britain appears to be Europe's Anglo-capitalist exception, it is only by default and because London's history and status as a financial sector and top global city papers over a lot of problems.
And on these problems, while Europe's right-of-center parties are frustratingly dull, unambitious, and lacking in imagination, their heart is typically in the right place. This is particularly true of Britain's Conservatives. Meanwhile, Labour's leader Ed Miliband still looks like his caricature of a weak-kneed man who accidentally stepped into shoes too big for him.
As a Frenchman, I root against England when it comes to rugby, but for Britain when it comes to economics and policy. So, two cheers for the Tories.
Continue reading for free
We hope you're enjoying The Week's refreshingly open-minded journalism.
Subscribed to The Week? Register your account with the same email as your subscription.
Sign up to our 10 Things You Need to Know Today newsletter
A free daily digest of the biggest news stories of the day - and the best features from our website
Pascal-Emmanuel Gobry is a writer and fellow at the Ethics and Public Policy Center. His writing has appeared at Forbes, The Atlantic, First Things, Commentary Magazine, The Daily Beast, The Federalist, Quartz, and other places. He lives in Paris with his beloved wife and daughter.