Mad Men series finale recap: What the world wants today
In a remarkable capper to its seven-season run, Mad Men settles the question at the center of its narrative: Who is Don Draper?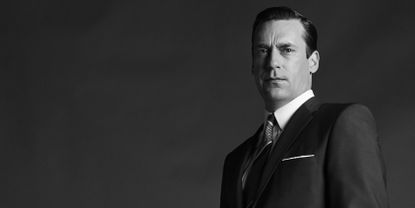 (Image credit: Frank Ockenfels/AMC)
Sign up to our 10 Things You Need to Know Today newsletter
A free daily digest of the biggest news stories of the day - and the best features from our website
Thank you for signing up to TheWeek. You will receive a verification email shortly.
There was a problem. Please refresh the page and try again.
In Mad Men's very first episode, all the way back in 2007, Don Draper laid out the philosophy that defined his basic approach to both work and life. "Advertising is based on one thing: happiness," he said. "And you know what happiness is? Happiness is the smell of a new car. It's freedom from fear. It's a billboard on the side of the road that screams reassurance that whatever you are doing is okay. You are okay."
There's a key juxtaposition that could easily get lost in the middle of that speech. To Don Draper, "the smell of a new car" and "freedom from fear" are equivalents — two separate roads heading to the same destination: happiness. It's the philosophy of a man who reinvented himself, filling all his empty spaces by seeking out the powerful, emotional experiences that unite all human beings — and then reshaping those experiences into cute, commercial little packages that could be hawked to any sucker with a wallet full of cash.
To my mind, the final scene in Mad Men's series finale is a wonderful, bracingly cynical affirmation of the soulless philosophy to which Don subscribes. As he meditates in the middle of a spiritual retreat, at the end of a desperate, soul-searching road trip, he finally smiles, achieving the moment of peace and fulfillment he traveled thousands of miles to find. And then the punchline arrives:
Subscribe to The Week
Escape your echo chamber. Get the facts behind the news, plus analysis from multiple perspectives.
SUBSCRIBE & SAVE
Sign up for The Week's Free Newsletters
From our morning news briefing to a weekly Good News Newsletter, get the best of The Week delivered directly to your inbox.
From our morning news briefing to a weekly Good News Newsletter, get the best of The Week delivered directly to your inbox.
Throughout "Person to Person," Don tries time and time again to grasp happiness and fails. He seeks excitement through driving a fast car and having sex with an attractive stranger. He seeks fulfillment in relationships with his ex-wife (Betty), his actual daughter (Sally), his surrogate daughter (Stephanie), and his protégé (Peggy). He seeks enlightenment by connecting with strangers, and accepting himself. But it's not until the end of the episode that he smiles, because he finally wraps his head around the world that surrounds him — and that means he knows how to sell it.
We should have seen this ending coming. In season one, Don sold the Kodak Carousel as a time machine to relive your happiest moments. In season four, he turned the iconic image of the Ali-Frazier fight into an ad for suitcases. In season six, he pitched the Hershey Bar as the "currency of affection." Don may dream of escape — and even travel thousands of miles in the pursuit of it — but he'll never be able to escape his own uncanny knack for churning the raw, complicated, emotional experiences of life into trite, treacly pitches for soda and burgers. "What you call love was invented by guys like me to sell nylons," Don told Rachel Menken early in Mad Men's first season. To Don Draper, feelings are a means to an end — a handy shortcut to what he actually wants, be it sex or money or control.
Of course, if you're inclined to be less cynical, you can also read the ending in a totally different way. (Matt Weiner learned that much from his time on The Sopranos.) You could argue that the jump from Don's meditation at the retreat to the cloying cynicism of "I'd Like to Buy the World a Coke" is a final escape for Don; while the advertising executives at McCann were pushing Coca-Cola as "the real thing," Don was thousands of miles away, actually experiencing the real thing.
This is all ambiguous by design. "Person to Person" implies that Don created that famed "I'd Like to Buy the World a Coke" ad, but it doesn't say it outright. If Mad Men wanted us to know the definitive, unequivocal answer, it would have shown Don pitching the Coke commercial, or rolling his eyes at the Coke commercial once he caught it on the air. Instead, it leaves us with the juxtaposition, and invites the audience to serve as the show's final judge. Like many great endings, "Person to Person" offers a kind of Rorschach test, leaving on a question — about the show, about the characters, about ourselves — and asking us to decide what happened. (To be fair, the knowledge that the real-life McCann Erickson was responsible for the ad — which debuted in February 1971, just months after the Mad Men finale ends — certainly tips the scale toward the more cynical reading.)
Before that remarkable capper, the rest of "Person to Person" busies itself with the typical business of TV series finales: giving us one last chance to see all the characters we've come to love. Pete and Peggy get one last scene together, parting on good terms as he leaves New York City for his new job at Learjet. ("Someday, people are going to brag that they worked with you," he tells her, fondly, with the wreckage of their previous affair way back in the rearview mirror.) Roger and Marie have sex, and fight, and get engaged, in a microcosm of the endless highs and lows their relationship will inevitably sustain. Don and Betty have a tearful, near-wordless goodbye, in the first of two person-to-person phone calls Don makes in the episode.
"Person to Person" even feints in the direction of one popular fan theory, as Joan offers Peggy the chance to join her as an equal partner in their very own company. But the fan-fiction fodder is, indeed, too good to be true; Peggy is too committed to the career she's building at McCann Erickson to cash out and strike out on her own. Joan's proposal for a company called "Harris-Olson" becomes "Harris-Holloway," with Joan using both of her names as she works out of an apartment, like SCDP building its business out of a hotel room so many seasons ago.
"Person to Person" does pay off one longstanding item on many Mad Men fans' wish lists: the romance between Peggy and Stan. Stan's long-awaited confession of love to Peggy is pure rom-com fodder, right down to his sprint to Peggy's office for their first real kiss. It's corny — maybe too corny — but honestly, who could complain about Peggy finding a guy who actually appreciates her?
It's the one unequivocally bright spot in "Person to Person," which is broadly weighted with so much complexity and history. Much of the episode's dialogue is loaded with symbolic meaning hearkening back to the themes and stories Mad Men has grappled with since its premiere. "Are you trying to kill me?" says Roger after a particularly intense round in bed with Marie. "I'm trying to make you happy," she replies, as if those are the only two options."People just come and go, and no one says goodbye," complains Don — the pot who's calling the kettle black — to a woman at the retreat. "I'm sorry, but people are free to come and go as they please," she replies. "I just know how people work. You can put this behind you," says Don to Stephanie, in a near-identical variation on the advice he gave Peggy after she gave up her child. "It will get easier as you move forward." But this time, someone calls him out on the wrongheadedness of his fundamental approach to life: "Oh, Dick. I don't think you're right about that."
"Person to Person" builds to one last great exchange between Don and Peggy — a scene no less intimate than their many interactions over the years, though they're thousands of miles apart now. Peggy repeatedly tells Don to come home, as he tearfully lays out all his sins: "I broke all my vows. I scandalized my child. I took another man's name and made nothing of it." Peggy tries to console him, but as usual, he can't be consoled by a person who actually knows him. ("You only like the beginning of things," as Don's onetime lover Faye Miller prophetically warned.) In an ensuing scene, Don only reaches emotional catharsis when he hears a total stranger confess to his own feelings of alienation and loneliness, hugging him and crying along with him.
It's a moment of raw, human connection — the kind of thing, as Don once argued, that people are always desperately hoping to feel. But when he feels it himself, his well-honed instincts as an adman take over. A lonely man bares his soul in a group therapy session, describing a crushing dream in which he was a picked-over item in a refrigerator; within 24 hours, Don's subconscious warps it into a Coca-Cola commercial. The man leading a morning meditation describes a "new day. New ideas. A new you"; in an instant, Don instantly reverts to the old version of himself, whose version of a "new idea" is a new way to exploit people's emotions as a shortcut to their wallets. It's bleak — but knowing Don as well as we do by now, can you really be surprised, or even blame him for it?
This is a cycle we've seen Don undergo before, and there's no reason to suspect it would ever change. Mad Men — a show with at least a half-dozen previous episodes that could have served as series finales — is smart enough to know that in real life, there's no such thing as a true ending. We leave the characters here, because this is where Mad Men ends — but for the characters, this is just another beginning. Peggy and Stan are beginning their relationship, with all the personal and professional complications it will bring. Roger is embracing the joyful chaos of his new life with Marie. Joan is launching a company on her own. Pete and Trudy are beginning a new life together in Kansas. It's not hard to imagine an eighth season of Mad Men, picking up where "Person to Person" ends.
But for us, this is the end. That means the final, unflinchingly honest story Mad Men's series finale wants to leave us with is this: Don Draper will be a man whose instincts push him away from what's actually real in life, and toward the things he can simplify, commercialize, and sell — and there will always be an audience for it.
Read more Mad Men recaps:
* Mad Men recap: 'The Milk and Honey Route'
* Mad Men recap: Trouble in Shangri-La
* Mad Men recap: The end of an era
* Mad Men recap: 'The Forecast'
* Mad Men recap: 'New Business' feels like old news
Continue reading for free
We hope you're enjoying The Week's refreshingly open-minded journalism.
Subscribed to The Week? Register your account with the same email as your subscription.
Sign up to our 10 Things You Need to Know Today newsletter
A free daily digest of the biggest news stories of the day - and the best features from our website
Scott Meslow is the entertainment editor for TheWeek.com. He has written about film and television at publications including The Atlantic, POLITICO Magazine, and Vulture.