Why Americans secretly love the idea of imperialist empires
How else are we supposed to free the world and destroy evil?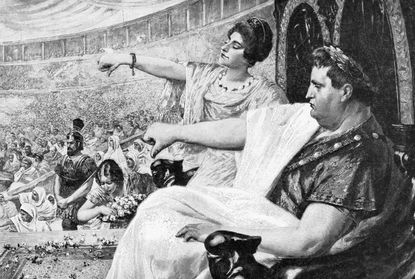 (Image credit: CORBIS)
As ISIS expands, and Iran's fortunes eclipse those of our quote-unquote Arab allies, some military historians and analysts with a not-so-progressive view of history have ruffled feathers by warning that imperialism is back.
As Robert Kaplan recently claimed, imperialism is the only form of rule that really works across large parts of the globe. Rare and unreliable exceptions aside, he says, the alternative to imperialism is anarchy, just as we're seeing in Libya and Yemen today. "Totalitarianism was the only answer to the end of Western imperialism in these artificial states," he surmises, "and totalitarianism's collapse is now the root cause of Middle East chaos."
This line of thinking has drawn howls of anger because the question it summons is so blunt: If we can't beat imperialism, shouldn't we join it?
Subscribe to The Week
Escape your echo chamber. Get the facts behind the news, plus analysis from multiple perspectives.
SUBSCRIBE & SAVE
Sign up for The Week's Free Newsletters
From our morning news briefing to a weekly Good News Newsletter, get the best of The Week delivered directly to your inbox.
From our morning news briefing to a weekly Good News Newsletter, get the best of The Week delivered directly to your inbox.
Sure, after a raft of Bush- and Obama-led military misadventures, it might seem rather crazy to try rallying America around another imperialistic crusade. Unfortunately, it's not that crazy at all. Though we'll never warm up to old-style imperialism, many Americans still have an intense hunger for a newfangled kind of empire.
To begin with, the idea that we can't stop Mideast chaos makes us incredibly anxious about what else we're powerless to do. So we're strongly tempted to act certain that we can reassert control.
Even more powerful than this fear-based logic, however, is a rationale driven by our biggest desires. We dislike ancient-style empire because it's hard, protracted work — costly labor that calls upon old-timey values we no longer believe in. But we also dislike it because, from our democratic standpoint, it's ridiculously inefficient, primitive, and unfair. We want to dominate others quickly and from afar, without spending a lot of time or money. And we don't want to dominate them because we're flag-worshipping reactionaries. We want to do it for much less parochial reasons, such as unifying the world and promoting freedom and destroying evil.
What's more, we can hardly imagine what else a morally good foreign policy could look like.
Of course, many self-styled progressives think that real progress is peaceful and anti-imperialist — just as many paleoconservatives think the same about real conservatism. Unfortunately for both camps, our American vision of empire taps into our yearning for true progress just as much as the regressive vision of a Caliphate taps into our enemies' yearning for true conservatism.
Progressive imperialism has no time for a confusing, subtle mess of small-time enemies. It seeks to identify the biggest, most absolute foe around, and wipe it out. And it seeks to unify us as more than Americans — as humans animated by the highest of ideals, like equality and freedom.
We're about to face a big clash between the ancient and the progressive visions of empire. It's a title fight in the making. The imperfections and disappointments of globalization make imperialist reactionaries long for an empire strong enough to reject it — and make progressives long for an empire strong enough to perfect it.
If a war between these visions can be avoided, it will take a kind of statecraft neither the reactionaries nor the progressives can imagine.

Continue reading for free
We hope you're enjoying The Week's refreshingly open-minded journalism.
Subscribed to The Week? Register your account with the same email as your subscription.