What not to buy online, and more
Six top pieces of financial news and advice — from PayPal's deceptive credit program to a savings account that pays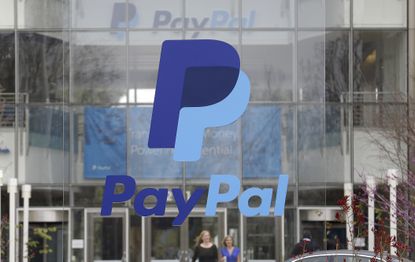 (Image credit: AP Photo/Jeff Chiu)
Here are six top pieces of financial news and advice:
PayPal's deceptive credit program
PayPal just got smacked with a $25 million penalty for its "malicious" credit service, said Josh Lowensohn at The Verge. The Consumer Financial Protection Bureau says PayPal signed up users for the service, which fronts money for purchases, without their permission; "deceptively advertised its benefits"; and mishandled billing in a way that "raked up late fees and extra interest charges." The agency alleges that, in some cases, customers learned about their PayPal Credit accounts for the first time from debt collectors. PayPal denied any wrongdoing, but the company will have to pay $15 million in reimbursements to affected customers, along with a $10 million fine to the CFPB's Civil Penalty Fund. PayPal will also be required to be clearer about when customers are being enrolled in the program.
Subscribe to The Week
Escape your echo chamber. Get the facts behind the news, plus analysis from multiple perspectives.
SUBSCRIBE & SAVE
Sign up for The Week's Free Newsletters
From our morning news briefing to a weekly Good News Newsletter, get the best of The Week delivered directly to your inbox.
From our morning news briefing to a weekly Good News Newsletter, get the best of The Week delivered directly to your inbox.
How to handle an inheritance
If you are bequeathed money in a will, first "buy a nice bottle of Champagne and toast your benefactor," said Kira Brecht at US​ News. But then it's time to think seriously about how that windfall contributes to your "long-term financial security." Put the money aside while you make a detailed plan. First, list your financial goals. Next, fund your emergency account; most advisers recommend having three to six months of living expenses set aside. "The next priority is outstanding debt," including student loans, credit cards, and mortgage debt. Then, if you haven't been contributing the maximum to your retirement account, now is the time. Finally, it's OK to spend 5 to 10 percent to "have a little fun," but not before you "lay the groundwork for a more secure future."
What not to buy online
"Shopping online certainly has its advantages," said Cameron Huddleston at Kiplinger​, but there are good reasons to buy some things in person. Quality and fit are easier to judge; large items are expensive to ship, and even costlier to return. Bicycles, for instance, should be researched online but purchased in person, since local dealers are better for warranty repairs. Kids' shoes are better purchased in the store so you can have someone properly measure their feet, and local florists remain considerably cheaper for bouquets than online shops. Warehouse clubs still beat the likes of Amazon on grocery prices. High-end musical instruments, home décor, mattresses, and swimwear are also purchases worth doing in person.
Paying less for car insurance
If you want a cheaper auto insurance bill, "just ask," said Kelli B. Grant at CNBC. Despite deals to be had, only 16 percent of consumers have asked their insurance company about "common breaks like low-mileage rates or good-student discounts." Most people assume the rate is set. "That's a mistake that can leave big money on the table." For example, in California, if you drive 5,000 miles per year, well under the state average of 15,000, you might be able to cut your insurance bill by up to 25 percent with a low-mileage discount. Discounts vary by state and insurance carrier, but the trick is to ask what is available and ask often. "Alert your agent when you have a life change," because marriage or a new job might qualify you for a better deal.
The how-to's of family loans
It's a "nice sentiment" to want to give a cash-strapped family member an interest-free loan, said Bill Bischoff at MarketWatch. But by doing so, you could face "unfavorable and complicated tax rules." To avoid the complications that come with below-market loans, charge an interest rate equal to or more than the "applicable federal rate," available on the IRS website. Luckily, these rates are extremely low at the moment, starting at 0.43 percent for "short-term loans" of up to three years. Also, be sure to have the loan in writing so that the IRS will know the deal is a loan, not a gift, which comes with its own tax rules. Beyond the tax consequences, charging relatives even a small amount can help keep the deal on "a business-like footing."
A savings account that pays
It's not impossible to earn meaningful interest on your rainy-day fund, said Michelle Singletary at The Washington Post. Average interest rates on checking and savings accounts are "pitifully low" at 0.06 percent and 0.10 percent, respectively. But higher-yielding accounts are out there. Bankrate.com's "2015 High-Yield Checking Survey" found 20 checking accounts at U.S. banks and credit unions that yield 2 percent or more. Most come with requirements like direct deposit and online bill payments, but nothing out of the ordinary. The biggest hurdle may be geography. Although many accounts are available nationwide, the bank with the highest yield — 3.25 percent — only serves Louisiana and parts of southeast Texas. A 2 percent yield may not sound like much, but it allows you "to keep pace with inflation or even beat it."

Continue reading for free
We hope you're enjoying The Week's refreshingly open-minded journalism.
Subscribed to The Week? Register your account with the same email as your subscription.