Vladimir Putin and FIFA's Sepp Blatter: A perfect alliance of sleaze
Talk about two peas in a pod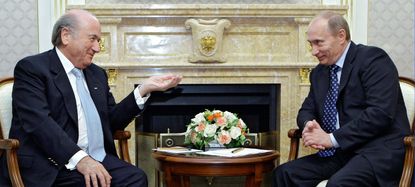 (Image credit: REUTERS/RIA Novosti/Alexei Nikolsky/Pool)
Could there be a more fitting champion of FIFA then Vladimir Putin?
As FIFA President Sepp Blatter heads toward a tense vote later today that will determine whether he will remain in charge of global soccer's governing body, amidst a sweeping bribery scandal that has nabbed some of his top lieutenants and that with any luck will loosen Blatter's Palpatine-like hold over the beautiful game, he at least knows that he has a friend in the Russian strongman.
Putin on Thursday said the charges brought by the U.S. Justice Department against nine FIFA officials and five sports marketing executives were yet "another blatant attempt to extend [U.S.] jurisdiction to other states." In a claim that deserves some kind of award for willful obfuscation, he said U.S. officials were using the same "methods for achieving their selfish goals" that they had used to go after Julian Assange and Edward Snowden.
Subscribe to The Week
Escape your echo chamber. Get the facts behind the news, plus analysis from multiple perspectives.
SUBSCRIBE & SAVE
Sign up for The Week's Free Newsletters
From our morning news briefing to a weekly Good News Newsletter, get the best of The Week delivered directly to your inbox.
From our morning news briefing to a weekly Good News Newsletter, get the best of The Week delivered directly to your inbox.
Really, it's hard to think of a more perfect alliance of sleaze. It goes beyond the fact that Russia, as host of the 2018 World Cup, has a vested interest in defending FIFA and its embattled president. The fact is that if FIFA were a country, instead of merely a corrupt international sporting organization, it would look a lot like Russia. And Putin calling attention to this parallel is doing no favors to Blatter.
The U.S. Justice Department's accusation that soccer officials were involved in a decades-long scheme involving $150 million in bribes has put a spotlight on how Blatter runs his operation. The billions of dollars in revenues that FIFA pulls in each year from corporate sponsors, which have long turned a blind eye to FIFA's unscrupulous practices and may have paid kickbacks themselves, trickles down to member nations that make up FIFA, ensuring they have an interest in voting to keep Blatter in power.
Sound familiar? That's because it bears remarkable similarities to how Vladimir Putin does business. Ever since the Russian state seized control of the country's biggest industries and handed them over to Putin's cronies, Putin has consolidated power by ensuring that his friends receive a steady stream of the profits that Russia makes from energy, mining, and more.
As I mentioned in a previous column, a microcosm of the Putin model (if a scam so massive can be called a microcosm of anything) can be found in Russia's handling of the 2014 Sochi Winter Olympics, which became the most expensive Olympics in history after Putin handed out infrastructure projects to oligarchic interests that were happy to inflate the costs.
Also, it's worth remembering that Russia hosted its Winter Olympics in a city without any snow, bumping up the costs even higher. That is not any more absurd than FIFA awarding the 2022 World Cup to the desert kingdom of Qatar, where the government now admits it is way too hot to play outdoor sports in the summer.
The similarities don't end there. Both Blatter and Putin have used similar rhetorical tactics when confronted with wrongdoing, displaying the autocrat's natural affinity for propaganda and his cynical disregard for the most obvious truths.
Look at how FIFA responded to an internal investigation into allegations that Qatar and Russia had won their World Cup bids through kickbacks: It announced that both countries had been cleared of any illicit behavior whatsoever, an exoneration so unbelievably total that the head of the investigation resigned in protest. Were Putin's justifications for annexing Crimea any less brazen?
Blatter has blamed the latest scandal on "the actions of a few," saying, "We, or I, cannot monitor everyone all the time." He also promised to restore trust in the organization: "We cannot allow the reputation of FIFA to be dragged through the mud any longer. It has to stop here and now." Putin, meanwhile, responded thusly to the recent killing of opposition leader Boris Nemtsov, who was just one in a long line of Kremlin opponents conveniently dispatched by assassination: "We need to finally rid Russia of shame and tragedy such as we experienced."
Both men implausibly assert that the head-to-toe rot over which they preside has nothing to do with them — and both men clearly don't care if no one believes them.
This is not to imply, of course, that Blatter's transgressions are of the same order as Putin's. It is to point out that there is a pattern to corruption that is discernible at all levels, from the highest to the lowest. And it is a pattern that has only been underscored by the budding alliance between a despot and the most tarnished name in international sports. Lies upon lies, systems of greed, hilariously quixotic vanity projects — all the hallmarks of deeply embedded corruption are apparent in both Putin's Russia and Blatter's FIFA.

Continue reading for free
We hope you're enjoying The Week's refreshingly open-minded journalism.
Subscribed to The Week? Register your account with the same email as your subscription.