Summer movie guide: All the films you should see in August
Your guide to the best and buzziest movies hitting theaters this month, from Shaun the Sheep Movie to Z for Zachariah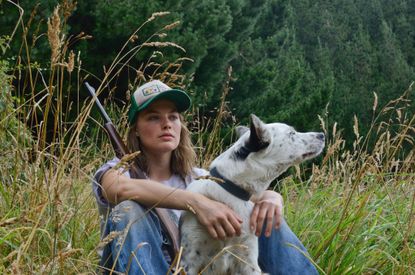 (Image credit: Facebook.com/Z for Zachariah)
Sign up to our 10 Things You Need to Know Today newsletter
A free daily digest of the biggest news stories of the day - and the best features from our website
Thank you for signing up to TheWeek. You will receive a verification email shortly.
There was a problem. Please refresh the page and try again.
August 7
Shaun the Sheep Movie
What it is: Shaun, a mischievous sheep who lives on a sleepy British farm, leads his flock on an adventure to the big city.
Subscribe to The Week
Escape your echo chamber. Get the facts behind the news, plus analysis from multiple perspectives.
SUBSCRIBE & SAVE
Sign up for The Week's Free Newsletters
From our morning news briefing to a weekly Good News Newsletter, get the best of The Week delivered directly to your inbox.
From our morning news briefing to a weekly Good News Newsletter, get the best of The Week delivered directly to your inbox.
Why you should care: Wallace and Gromit creators Aardman Animations shifts the focus to the scene-stealing Shaun the Sheep, who first appeared in the beloved 1995 Wallace and Gromit short "A Close Shave." From Inside Out to Minions, there have been plenty of family-friendly animated movies this summer, but Shaun the Sheep — with its stop-motion animation, silly humor, and total lack of dialogue — offers families something truly unique.
What else is coming out: The Fantastic Four, a shaky-looking reboot of the popular superhero team; Ricki and the Flash, a dramedy about an aging rocker (Meryl Streep) who attempts to reconnect with the family she abandoned; The Gift, a thriller about a couple who becomes reacquainted with a long-forgotten and vaguely sinister friend (Joel Edgerton, pulling triple duty as writer/director/co-star); The Diary of a Teenage Girl, a drama set in 1970s San Francisco about a 15-year-old (Minnie Goetze) who begins to explore her sexuality after losing her virginity; Dark Places, an adaptation of the grim crime novel by Gone Girl author Gillian Flynn; Cop Car, a thriller about a pair of young boys who steal an abandoned patrol car from a corrupt cop (Kevin Bacon); Khalil Gibran's The Prophet, a beautifully animated film based on the legendary book of prose essays of the same name; The Runner, a political drama about a congressman confronting a sex scandal (Nicolas Cage) in the wake of the BP oil spill.
August 14
Straight Outta Compton
What it is: A biopic centered on the legendary hip-hop group N.W.A. — with a particular focus on Ice Cube (O'Shea Jackson, Jr.), Dr. Dre (Corey Hawkins), and Eazy E (Jason Mitchell) — as they rise to fame despite controversy and prejudice.
Why you should care: It's kind of amazing that it's taken more than 25 years for N.W.A.'s story to hit the big screen. Great music, strong personalities, tons of drama — it's as inherently cinematic as a real-life story can get. Director F. Gary Gray, who directed music videos like "It Was a Good Day" and "Natural Born Killaz" for N.W.A. alumni, has the passion and depth of knowledge for the material. And the cast — which includes Ice Cube's own son as Ice Cube — is made up of promising young talents.
What else is coming out: The Man From U.N.C.L.E, Guy Ritchie's blockbuster adaptation of the hit 1960s spy series of the same name; Mistress America, a Noah Baumbach comedy about a free-spirited young woman (Greta Gerwig) who teaches her new stepsister (Lola Kirke) about living well in New York City; Tom at the Farm, a French-language thriller about a young man (Caleb Landry) who attends the funeral of his in-the-closet lover and discovers his lover's family didn't know he existed; People Places Things, a comedy about a newly divorced graphic novelist (Flight of the Conchords' Jemaine Clement) navigating life as a single father; Underdogs, a computer-animated kid's flick about a bunch of foosball players who come to life to save a small town via a high-stakes soccer game; Ten Thousand Saints, a dramedy about a trio of teens (Asa Butterfield, Emile Hirsch, and Hailee Steinfeld) navigating life in 1980s New York; Return to Sender, a nasty-looking thriller about a woman (Rosamund Pike) who strikes up a twisted relationship with a man who raped her; Exeter, a horror movie about a bunch of idiot teenagers who throw a party in an abandoned insane asylum.
August 21
Grandma
What it is: A dramedy about an outspoken woman (Lily Tomlin) who takes her teenaged granddaughter (Julia Garner) on a wild day through Los Angeles in an effort to help her secure the money she needs for an abortion.
Why you should care: It's been decades since Lily Tomlin has been given a starring role worthy of her talents, and she clearly relishes every irascible minute of screen time in Grandma, leading a talented cast that also includes Sam Elliott, Laverne Cox, and the perennially underappreciated Judy Greer. Grandma is fairly episodic in structure, but the protagonists' rambling journey allows Grandma to explore the full richness of its title character's history, as she encounters family, friends, and ex-lovers in her unflagging attempt to help her granddaughter.
What else is coming out: Hitman: Agent 47, a second attempt to reboot the popular video game series, with Homeland's Rupert Friend in the title role; American Ultra, an action-comedy about a slacker (Jesse Eisenberg) who discovers he's a Jason Bourne-esque government agent whose memories have been wiped; Before We Go, a romantic dramedy about a man (Chris Evans) and a woman (Alice Eve) who meet and spend an unexpected, romantic night together in New York before her train leaves in the morning; Some Kind of Beautiful, a rom-com about a rakish professor (Pierce Brosnan) who begins a romance with his ex-wife's sister (Salma Hayek); She's Funny That Way, an ensemble comedy about a film director (Owen Wilson) whose personal and professional lives become hopelessly entangled; Digging for Fire, a comedy by mumblecore icon Joe Swanberg about a married couple (Jake Johnson and Rosemarie DeWitt) who split up for an eventful weekend; Learning to Drive, a comedy about the unlikely friendship that forms between a writer (Patricia Clarkson) and her driving instructor (Ben Kingsley).
August 28
Z for Zachariah
What it is: Following a nuclear war that destroyed most of the world, a young woman (Margot Robbie) forms an uneasy alliance with two men who have managed to survive (Chiwetel Ejiofor and Chris Pine).
Why you should care: There have been plenty of post-apocalypse stories released in 2015, but Z for Zachariah's intimate, character-focused take on the end of the world represents one of the most intriguing permutations of the well-worn genre. Director Craig Zobel was rightly hailed for his 2012 drama Compliance, and following a buzzy premiere at this year's Sundance Film Festival, Z for Zachariah has earned similar acclaim. And when you're making a movie with just three characters, it helps to have a trio of actors as diverse and talented as Robbie, Ejiofor, and Pine.
What else is coming out: Regression, a thriller about a detective (Ethan Hawke) investigating alleged abuse in a small town in Minnesota; Sinister 2, one of those "horror sequels" that features pretty much none of the actors who appeared in the original; We Are Your Friends, an Entourage-esque comedy about the kind of people (Zac Efron, Wes Bentley) you would never actually want to be friends with; War Room, a Christian-themed ensemble drama about an unhappy family that solves its problems through prayer; The Second Mother, a Spanish-language comedy about a cleaning woman (Regina Casé) whose estranged daughter shows up and shakes up the dynamic of the household where she works.
Continue reading for free
We hope you're enjoying The Week's refreshingly open-minded journalism.
Subscribed to The Week? Register your account with the same email as your subscription.
Sign up to our 10 Things You Need to Know Today newsletter
A free daily digest of the biggest news stories of the day - and the best features from our website
Scott Meslow is the entertainment editor for TheWeek.com. He has written about film and television at publications including The Atlantic, POLITICO Magazine, and Vulture.