Volkwagen's unethical emissions scam is partly the government's fault
There's more than one villain in this debacle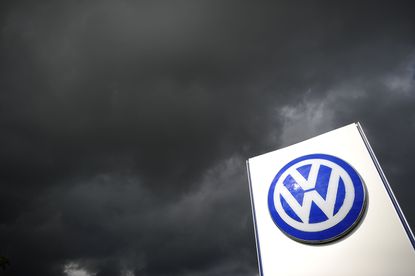 (Image credit: Alexander Koerner/Getty Images)
Volkswagen has apparently been deliberately and flagrantly cheating on its nitrogen oxide (NOx) emissions for years. How the car giant thought it could get away with this scam boggles the mind. There is no way to describe its actions other than stupid, arrogant, and probably criminal.
But here's the thing: The whole episode should call as much attention to the Environmental Protection Agency's unrealistic, even crazy, car emissions standards — the toughest in the world — as VW's flouting of them. Indeed, VW's scam might be a harbinger of things to come if the EPA itself is not curbed.
The German automaker is facing up to $18 billion in fines — more than four times its pre-tax net income last year — for installing cheat software on about 250,000 diesel models of its 2009 to 2015 TDI Volkswagen Golf, Jetta, Beetle, and Audi A3 vehicles in America, and likely 11 million worldwide. Essentially, the software was specifically designed to release legal levels of NOx during emissions test, and then release much higher (and illegal) amounts once out on the open road.
Subscribe to The Week
Escape your echo chamber. Get the facts behind the news, plus analysis from multiple perspectives.
SUBSCRIBE & SAVE
Sign up for The Week's Free Newsletters
From our morning news briefing to a weekly Good News Newsletter, get the best of The Week delivered directly to your inbox.
From our morning news briefing to a weekly Good News Newsletter, get the best of The Week delivered directly to your inbox.
To understand why this was so wrong, here's some context: The basic advantage of diesel engines is that they have a higher fuel economy and generate fewer carbon emissions than gas engines. But their disadvantage is that they emit more nitrogen oxide — which can sometimes cause ground-level ozone or smog levels to rise. Hence, after EPA's stricter limits on nitrogen-oxide emissions went into effect in 2008, carmakers started installing urea tanks in their diesel cars to break down the nitrogen oxide before release.
VW claimed that the design of the engine on its smaller diesel cars could meet the EPA's emission standards without the urea tank. That turned out to be a complete lie as its (now former) CEO Martin Winterkorn pretty much admitted when he apologized profusely after the cheater software was discovered. The company's U.S. brand head, Michael Horn, issued an even plainer mea culpa declaring: "Our company was dishonest." All of this suggests that the scam probably went pretty far up the food chain.
Even more galling, VW was fraudulently marketing its cars as "clean diesel" while collecting potentially $51 million in green taxpayer subsidies, according to a Los Angeles Times investigation.
But the hard reality is that this might not be the last such scam we'll see. If the EPA continues on its anti-industry crusade, it'll practically invite widespread disrespect for the law.
The EPA slashed allowable nitrogen dioxide car emissions from the already low 1.2 grams per mile average to 0.07 grams per mile in 2008 to boost air quality that courts at the time ruled was already pretty good and adequately protecting public health. The EPA is now poised to tighten that standard another 30 percent.
The problem for carmakers is that they can't simultaneously satisfy such regulatory edicts and consumer demand.
Drivers want cheap, safe, powerful cars. That is exactly what the EPA's NOx standards made it very difficult for VW to produce. A urea tank costs thousands of dollars, diminishes fuel economy, and makes cars far less zippy (since the engine is forced to divert power to the tank). For a company like VW that was desperately trying to gain a toe-hold in a diesel-unfriendly country like America, EPA's NOx standards obviously posed a very difficult dilemma.
And, as Sean McAlinden of the Center for Automotive Research notes, diesel emission standards aren't the only ones to put carmakers in a bind. Federal regulators have become overly aggressive on virtually every front. For example, new CAFE emissions standards for light trucks have forced automakers to use lightweight material in the body. This makes it difficult to make safe trucks that can pass federal crash tests.
EPA regulators insist that such edicts will trigger innovations that will produce a better balance between public and environmental health and driver needs. Some, however, speculate that the Obama administration is determined to regulate away both gas and diesel engines from the market to induce a switch to electrics just as federal regulators did with incandescent bulbs. "The president promises that we could have the same vehicle we love with no change at twice the fuel economy by 2025, but that's a big lie," notes McAlinden.
Even if the administration isn't trying to outlaw these engines, if companies can't find cost-effective technologies that satisfy such regulatory edicts without pricing drivers out of the market, notes McAlinden, they might well start flouting the law. What adds to the allure of the strategy of cheating, he observes, is that federal regulators can't test entire fleets. They have to rely on manufacturers' own self-reported data to determine compliance. "So it won't be surprising if this kind of thing happens more often in the future," he maintains.
Ultimately, however, it is not even clear whether EPA's emission and other federal regulations save or cost lives. The standard rule-of-thumb is that $15 million in regulatory compliance costs result in the equivalent of one statistical death (because industry and consumers are forced to cut back on other safety-enhancing things). By EPA's own projections the annual cost of its 2008 smog emission standards was about $3.5 billion — and would generate ozone reductions of less than 1.3 percent. This worked out to about 233 more statistical fatalities every year, wrote George Washington University's Susan Dudley at the time.
Congress will no doubt hold hearings to look into VW's shenanigans. Fine. VW deserves it — if for no other reason than it scammed customers and taxpayers, and obtained an unfair advantage over competitors. But if Congress really wants to address the root of the problem, it should curb EPA's regulatory authority.
That would be a cause worthy of shutting down the government.

Continue reading for free
We hope you're enjoying The Week's refreshingly open-minded journalism.
Subscribed to The Week? Register your account with the same email as your subscription.