Evil Dead star Bruce Campbell has a plan to save Hollywood
Bruce Campbell is strapping on his chainsaw hand to reprise his most iconic role in the Starz series Ash vs. Evil Dead. And he has some strong feelings about Hollywood's failures.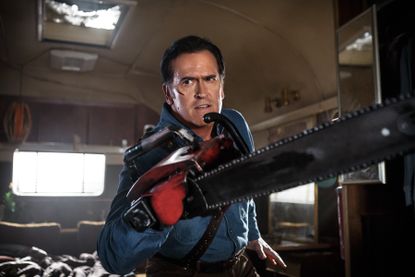 (Image credit: Matt Klitscher/2015 Starz Entertainment, LLC)
Sign up to our 10 Things You Need to Know Today newsletter
A free daily digest of the biggest news stories of the day - and the best features from our website
Thank you for signing up to TheWeek. You will receive a verification email shortly.
There was a problem. Please refresh the page and try again.
It's the rare actor who gets to play the same character for more than a couple years, let alone a couple decades. But Evil Dead star Bruce Campbell has never taken the conventional path. More than 20 years after taking his big-screen bow in Army of Darkness, the 57-year-old is strapping on his chainsaw hand once again, as Ashley Williams in the new Starz horror-comedy series Ash vs. Evil Dead. I recently sat down in a large, empty conference room in a hotel overlooking New York's Madison Square Park to talk with him about it.
The Evil Dead franchise has evolved in both plot and tone with each installment, but the core premise remains approachably simple. On a camping trip to a remote cabin in the woods, Ash Williams (Campbell) and his friends discover a creepy old book. Unfortunately, their discovery turns out to be the ancient Book of the Dead, and the incantation awakens a long-dormant evil force that possesses Ash and his friends. Blood spatters, bodies are dismembered, and Ash eventually takes the fight back to medieval times before returning to the present victorious. Ash vs. Evil Dead picks up decades later, as Ash — grayer and paunchier, but as over-the-top as ever — unintentionally awakens the evil force once more.
Campbell is much smarter than the blustery, catchphrase-spouting character he plays in the Evil Dead series, but he's still unafraid to say what's on his mind. So when l asked why Ash vs. Evil Dead ended up as a 10-episode series on Starz, and not on the big screen — where the first three Evil Dead installments debuted, and continue to be screened as beloved midnight movie staples — he answered flatly. "Economically, a $200 million Evil Dead 4 just wasn't going to happen," he said. "It just wasn't in the cards." What followed was a long and frank conversation about the practical process of making an idiosyncratic franchise like Evil Dead without letting it get totally shredded by the Hollywood machine.
Subscribe to The Week
Escape your echo chamber. Get the facts behind the news, plus analysis from multiple perspectives.
SUBSCRIBE & SAVE
Sign up for The Week's Free Newsletters
From our morning news briefing to a weekly Good News Newsletter, get the best of The Week delivered directly to your inbox.
From our morning news briefing to a weekly Good News Newsletter, get the best of The Week delivered directly to your inbox.
Today, production budgets for blockbuster movies tend to hover around $200 million. Billion-dollar hits like Furious 7, Avengers: Age of Ultron, or Jurassic World end up turning a huge profit. But it works the other way, too. If a big-budget blockbuster flops — a la Jupiter Ascending, Tomorrowland, or Terminator Genisys — it can cripple a studio's bottom line. Even a blockbuster flop like this month's Pan, produced at a relatively thrifty $150 million, has the potential to do serious damage.
Campbell looks at an era of ever-ballooning Hollywood budgets and rolls his eyes. "Most people don't know how to spend money in Hollywood," he tells me. "We need some fiscally responsible people in Hollywood. As a studio head, I would never allow a budget over $100 million. And I would take all the money that I saved [...] and I'd open up a low-budget division. And for every $100 million movie I made, I would make 50 $2 million movies. And I'll tell you what: I'd make money for that studio."
This admiration for the way Hollywood used to be extends to the type of entertainment Campbell consumes. When pressed on what he actually enjoys watching, Campbell thinks for a while before coming up with The Lawrence Welk Show and T.J. Hooker. "My life is full of fantasy, so I just create reality," he says. He also keeps up with the latest in the horror genre. "As long as it's not torture porn, I'm interested," he said.
That mix of classic Hollywood and more-is-more horror is built into the DNA of the Evil Dead franchise itself, which draws heavy inspiration from a wide range of beloved Hollywood classics, including The Three Stooges and the stop-motion work of Ray Harryhausen. All the way back in 1980, the original Evil Dead was produced with a similar level of creative freedom to those classics, and on a budget of about $350,000. It was directed by Campbell's longtime friend Sam Raimi, who would later go on to direct the Spider-Man trilogy. "The first Evil Dead is not studio money," says Campbell. "Doctors, lawyers, dentists. Professional people in Detroit, Michigan. They were the financiers, and they weren't even allowed to come on set, because of the way it was structured. They were limited partners. They gave us the money. And we ran the show."
The original Evil Dead wasn't exactly a smash hit, but its unflinching commitment to bloody gonzo horror earned it an X rating and a "video nasty" label in the U.K. — as well as an insanely devoted following among horror aficionados. In 1987, a $3.6 million sequel was another modest success.
But 1993's third Evil Dead movie, Army of Darkness — an offbeat blend of horror, fantasy, and comedy that played like A Connecticut Yankee in King Arthur's Court with exponentially more slapstick and gore — snuffed the franchise out. "It bombed," recalled Campbell. "It was not that cheap. It was $13 million, and that was a lot in '91. At least to us. And it made about $13 million. And that's not good math. So it died."
Evil Dead's unlikely revival as a no-holds-barred TV series, 22 years after the last entry arrived in theaters, speaks volumes about Hollywood's mad scramble to revive anything that has a loyal fan base. But it's also a logical home for Evil Dead. The franchise never thrived on the big screen; it thrived through word of mouth, passed from fan to fan on well-worn VHS tapes at convention halls.
But modern television, with all its creative freedom, still requires a more structured and painstaking process than Campbell and Raimi wanted. Grabbing a sheet of paper to make his point, Campbell outlined the wide array of competing interests that can grind down a TV series' unique voice. "You've got the editor's cut. He cuts his assembly. Director comes in. 'Well, here's my cut,' and he makes all the changes the way he wants it. Producers come in. 'Well, there's our cut.' And then you have the studio that produced it. And the final say is the network."
"One, two, three, four, five cuts. Look where the director is," Campbell laughed. "He's two out of five! That guy's doomed."
Raimi and Campbell wanted to ensure that the unique pitch of Ash vs. Evil Dead escaped that fate, so they held to one strict requirement as they shopped that series around: Total creative control.
The proven fandom for the Evil Dead franchise gave them leverage. "We had three major suitors that were after this show," said Campbell. "We pitched it to six networks. Three of 'em bit. Bit hard. And we asked each one of 'em — 'cause Sam gets final cut. As a director in Hollywood, that's huge! There's probably a dozen directors that get final cut. Not many."
Judging from the first two episodes, Raimi and Campbell have made the most of the unconventional freedom they've been granted. Ash vs. Evil Dead feels like a truly uncompromised entry in the series— as bloody and funny as anything you can see in the Evil Dead films, on a network that's not afraid to push the envelope. "It's a dream come true," said Campbell. "I feel like we're crawling back into the womb. We're getting back to the original freedoms of the original Evil Dead."
If Ash vs. Evil Dead is a hit, Evil Dead could become a modern, sprawling, multi-platform franchise in its own right — and if that happens, Campbell has plenty of ideas for Evil Dead's future. He even knows what he wants Ash's ultimate fate to be. "I pitched it a long time ago," he says. "I'll pitch it again when we get there. Yeah. I have a definite idea."
The rapid patter trails off, and Campbell takes an uncharacteristic pause as he contemplates what might come next. "Anything is possible in success," he says, pragmatic again. "But if nothing is successful? All these ideas are worth a nickel."
Ash vs. Evil Dead premieres on Starz on Saturday, October 31.
Continue reading for free
We hope you're enjoying The Week's refreshingly open-minded journalism.
Subscribed to The Week? Register your account with the same email as your subscription.
Sign up to our 10 Things You Need to Know Today newsletter
A free daily digest of the biggest news stories of the day - and the best features from our website
Scott Meslow is the entertainment editor for TheWeek.com. He has written about film and television at publications including The Atlantic, POLITICO Magazine, and Vulture.