What drives baseball's culture wars?
It turns out the white vs. Latino debate isn't so neatly divided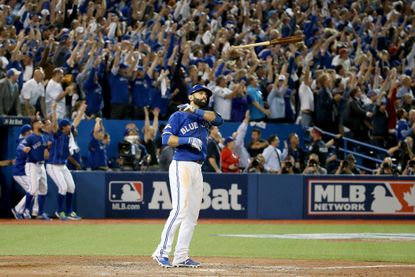 (Image credit: Tom Szczerbowski/Getty Images)
Sign up to our 10 Things You Need to Know Today newsletter
A free daily digest of the biggest news stories of the day - and the best features from our website
Thank you for signing up to TheWeek. You will receive a verification email shortly.
There was a problem. Please refresh the page and try again.
Major League Baseball, like the rest of America, has its own version of a culture war. What is the right way to play the game? Should American-born players impose a more stoic tone to the game, with paeans to good sportsmanship and the occasional high-and-tight fastball to warn off recalcitrants? Or should the game open itself up to the exuberant style of Latino players, who celebrate their feats on the field and in front of the camera? Well, it turns out the debate isn't so neatly divided.
In an essay for The New York Times Magazine, Jay Caspian Kang complains about the unbearable whiteness of baseball. For Kang, one cause of baseball's eroding cultural relevance is the "the shameful way" baseball media has failed to tell and integrate the stories of minority players, particularly Latino players. Part of Kang's brief is the wider baseball culture which subjects more emotionally expressive Latin American and black players to harsh criticism for not living up to a "buttoned-up version of American identity" that has been woven into the game. For Kang, baseball's unwritten rules and honor culture are a racially coded drama between a "standard" white player and a non-white foil. Kang cites a two-decade-old piece of criticism lobbed at Ken Griffey Jr. for wearing his jersey untucked, as well as the more recent controversy in which old-timer Goose Gossage criticized the most iconic moment of last year's MLB playoffs, a ferocious post-home-run bat flip by Jose Bautista of the Blue Jays.
There is a lot that is true, or mostly true, in Kang's criticism of baseball culture, especially its media. But it is not the whole truth.
Subscribe to The Week
Escape your echo chamber. Get the facts behind the news, plus analysis from multiple perspectives.
SUBSCRIBE & SAVE
Sign up for The Week's Free Newsletters
From our morning news briefing to a weekly Good News Newsletter, get the best of The Week delivered directly to your inbox.
From our morning news briefing to a weekly Good News Newsletter, get the best of The Week delivered directly to your inbox.
Kang began the essay saying that he roots "for all 'flashy,' 'showboats,' who are 'disgraces to the game.'" He attributes this to instinct and to his contrarianism. In fact there is nothing more conventional than this view. The truly contrarian position for a writer of Kang's age and profession would be to side with Goose Gossage and the most surly advocates of "respecting the game."
Much of baseball's culture wars, like America's, can be explained by racial divides and antagonism. Any Mets fan, like myself, who loved a younger Jose Reyes would remember the racially coded insults of his "antics," mostly, his smile and celebratory style in the dugout. And baseball's marketing and media do seem geared toward retiring white fans rather than America's future. But it is not just a simple morality play, where bat-flips, fun, and America's demographic future are on one side, and judgmentalism, white privilege, and honor-driven beanball are on the other. Baseball's long-running debate about decorum on the field or what the media celebrates is as much riven by class divisions, generational chasms, and just plain personality differences as by race.
Baseball's debate about bat flips, home run celebrations, and expressiveness on the field overlap with racial divides in the game, but not perfectly. What makes Kang's essay so out of place is that as the 2016 season begins, the loudest voice arguing for a more exuberant, emotional, and in-your-face game is Washington Nationals' star Bryce Harper. Harper isn't just white, he's a product of the expensive, time-intensive, travel-team baseball culture that Kang rightfully accuses of pulling the game away from African-Americans. Yet Harper has been a leading voice against baseball hierarchies that put rookies on the bottom, through hazing and henpecking. He was also caught sporting a "Make Baseball Fun Again" hat this week.
Ken Griffey Jr. hardly qualifies as a martyr to the culture of baseball. He may have been the most widely loved and best-marketed baseball player that Kang and I would have grown up watching. Griffey, more than the stoic and surly white teammate Randy Johnson, was the king of Sportscenter's highlight reels when highlight reels were at the center of sports culture. Perhaps the second-most beloved baseball player in our lifetime, by all fans, was Yankees closer Mariano Rivera. The Panamanian-born Rivera was the figure who most lived and preached the honor code of playing "like you've been there before."
In trying to open up Major League Baseball's culture to the influence of all its players, it is best not to sort them into racialized stereotypes either, where passionate Latino players are on one side and stodgy white Americans on the other. Whatever Buck Showalter may have said about Griffey in the 1990s, baseball adjusted quickly. Almost every team that the closer Fernando Rodney has pitched for has marketed his "flashy" postgame pose.
More than anything, the cultural divide is deeply generational, among players and the media covering them. Young baseball writers near Kang's age, like Craig Calcaterra of NBC Sports and Ted Berg of USA Today, have championed the cause of players who want to celebrate and express themselves on the field against the scolds, particularly pitchers, who would exact retribution on those players with a high and tight fastball. This is an argument about what they want to watch, just as much as it is positioning themselves as the rightful successors to a media culture that has been dominated by baby boomers.
But passion and stoicism can come from anywhere in baseball. Some players express their passion by celebrating their achievements, others in making sure those celebrations are not unsportsmanlike. Sometimes both. Jose Bautista is famous for his bat flip, but he also does some honor policing too, as when he tried to put the hot-tempered Royals' pitcher Yordano Ventura back in his place at the beginning of last season.
And do we always know what drives cultural and personal conflict in baseball? In 2010, journeyman pitcher Dallas Braden yelled at Alex Rodriguez for violating one of baseball's unwritten honor codes; A-Rod stepped on the pitchers' mound in between innings. What was being dramatized there? Was Braden in the position of an archetypical white man trying to impose his arbitrary view on a minority player? Or was he a guy who made $420,000 (just slightly over the MLB's then-minimum wage), yelling at an entitled celebrity player who earned $33,000,000 that year and had dated some of Hollywood's biggest stars?
Baseball's corporate culture also has the ability to impose itself on white players in a way suggestive of class prejudices. For a time, MLB forced players who had large tattoos to cover their arms with long sleeves. It was named after a white player Justin Miller. In 2004, Miller's team could have been selling replica sleeves for fans to wear; instead Miller's tattoos had to be covered up for baseball's upwardly mobile and respectable fan base.
We are also told by this younger generation of writers that there is hypocrisy in the "buttoned up" and honor code driven culture of American baseball. Many of the older players found complaining of younger attitudes can be found in news reels celebrating their own personal feats and record-breaking plays. And that's true. It is also true that the partisans of free expression are just as inconsistent.
Jose Bautista's triumphant toss was an iconic moment in baseball. His bat flip communicated not just joy, but dominance. The bat was tossed with a kind of authority, as if Bautista was announcing his sovereignty over a playoff game and stadium that had gone mad with anxiety and emotion. When Bautista hit his monster home run, Calcaterra defended his exuberant bat flip by invoking narratives from well beyond the game itself. The bat flip was expressive of the entire history of the Blue Jays franchise itself. And if you think Bautista's flip might have been a little too humiliating for the pitcher or over the top, you're a killjoy who doesn't enjoy life.
I have to admit that my juices sometimes get going for the honor-driven tough-guy act. In last year's World Series, Mets pitcher Noah Syndergaard adverted that he had a trick up his sleeve for Alcides Escobar, the leadoff hitter of the Royals who seemed quite comfortable swinging at the first pitch of every at bat. Syndergaard threw one high, hard, and inside. The crowd at CitiField went nuts, as did I at home. For a long-suffering Mets fan, it was important to see the club stand up for itself, to show toughness — as the Royals had all year — and to show passion. After the game, Syndergaard told the media, "If they have a problem with me throwing inside then they can meet me 60 feet, 6 inches away." That statement, from a rookie, fit all the descriptions that Kang uses as honorifics for his heroes. It was brash, cocky, and provocative. It was drama. For Calcaterra, defender of expressiveness and emotion, it was something else: "[If] it gives people who can't enjoy baseball without dramatic narratives grafted on top of the actual games something to talk about more people are happy, right?"
These debates are only going to get more complicated (and fun) as baseball's diversity increases. Bautista's iconic toss might have expressed dominance, but the viral videos that young American baseball fanatics share from the Korean Baseball Organization show a kind of bat flip you never see here, where players send their ash bats on joyously balletic pirouettes as they quickly exit the batter's box.
Of course there are ways to improve baseball. The cultural ex-urbanization of the sport at the youth level is a tremendous challenge for finding and developing the best African-American baseball talent. Kang also correctly knocks MLB for how long it took to require that all 30 teams have a Spanish translator. Baseball needs to become multilingual at every level, including its media.
But by the time some of these gaps close, the world may change again. Baseball faces stiff competition from soccer in Latin American nations, even in baseball-mad Cuba.
Baseball's relevance in American sports and popular culture has been declining, like boxing's, for decades. Why? The cultural debates likely have little to do with it. In fact, they may drive interest.
For the most part, baseball has declined because other sports started to exist in organized form. As the new media age produces ever-more diversions, it is also true that other sports are declining too. For all their repute, the NBA's Stephen Curry or LeBron James do not have the cultural and commercial cachet that Michael Jordan and Magic Johnson had in the 1980s. Hockey has been unable to produce a new Wayne Gretzky. So it is not a surprise that baseball fails to produce another Mickey Mantle, Jackie Robinson, or Babe Ruth. That's fine; today's baseball fans seem plenty happy with Andrew McCutchen, Jose Bautista, and Noah Syndergaard.
Baseball is unique in that the action comes in small bursts. Even players with a reputation for being stoic can't help but be seen as interesting characters when caught by the close-up shots that fill in time between plays. As Kang seems to admit at the conclusion, the drama in baseball comes from the conflict. For Kang, rooting for the brash players like Pedro Martinez "felt as if this was a moral choice." If there were no curmudgeonly cranks like Goose Gossage, if Bautista's bat flip offended nobody, if Noah Syndergaard's purpose pitch elicited no reaction at all, then rooting for these young men playing baseball would lose that dramatic and moral dimension that drives men like Kang, Calcaterra, and myself to dwell on and argue about it endlessly.
Just as they work out the score by what they do on the field, so the players, by actions and counter-reactions, re-shape the culture and image of baseball. The cultural conflict just makes it more American, and more fun.
Editor's note: A previous version of this article mischaracterized a piece of Padres merchandise. It has since been corrected. We regret the error.
Continue reading for free
We hope you're enjoying The Week's refreshingly open-minded journalism.
Subscribed to The Week? Register your account with the same email as your subscription.
Sign up to our 10 Things You Need to Know Today newsletter
A free daily digest of the biggest news stories of the day - and the best features from our website
Michael Brendan Dougherty is senior correspondent at TheWeek.com. He is the founder and editor of The Slurve, a newsletter about baseball. His work has appeared in The New York Times Magazine, ESPN Magazine, Slate and The American Conservative.