Twitter lavishes stock options on its employees. That's a bad idea.
There are better ways to reward employees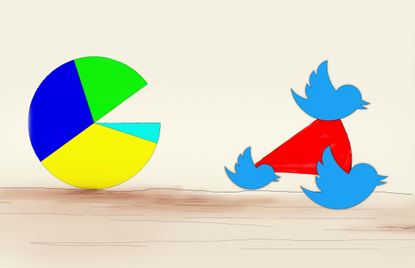 (Image credit: Photo illustration by Jackie Friedman | Images courtesy Twitter, Ikon Images / Alamy Stock Photo)
Twitter is reportedly in talks with several major technology and entertainment companies over a potential buyout. Suitors reportedly include Microsoft, Salesforce, and Disney. The social media upstart's stock price has surged amidst speculation of a sale, and that could be a saving grace for its corporate management: Twitter's user numbers have plateaued, causing skittishness on Wall Street about the company's growth prospects, and sending the stock price on a two-year slide.
But whoever winds up buying Twitter will also have to figure out an unusual situation: How to deal with the large amount of stock Twitter doled out to its employees as a form of compensation.
Lots of companies bake stock ownership programs into employee compensation. But one particular form of restricted stock — where employees get the right to the stock immediately, but only get stock itself after working for a certain amount of time — has taken off among tech giants like LinkedIn, Yahoo, and Alibaba. But Twitter relies on it even more disproportionately. In 2015, Twitter paid out $682 million in stock-based compensation, or about a third of its revenue. Inevitably, buying Twitter is going to involve compensating all the people who own those shares. Which will cost the buyer a pretty penny. And it's bad for Twitter's employees, too.
Subscribe to The Week
Escape your echo chamber. Get the facts behind the news, plus analysis from multiple perspectives.
SUBSCRIBE & SAVE
Sign up for The Week's Free Newsletters
From our morning news briefing to a weekly Good News Newsletter, get the best of The Week delivered directly to your inbox.
From our morning news briefing to a weekly Good News Newsletter, get the best of The Week delivered directly to your inbox.
Now, there are plenty of good reasons to compensate workers with some ownership in their company. It gives employees a stake in the long-term fate of their employer. For Silicon Valley startups in particular, stock gets workers enthusiastic for the initial grueling startup phase before the company goes public. (Twitter went public in late 2013). Employee stock ownership plans can also help combat inequality. Hillary Clinton wants to use tax carve-outs to entice more companies to employ them.
But there are better and smarter ways to share profits than to lavish stock on employees.
Stock compensation ties employees' livelihoods to the whims of the financial markets. If the stock market suddenly decides it doesn't like a company anymore, the value of the stock given to employees will drop. That's not a problem if you assume the stock market is a reliable and accurate judge of a company's quality. But that's a very dumb assumption to make.
The stock market is nothing if not capricious. Twitter's stagnating user base shouldn't actually be a problem for the company. The company is still perfectly capable of building a financially sustainable business that pays its workers well. It can do so with a user base of steady size. But the stock market doesn't want that. It wants perpetually bigger numbers and payouts. That has forced Twitter into a series of contortions and gambits — offering streaming video of football games and presidential debates being only the latest — to meet the market's demand and try to keep growing its user base.
Twitter's falling stock price also created another problem: Since the total value of the shares held by Twitter's workers has fallen, the company created more shares and gave them to employees to bring their total stock value back up, and to coax them into staying rather than leaving to work at competing firms. This surely angered investors who aren't workers, since creating more shares dilutes the value of any one share.
This is the key point: The interests of people who work at a company and rely on it for their livelihood are fundamentally different than the interests of investors. Each group wants the company to behave differently over the long-term — even if both are technically "shareholders."
If you want to incentivize employees based on company performance, don't measure company performance using the stock market. Why not use quarterly or annual bonuses taken out as a cut of profits? The bigger the profits, the bigger the individual bonuses.
Or consider employee voting rights to control the direction of the company. The research on employee stock ownership plans suggest they improve company performance only if workers' increased cut of profits comes with an increased voice in decision-making. Different forms of employee stock compensation can provide voting rights, but usually only after a set time period. But 60 or 70 years ago, workers' voices were enforced by a much more direct route: Management in many major industries literally had to consult with unions before doing anything, lest the unions disagree and go on strike. Even today, in countries like Germany, corporate law requires that worker representatives be part of corporations' governing boards.
One of the great sea changes in the world of America corporations in the last few decades has been shareholder power. A half century ago, shareholders were essentially vestigial organs. Executives ran companies as they saw fit, often in consultation with unions and labor representatives. Shareholders simply took whatever leftovers those decisions allowed them. Today, it's reversed: Shareholders and management are essentially all part of the same tribe, determining how revenue is spent, and workers must make do with whatever remains.
There are certainly forms of profit-sharing worth pursuing. But it's also an attempt to mitigate the results of the shareholder revolution without directly confronting shareholder power. In many ways it's a klutzy, indirect way to accomplish what things like labor movements, union bargaining, and old-fashioned pay raises once accomplished by a far more direct route.

Continue reading for free
We hope you're enjoying The Week's refreshingly open-minded journalism.
Subscribed to The Week? Register your account with the same email as your subscription.