How Tori Amos taught me the beautiful power of anger
Tori Amos is beautiful and deadly. And when I first met her, I was ravenous for her power.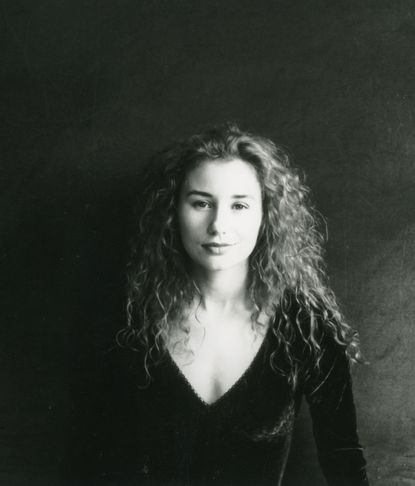 (Image credit: Pictorial Press Ltd / Alamy Stock Photo)
Pele, fire goddess. Hawaiian mythology renders her as a mighty, volcano-dwelling deity marshaling the twin forces of creation and destruction. She summons volcanoes' tantrums and siphons rivulets of molten lava. She forges islands with her powerfully simmering energy. She is vital; she is lethal. As Tori Amos warns in the song "Muhammad My Friend," "You've never seen fire until you've seen Pele blow."
Mortal girls breathe fire, too — they erupt, and they ravage.
When, at age 13, my best friend handed me a Tori Amos mix-tape, I was an unlit match trying to burn. Middle school was cruel, as it so often is, and I was corseted by self-effacing melancholy. I aspired to fury, even angry indignation, and yet even my efforts to translate wrath into prose seemed stilted. Although teenage girls struggle to fathom the rage and panic of adolescence, language and flesh prove uneasy bedfellows.
Subscribe to The Week
Escape your echo chamber. Get the facts behind the news, plus analysis from multiple perspectives.
SUBSCRIBE & SAVE
Sign up for The Week's Free Newsletters
From our morning news briefing to a weekly Good News Newsletter, get the best of The Week delivered directly to your inbox.
From our morning news briefing to a weekly Good News Newsletter, get the best of The Week delivered directly to your inbox.
I first listened to Tori Amos in 1998, after she had already released four albums: Little Earthquakes (1991), Under the Pink (1994), Boys for Pele (1996), and From the Choirgirl Hotel (1998). Columbia House booklets routinely listed Boys For Pele, so I was acquainted with Amos' likeness: a moon face silhouetted by crimson curls, with lips curved into a subtle but cunning sneer. One leg of her jeans was torn open, the limb — muddied and naked — slung over the arm of a rocking chair. She cradled a shotgun. A dead rooster hung from the roof of the porch, and a snake's tail was just discernable, laced around the chair's left runner.
I thought she was beautiful and deadly — a mortal Pele — and I was ravenous for her power.
"Talula," from Boys for Pele, was the first song to startle me into worship. I couldn't parse the lyrics, but if I'm honest, I hardly tried. My spine became the harpsichord, macabre and brittle; drumsticks thumped against my gut. And Amos' voice — by turns a long, luxurious wail and a snarl — snaked through my brain like electric ribbon. There was no apology to be found in "Talula," no equivocation. It was nonchalant in its blasphemy: "He's my favorite hooker of the whole bunch" evokes Jesus' description of disciples as "fishers of me" — and, through double entendre, renders him the punch line.
At 13, I grasped that the song evoked a kind of loss — the lyrics make that much clear. But I learned, swiftly, that Amos is better learned through diffusion rather than painstaking annotation. As I listened, I caught in the atmosphere of Amos' sound how acutely and perniciously men could hurt women. The women of "Talula" are refused self-sovereignty. Their bodies are at the mercy of men, and thus always in peril. When Amos refers to Anne Boleyn's henchman as a "merciful man," it's with corrosive sarcasm. Here, then, was my first lesson: The world, Amos admonishes, is disinclined to offer mercy to women.
Because I came to Amos' music when her career was in full swing, I could wade deep into her back catalogue. Under the Pink and Little Earthquakes have long competed for my most ardent affection. How to choose? After all, the latter offered me "Girl," with its empathic, hopeful chorus; it soothed and fortified me like a warm hand on my back:
"She's been everybody else's girl, maybe someday she'll be her own."
Sufficiently adept at metaphor, I surmised that the fallen "cherry tree" Amos references pointed to experience beyond my own. Indeed, most of her music sifts the particular bliss and agony of being a woman in the world. If the forecast seemed bleak, it did not unnerve or even surprise me. I had watched boys in my class terrorize female classmates. I had willed my heart to steady as I hurried past a clot of them in the hallway — eyes downcast, shoulders curved — and steeled myself against their nasally heave of laughter. Those boys, they claimed school grounds as their dominion. And even before I met Tori Amos, I regarded their entitlement as both unjust and precedential.
Amos' women colonize their own spaces. I had spent junior high calibrating myself according to whatever metric seemed most palatable, but my "someday" still lingered on the horizon. I still had time to become another self, one that was both comfortable and uncompromising: my own.
The closing refrain of "Little Earthquakes" was catnip to a self-serious adolescent. I scrawled that heady intonation — "Give me life, give me pain, give me myself again" — across notebooks and loose leaf, and congratulated myself on possessing such a tragic soul. But in fact, the song's allure exceeded language; rather, it imbued everything Amos didn't say — it was her walloping wail, her scream. I found it in the very accurately titled "Iieee" on From the Choirgirl Hotel and in "The Waitress," from Under the Pink. I had been seeking permission to be angry and lustful and ballistic, but could never seem to locate it. The first time I heard Amos shriek, "I believe in peace, bitch," I was alarmed — had she gone too far? — but I learned yet another lesson: She had never asked permission. She had taken, and I could too. Pele is not beholden to anyone.
By the end of ninth grade, I had become preoccupied with "Space Dog," a bizarre, mournful track at the end of Under the Pink. It seemed a fitting soundtrack at the time. After four years in Winston-Salem, North Carolina, my family was leaving the state. I hadn't been happy there, but I had discovered the fierce devotion particular to female intimacy. Now I was jettisoned, a space creature unmoored from her context. I loathed the uncertainty — "somewhere someone must know the ending," Amos lilts — and swaddled myself in the solace of a familiar melody. Amos' piano seemed, in "Space Dog," to travel scales of sympathy. It witnessed my sorrow and witched my lament into something beautiful.
Eighteen years after making Tori Amos' acquaintance, I must confess to you that I have not been steadfast in my discipleship. After To Venus and Back (1999) I began to listen to her new material in fragments — a few songs from Scarlet's Walk, one from The Beekeeper, and so forth. Did I leave Tori's nest at last? I always knew she could only carry me so far. And yet, when I revisit the albums from the first eight years, I'm every time in peril of being swallowed whole. Those of us who love her know: Tori Amos is an emotional feast. You can live inside her, through her — years ago, I did. In the final slog of election season, I've kept "Cornflake Girl" on replay, smiling wryly at "the man with the golden gun" who, infuriatingly, "thinks he knows so much" — ah, he sounds familiar. And in honor of its 20th birthday, I've turned once more to Pele, the goddess who created me: the me who is not afraid to burn.

Continue reading for free
We hope you're enjoying The Week's refreshingly open-minded journalism.
Subscribed to The Week? Register your account with the same email as your subscription.