My son rushed a frat. Here's how I survived.
For starters, I started tracking him via his phone's GPS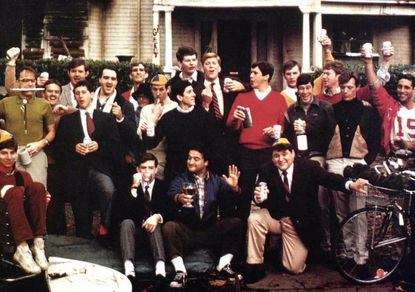 (Image credit: REUTERS/Carlos Barria/File Photo)
The phone rang at 4 a.m. I naturally assumed the worst.
But then I heard my wife murmuring into the receiver and remembered the call we'd been expecting. Our son, 800 miles away at college, was being recruited by yet another fraternity, driven by bus to sample the bar scene in some other town. He promised to let us know when they returned, no matter what hour.
As she rolled over my wife said, "Toby's back in his dorm. Go to sleep."
Subscribe to The Week
Escape your echo chamber. Get the facts behind the news, plus analysis from multiple perspectives.
SUBSCRIBE & SAVE
Sign up for The Week's Free Newsletters
From our morning news briefing to a weekly Good News Newsletter, get the best of The Week delivered directly to your inbox.
From our morning news briefing to a weekly Good News Newsletter, get the best of The Week delivered directly to your inbox.
Welcome to freshman rush, parents edition.
After a strong first semester, in which Toby notched a near-perfect GPA, made tons of new friends, and managed not to contract mononucleosis (as several classmates did), he was intent on joining a frat. My wife and I weren't pleased. In our view, frats meant binge drinking, mid-week partying, retching, and high-risk scenarios in upstairs bedrooms. There was also the initiation hazing. Why would anyone want to join a club that forces its pledges to drink from toilets, crawl over broken glass, swallow raw liver and hot sauce, stand all night, and perform other Lord of the Flies indignities verging on torture?
"Will you at least tell them you have nut allergies and are sensitive to cold water?" we urged Toby, as if we were sending him to a kindergartener's birthday. But our fear was real. We'd read about students left to die after their "brothers" poured one too many ounces of this or that down their throats.
Toby assured us he wouldn't let anyone shove a peanut into his mouth for the sake of bonding.
We'd already had one bad frat experience in the family. Toby's older brother had pledged at his art school in Brooklyn years earlier — though that fraternity seemed more of a street gang than anything in the Greek system. Whenever we visited him, he was permanently shadowed by one of his hulking brothers. They literally would not leave us alone with our son. The frat was later thrown off campus for drug violations and our son spent his senior year living at home.
But Toby was unswayed. He argued that the social life at school revolved around frats and vowed to avoid any that were elitist, dangerous, or mean. Toby has always been drawn to the group and its norms of acceptance and status. That he traveled outside the alpha cliques in high school surely added to the appeal of being courted by so many frats, with their cool house parties, girlfriends-in-residence, and guarantees of eternal friendship. Some of them even performed actual community service.
And so, while Toby waited on formal invites to rush, he consented to keeping my wife and me informed of his whereabouts and when he got back to his room. If it were possible, we would have had Homeland-style drones and eyes-on-the-ground surveillance trained on him while he hobnobbed from one beer pong mixer or meet-and-greet to the next. Instead, we had to settle for tracking his smartphone during extended blackout times.
"Why is it showing him here so long?" I asked my wife one Saturday evening, pointing to a static GPS location that might have been the coordinates for a frat with a rowdy reputation. We pictured him tied to a chair or in a stupor unable to communicate. It didn't occur to us that he was charging his phone in a friend's room.
Another morning Toby texted an alarming photo — his leg was lacerated and bruised after attending a frat open house the night before. I couldn't believe the beatings had begun already and was ready to contact campus police — until he explained he'd stepped into a hole in the floorboard that had been covered by cardboard. Our anxiety found new expression. We swore we'd never let him leave the dorms.
Then, suddenly, the wooing was over and Toby had less than a day to commit to one of several bids he'd received. We listened to his pro/con lists, but had to tread lightly, knowing our advice could provoke a stinging ALL-CAPS text telling us to lay off. Our only imperatives were that he not let his schoolwork slip and to know his limits.
In the end, Toby chose a predominantly Jewish frat with a 100-year history, whose alumni include some of the best-known names in finance, entertainment, politics, science, media, sports, and tech. But none of that mattered — he made his decision based on his comfort level with the guys. More than 2,300 undergrads pledge with this frat annually — the raves on its website profess the bonding and character-building experience of a lifetime, which no doubt is what really sustains the nation's 120-plus college fraternities and sororities, with an estimated nine million members worldwide.
To Toby's new brothers: We salute your positive mission and love your snazzy coat of arms. We hope you'll send us a T-shirt as honorary members. Since you promise to watch our son's back we ask that you make sure he keeps his grades up and not feed him peanuts.
And for heaven's sake, fix that hole in your floor!

Continue reading for free
We hope you're enjoying The Week's refreshingly open-minded journalism.
Subscribed to The Week? Register your account with the same email as your subscription.