In defense of wanting to have a C-section
I shouldn't have to justify wanting to have a C-section over a "natural" birth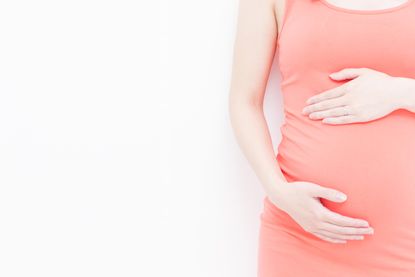 (Image credit: iStock)
Sign up to our 10 Things You Need to Know Today newsletter
A free daily digest of the biggest news stories of the day - and the best features from our website
Thank you for signing up to TheWeek. You will receive a verification email shortly.
There was a problem. Please refresh the page and try again.
I have never wanted to give birth vaginally — or, as it's so often and condescendingly called, "naturally." My birth plan consisted of two things:
1. Find a doctor who would perform my C-section.
2. Turn up on time for my operation.
Subscribe to The Week
Escape your echo chamber. Get the facts behind the news, plus analysis from multiple perspectives.
SUBSCRIBE & SAVE
Sign up for The Week's Free Newsletters
From our morning news briefing to a weekly Good News Newsletter, get the best of The Week delivered directly to your inbox.
From our morning news briefing to a weekly Good News Newsletter, get the best of The Week delivered directly to your inbox.
And that's exactly what I did.
The operation was a success. Still, I found the process traumatic. Not because of the physical effects of the surgery — but because I found myself having to justify my decision to have a C-section to everyone around me: family, friends, acquaintances, and every doctor and midwife I saw. It was exhausting.
In the U.K., where I live, you can choose where you give birth — in a hospital, birthing clinic, or at home — but you can't choose how you give birth. Despite the National Health Service's declaration of "patient choice," that particular choice belongs to the doctors, not the pregnant person. Indeed, in some places, it's easier to get an abortion than it is to get a C-section. Some women never even try for a baby because they fear childbirth — even if they want children.
It didn't matter that I'd thought carefully about my decision, or that I knew all the stats about risk factors and the health problems that befall women whose vaginal deliveries don't go according to plan. I explained to doctors and midwives the information I had amassed about everything from prolapse to incontinence to fourth-degree vaginal and anal tear, to babies born with brain injuries from forceps, or broken collar bones and dislocated shoulders.
But it didn't matter. All my extensive research did not grant me the right to decide how I brought a new human into the world. The only way to win the fight for my rights over my own body was to find a sympathetic consultant. In my quest to find one, I heard the word "no" all the way to 37 weeks and had to switch hospitals 14 days before the due date, traveling halfway across the country to a doctor who saw things my way.
I spent my entire pregnancy explaining myself over and over — and no one was listening to a word I said. Everyone at least tried to do it the "natural way," or knew someone who had. That meant it was better, therefore it was best for me.
Is it just the pain thing, they would ask dismissively. No, it's not "just" anything. But now that you mention it, actually, I don't much fancy 40 hours of agony with possibly no epidural because I didn't make it to the hospital on time. I shouldn't have to explain myself, but why is that alone not enough of a reason?
Women who'd never given birth, women who'd had vaginal births that went wrong, women who had scheduled C-sections but had not experienced a vaginal birth themselves — all were among those who criticized my planned C-section. One woman even told me I was "idealizing" this operation. Even men told me what I should be doing, perhaps brainwashed by their equally disapproving partners, sisters, mothers, or the woman in the office who gave birth in the bath after 10 minutes of labor.
I would have explained, but nobody ever really gave me the chance. Nobody ever really listened. And in the end, my calm, controlled surgery went pretty much exactly as I expected. Why? Because I did all my research and prepared myself.
People who have had emergency C-sections are often the strongest vaginal birth advocates. But when it comes to this topic, what most of the literature, reports, and discussions on forums and in real life overlook is that an emergency C-section is an entirely different thing than a scheduled one. It happens when labor is underway, when life is endangered. It happens when there is an EMERGENCY. No surprise, then, that it can be followed by PTSD, failure to bond with the baby, and fear of another C-section.
I don't mind when someone says, "I don't know why anyone would voluntarily go through a surgical birth," since I'm equally mystified why anyone would voluntarily give birth vaginally. But I object when that morphs into "Women shouldn't be allowed to request a C-section" or "Women should give 'natural' birth a try and see what happens."
Next time, when someone asks me why I'm having a C-section, I'm just going to say, "Because I want one" and leave it at that.
Someone else's preferences must not ever become another's obligations, especially when it comes to childbirth.
Continue reading for free
We hope you're enjoying The Week's refreshingly open-minded journalism.
Subscribed to The Week? Register your account with the same email as your subscription.
Sign up to our 10 Things You Need to Know Today newsletter
A free daily digest of the biggest news stories of the day - and the best features from our website
Nicola Prentis is an award-winning education materials writer in the English as a Second Language sector. She also writes about parenting, amongst other things, and her work has appeared at Cosmopolitan, The Wall Street Journal, and Mental Floss.