How Girls helped me grow up
In the end, the girls will be okay — just as I was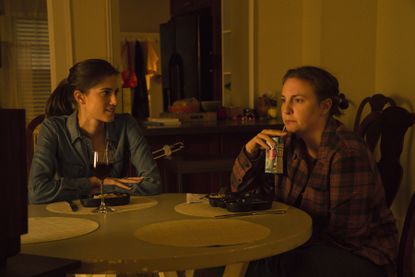 (Image credit: Mark Schafer/HBO.)
Sign up to our 10 Things You Need to Know Today newsletter
A free daily digest of the biggest news stories of the day - and the best features from our website
Thank you for signing up to TheWeek. You will receive a verification email shortly.
There was a problem. Please refresh the page and try again.
The life crisis that came before my 30th birthday (right on schedule!) — that seismic reckoning of all that I'd accomplished professionally (not nearly enough) and everything I hadn't done in my personal life (so evident in the wedding photos, baby announcements, and Instagrammed tours of Europe on my Facebook feed) — coincided with the 2012 premiere of Girls. Throughout its six seasons, Lena Dunham's coming-of-age dramedy managed to be infuriating and insightful; grittily intimate and willfully oblivious. Each season — with its lost jobs, thwarted book deals, and deus ex acceptances to the Iowa Writer's Workshop; its good sex, bad sex, and consent-blurring sex; its starter marriages and one-night stands; and, now, finally, its forays into motherhood and maturity — has been a hot-take factory, sparking piece after piece lamenting and lambasting the state of the millennial woman. And, as a millennial woman, albeit one whose 20s are now a fading bruise, a sweet ache of blacks-and-blues that is still hard to look at, I watched it for reasons to feel grateful that I was becoming an official, unequivocal grown-up, and to immerse myself in nostalgia for a time I hadn't really lost yet.
The cultural ballyhoo around Girls has, at times, obscured the fact that it is a very singular show with a very limited focus on a very specific type of young woman — one who believes that she has a generation-shaping memoir in her at 24; dispenses bon mots of pseudo-enlightenment from her online therapist; runs off to Bali and Barcelona in bursts of fey glamor that bitterly disappoint the people who want to love her; or worships those magical women "with jobs, and purses, and personalities." It was, to paraphrase a profoundly stoned Hannah's oft-mocked line, not the voice of its generation, but, like, a voice of a generation. And yet, so much of the bitter disappointment, even vitriol, levied against the show has conscripted it into portraying some grand unified experience of being female.
Of course, there remain very valid criticisms of the show, particularly in the ways that it has (or, more to the point, has not) addressed race, and class. This season alone has featured two black women (Joy Bryant and Latisha Di Venuto) whose only narrative function was to provide Hannah and Elijah with, respectively, a witchy sagacity about leaving life in the city behind, and a fist-pumping encouragement to fight for his dream of lighting up Broadway. Given that Dunham and her writers are amply capable of vesting even the most peripheral characters — like Jenny Slate's Tally Schifrin or even Riz Ahmed's Paul-Louie — with enough quirk and depth to make them real, this is particularly inexplicable. Certainly not a matter of the show suffering from inflated expectations, but from its own lack of imagination.
Subscribe to The Week
Escape your echo chamber. Get the facts behind the news, plus analysis from multiple perspectives.
SUBSCRIBE & SAVE
Sign up for The Week's Free Newsletters
From our morning news briefing to a weekly Good News Newsletter, get the best of The Week delivered directly to your inbox.
From our morning news briefing to a weekly Good News Newsletter, get the best of The Week delivered directly to your inbox.
For a show that has been lauded for its rawness, Girls has, in equal measure, sugar-spun some of the starkest, most tangible aspects of emerging adulthood. Like stretching (often to the breaking point) a paycheck to cover rent, groceries, and, oh god, the student loans. I spent my 20s eating ramen and dollar meals, not gourmet cupcakes. I could've never asked my parents for the rent money — not because it'd keep them from buying a beach house (as Hannah's mother quips in the first episode) — because they simply didn't have it. Often, I've longed for a version of Girls better reflected a world in which not getting that check before the first of the month had actual consequences. Girls will never give any kind of showcase, or dignity, to a part of my life when checking my bank balance meant playing Russian Roulette. Then again, maybe part of the show's odd charm is that, even as it so clearly mirrors the harshest moments of my post-adolescence — losing friendships, lovers, and mentors — it has also offered me a version of my 20s with some of the most truly terrifying parts airbrushed out.
In a piece for Vulture, Kathryn VanArendonk muses that Girls may be best interpreted as a kind of fairy tale: "Girls has always had a fraught relationship with realism … It's a show that's laudably and unusually grounded in elements of realism you don't often see on TV, especially stuff to do with women's bodies … Its realism is physical, bodily, fleshy … It's a realism born out of conceiving of women as both bodies and minds." So maybe it's enough that I can see myself in Hannah, chasing hurt after hurt in pursuit of a more "interesting" life; in Jessa, putting on an ill-fitting armor of hipsterish detachment; in Shosh, enamored of a wedding-cake topper kind of adulthood; in Marnie, believing that a damn dinner party can solve the world's problems.
In her critique of the show's first season, Roxane Gay notes that, "We put a lot of responsibility on popular culture, particularly when some pop artifact somehow distinguishes itself as not terrible … This show should not have to be perfect. Everything should not have to hang in the balance." And yet, barring the exception of Issa Rae's Insecure or Jane Champion's Top of the Lake, or Jill Soloway's Transparent, there are precious few woman-centered, auteur-driven efforts on television; so often, it seems like we are dependent upon the kindness of male showrunners who deign to write "strong female characters." I'm not sure that any of those men, however well-intentioned, could have given us "One Man's Trash," — which would have been revelatory enough even if it was, as so many (mostly male) critics snarked, merely a prolonged fantasy sequence of Hannah-banging-a-hot-doc (and somehow, I doubt that these critics have the same eye-rolling incredulity at every woman that Woody Allen has even been paired with on-screen).
It was this episode, arguably, that planted the seedling of Hannah's (very) slowly unfurling maturity, and her eventual ability to understand that Adam is not the man for her. It's about the sex, of course; but it's about everything the sex means, and everything it gives her. Hannah's reverie with hot doc Joshua is an inverse of her bleak, needy couplings with Adam; she gives, and, most importantly, receives, pleasure with genuine tenderness — and I remember my own version of that moment, the night I first learned that no matter how strange or sad or desperate I was, I could still feel really good in my own skin (and goddamn it, I deserved to). I might have gotten there even sooner if, as a 20-something woman, I'd seen a woman like Dunham on TV — her dough-pale hips and dimpled rear, the little nubs of callus along her prettily-painted toes, displayed without shame or even pride, but with a matter-of-factness that still feels revelatory.
Hannah Horvath and her friends aren't perfect — most times, they're not even pleasant — but they are ugly and raw in imminently watchable, and (I'll cop to it), relatable ways. Hannah's ambition to succeed as a writer has powered some of her most insidiously selfish moments — like sweating her book deal at her publisher's funeral; excoriating her copywriting co-workers who traded the lit scene for security; and releasing a fourth-degree sick burn over her classmates at the Iowa Writer's Workshop — and yet, in the end, she was fighting to identify (and identify herself through) her own creative vision. Just like Marnie, with her singing; and Shosh, with her marketing savvy; and Jessa, with her perennial search to find that thing, be it painting or counseling, that is wholly hers. Just like me — back when I thought I'd be nothing if I didn't have a book deal by 26. And like Hannah, I bridled against the constraints of a day job, only to realize, in the end, that having a stable job with health insurance doesn't preclude one's ability to spin a sentence. Although the way that Hannah gets that stable job with health insurance — that random professorship teaching "the Internet" at a cozy college upstate, where, apparently, you only go on one single interview) — might've provoked a very loud, very sarcastic, "oh, really?"
But Girls' ultimate vision of adulthood doesn't reside in the details: It is in the passions that are ignited and doused; identities as writers and wives and aspiring career women are drawn, then carelessly smudged; growing up becomes a matter of burrowing through your greatest disappointments with the understanding that there may not be daylight on the other side. Though, of course, Girls being Girls, there usually will be. The show exists in a world that is as if Mary Gaitskill's version of New York City — tender and sad; sexually unvarnished yet thick with yearning — received a tap from the wand of Glinda the Good Witch. In the end, I've come to see the show's optimism as an asset; a sign that, in the end, the girls will be okay — just as I was.
By the time that first cold open aired, and perpetual intern and aspiring author Hannah Horvath (who'd finished four of the nine essays in her debut collection!) is cut off by her exasperated parents, I'd achieved certain marks of adulthood — my first office job; my first apartment sans roommates; my first dog; the first group of friends I didn't just randomly meet at school; and the first dates where I worried more about whether I liked him than how I could make him like me — and yet, leaving 29 behind conjured a grief that was shocking in its profundity.
My tidy little life has brought me comfort and order. It's brought me those jobs, and purses, and personalities. Now, I am 34, and Girls has aired its last episode, and even if the show wasn't perfect, I will always be grateful for it, for the ways it illuminated the parts of myself that blazed and stumbled; drank a lot and slept too little; that messed up and shrugged it off, or, despite myself, learned from it.
Continue reading for free
We hope you're enjoying The Week's refreshingly open-minded journalism.
Subscribed to The Week? Register your account with the same email as your subscription.
Sign up to our 10 Things You Need to Know Today newsletter
A free daily digest of the biggest news stories of the day - and the best features from our website
Laura Bogart is a featured writer for Salon and a regular contributor to DAME magazine. Her work has appeared in The Atlantic, CityLab, The Guardian, SPIN, Complex, IndieWire, GOOD, and Refinery29, among other publications. Her first novel, Don't You Know That I Love You?, is forthcoming from Dzanc.