Girls recap: 'One Man's Trash'
In this week's episode, Hannah has an unexpected fling with a dreamy doctor played by Patrick Wilson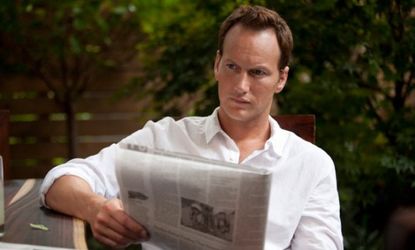 (Image credit: Jessica Miglio/HBO)
Sign up to our 10 Things You Need to Know Today newsletter
A free daily digest of the biggest news stories of the day - and the best features from our website
Thank you for signing up to TheWeek. You will receive a verification email shortly.
There was a problem. Please refresh the page and try again.
Girls' first season got a lot of press for its groundbreaking content, but the structure of the show itself was relatively straightforward. Over the course of the first 10 episodes, the show followed Hannah and her friends as they navigated the personal and professional travails of life in Brooklyn by following a loosely serialized narrative with a beginning, middle, and end.
Girls' second season, on the other hand, has been lumpier and more uneven than its first, with plotlines introduced and dropped at will. (Remember when Adam got arrested?) But Girls has also taken more narrative risks, stretching the idea of what the show can actually be — as seen in tonight's "One Man's Trash," an affecting, self-contained story that appeared out of nowhere in the middle of the show's ongoing narrative. After last week's episode, in which Hannah took a supporting role, Lena Dunham's character is once again the focal point in "One Man's Trash," sharing the spotlight with her very own McDreamy, Dr. Joshua (guest star Patrick Wilson).
In many ways, "One Man's Trash" feels like the Girls equivalent of a "bottle episode" — an old TV tradition in which the number of cast members and locations in an episode are kept as small as possible to save money (though the episode's stunning brownstone probably costs more than the average Girls location). After the opening scene, the episode zeroes in on the brief May-December romance between Hannah and Joshua. Hannah dubs Joshua un-Dahmer enough for her to enter his home, where she confesses to dumping her garbage in his trash can. Her apology quickly evolves into an unlikely makeout session. "It's weird," they agree after hooking up — but not "bad weird."
Subscribe to The Week
Escape your echo chamber. Get the facts behind the news, plus analysis from multiple perspectives.
SUBSCRIBE & SAVE
Sign up for The Week's Free Newsletters
From our morning news briefing to a weekly Good News Newsletter, get the best of The Week delivered directly to your inbox.
From our morning news briefing to a weekly Good News Newsletter, get the best of The Week delivered directly to your inbox.
It is weird — and it's also a brief (but major) step forward for both Hannah and Girls. Joshua is arguably the first real "adult" we've encountered on Girls, which sometimes feels like it takes place in a parallel universe in which every person on Earth is 80 percent more self-absorbed. In previous episodes, we've met "adults" like Marnie's mom, who whines about her young "cater-waiter" boytoy, or Thomas-John, a petulant, self-loathing, prostitute-frequenting mess. There's a narrative purpose to this — Girls is predicated on the idea that none of us really know what we're doing — but I've sometimes wondered if all the adults on Girls act like spoiled children because that's all Lena Dunham knows how to write.
Joshua, by contrast, is a real adult, with a real adult job, a real adult house, and a real adult life. We only get to know him as well as Hannah does — which isn't very well at all — but that's because he's not prone to the extreme oversharing that characterizes the show's main characters. Though Joshua clearly feels that life is falling apart in the wake of his separation from his wife (and almost certainly wouldn't have hooked up with Hannah under different circumstances), he's infinitely more put together at his worst than Hannah and her friends are at their best.
Hannah and Joshua enjoy a Cinderella's carriage of a romance, splitting their time between having sex, eating steak, and playing naked Ping Pong in a brownstone that's utterly isolated from the problems that beset each character in their "real" lives. And when the spell finally breaks, it's because Hannah decides to be honest. "I made a promise such a long time ago that I was going to take in experiences — all of them — so I could tell other people about them and maybe save them," she complains. "I want all the things."
Hannah's rambling, heartfelt confession brings her fling with Joshua to a screeching halt, but apart from her frantic delivery, her speech isn't particularly groundbreaking; she's essentially saying, albeit far less poetically, that she wants "to live deep and suck out all the marrow of life." But she's also talking about "saving people" with her self-absorbed essays — and telling that to a doctor whose job is actually saving people. There's an insurmountable gulf between them, and the second it becomes apparent, the "weird" thing they have becomes "bad weird."
I don't think it's an accident that Joshua is 42 and Hannah is 24 — these are characters who couldn't be more the reverse of one another. In the end, Hannah and Joshua are just vacationing in each other's lives, as she enjoys his stability and luxury and he enjoys her quirkiness and free-spiritedness — but that enjoyment can only go so far. They met when Hannah literally brought her garbage into his life, and he's not interested in her adding any more junk to his plate.
I don't expect that Joshua will ever show up on Girls again, but much like Hannah, Girls had Joshua for as long as he was needed — and there are signs that their brief, strange fling may have a more permanent impact on her life. When Hannah leaves the brownstone — and, presumably, Joshua's life — for good, she takes her trash out with her. Maybe there's hope for her yet.
Read more Girls recaps:
* Girls recap: 'It's a Shame About Ray'
* Girls recap: Hannah the antihero
* Girls recap: 'I Get Ideas'
* HBO's Girls season 2 premiere: Almost getting it kind of together
Continue reading for free
We hope you're enjoying The Week's refreshingly open-minded journalism.
Subscribed to The Week? Register your account with the same email as your subscription.
Sign up to our 10 Things You Need to Know Today newsletter
A free daily digest of the biggest news stories of the day - and the best features from our website
Scott Meslow is the entertainment editor for TheWeek.com. He has written about film and television at publications including The Atlantic, POLITICO Magazine, and Vulture.