The Big Bang Theory is trying to fix the gender pay gap in all the wrong ways
Its male stars are taking a pay cut to help their female colleagues. This does not deserve our applause.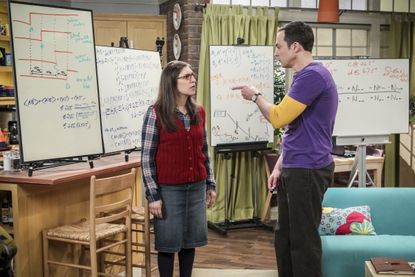 (Image credit: Sonja Flemming/CBS)
Sign up to our 10 Things You Need to Know Today newsletter
A free daily digest of the biggest news stories of the day - and the best features from our website
Thank you for signing up to TheWeek. You will receive a verification email shortly.
There was a problem. Please refresh the page and try again.
Last month, as expected, CBS announced that it will be renewing its top sitcom, The Big Bang Theory, for two more seasons. Yet though the 11th and 12th run of the the most watched comedy on television are now confirmed, there are some significant elements still up in the air. That's because two of the women on the show — Mayim Bialik and Melissa Rauch — are negotiating a raise, and their highly paid castmates have reportedly agreed to take a pay cut to make that happen.
Variety has called this an "extraordinary gesture" on the part of the five original cast members: Jim Parsons, Johnny Galecki, Kaley Cuoco, Kunal Nayyar, and Simon Helberg. At Mic it was described as "a show of unity and parity," while others have especially focused on the actions of the four leading men, wondering if their choices might be a hopeful sign of changing times — men in power willing to put their weight behind pay equity.
And perhaps it is. Though, on "Equal Pay Day" — the date when "women's earnings 'catch up' to men's earnings from the previous year" — this is worth a deeper look, especially within the context of the gendered history of The Big Bang Theory itself. After all, it has long been, as Bitch Magazine observes, a show primarily about "white, male, socially awkward yet intellectually brilliant" geeks. And for a large part of the past decade, the show, which has grossed over $1 billion in syndication, has centered on a narrative which is frequently criticized for its sexism and misogyny. And despite being one of the only shows on TV with both an openly gay lead actor and a man of color in a major role, it's often been described as homophobic and racist, too. This has all happened while the five leads have watched their stars rise in the industry, especially white stars Cuoco and Parsons (who play Penny and Sheldon, respectively).
Subscribe to The Week
Escape your echo chamber. Get the facts behind the news, plus analysis from multiple perspectives.
SUBSCRIBE & SAVE
Sign up for The Week's Free Newsletters
From our morning news briefing to a weekly Good News Newsletter, get the best of The Week delivered directly to your inbox.
From our morning news briefing to a weekly Good News Newsletter, get the best of The Week delivered directly to your inbox.
Recently Bialik, who plays Amy on the show, posted a popular video on the importance of language — pointing out the demeaning way in which we refer to women as "girls," but don't tend to call men "boys." Unfortunately, language is also largely how The Big Bang Theory writers have subtly and overtly dismissed people who aren't ideal white men for the past 10 years. There has indeed been some progress in comparison to earlier seasons — which included things like blaming women for sexual harassment, and comparing sex with an Indian man to sleeping with a horse — but the comedy remains distinctly retrograde on Chuck Lorre and Bill Prady's hit. In the most recent run of episodes, for example, there are jokes that perpetuate transphobia ("Who knows what he has down there?"), multiple lines poking fun at "sensitive" men, and quips about how practiced Nayyar's Raj is at holding his breath (because it smells so bad in India). And Sheldon still frequently makes jokes at the expense of women, which are excused or ignored because of his social awkwardness.
Of course, every one of these "jokes" is accompanied by a laugh track, and Sheldon's lines are far from the worst examples of sexism on television these days (for that, you might look to the nightly news). Plus some might argue that gender stereotypes are actually what's being ridiculed in these instances, since the bumbling men are occasionally rebuked by the women on the show. As most of the men have entered into long-term relationships, the writers have also been more willing to address gender inequity head-on. And the increasing inclusion of scientists who aren't men, like Amy and Bernadette (Rauch), has even led some to wonder if The Big Bang Theory might be helping to encourage more women into STEM careers.
It's no doubt a noteworthy thing to give up money to create a more equitable workplace. It's something all people in power, especially straight men, can do to make a difference in a country where women are still paid less than men for the same work. All of the five main players, including Cuoco, were set to make $1 million an episode this year, but according to Variety, they have offered to move $100,000 from each of their checks into the accounts of Bialik and Rauch (which, though not a guarantee of parity, would bring their pay up to about $450,000 an episode). It will certainly improve the lives of these two women and may very well inspire others in the industry to follow suit.
That being said, it also just seems like the decent thing to do when you are swimming in disproportionate opportunity, wealth, and power. Because regardless of recent improvements, The Big Bang Theory remains a show primarily about straight men and the women they desire. A $100,000 pay cut is substantial, but it loses some luster when you consider that these men make millions each year by ostensibly demeaning others. Plus, the overwhelming whiteness of the sitcom remains unchallenged, and equity requires more than equal pay for some women. After all, most women of color in America will have to wait long after April 4 to reach their "Equal Pay Day" — and that pay gap is getting worse.
As the women behind #GiveYourMoneyToWomen have explained quite eloquently, true fairness requires liberation from systems of oppression. So it's worth asking: Taken as a whole, is this show truly improving the prospects of women of color in Hollywood? Will these pay raises for white women, on a show that celebrates dominant white masculinity, actually help more queer Latinx folks get hired at CBS? Can distributing money more evenly amongst the existing cast fix the problems that The Big Bang Theory itself helps perpetuate in the world?
When President Trump made his speech to Congress a month ago, showing a brief semblance of care towards another human being, he was showered with praise — even in those circles that had previously wondered if he was a white supremacist. The speech was labeled by some as his most "presidential" moment to date. Meanwhile, former President George W. Bush recently made a couple of highly lauded appearances on TV, getting credit for chastising Trump's behavior — a decade after he directed the killing of hundreds of thousands in Iraq, left people to die in New Orleans, and eroded the civil liberties of millions across the country.
Saying something nice about someone who was hurt following your lead, or calling out others for spewing what is clearly hate speech, is the bare minimum wealthy white men can do in a world that privileges them at every turn — especially if said white men have been in the highest seats of power in the country. They owe much more.
Of course the stars of The Big Bang Theory are not politicians, and they have been willing to give up something, but they are still the highest paid people in an industry that explicitly prefers them to women of color. So it is reasonable to not be satisfied, and to ask why they aren't lobbying for more. Why can't Helberg demand less sexism and homophobia in Howard's lines? Why doesn't Galecki use his clout to make sure women get the majority of screen time in the next two seasons? Furthermore, why doesn't Cuoco pressure the studio to drop the othering depiction of Raj? Or, why don't all these friends join together to make sure CBS hires some black women to write, direct, and star in a few episodes next year?
We might also wonder why this specific pay adjustment didn't happen sooner, or why Bialik and Rauch have apparently only become indispensable now, despite being a part of the cast for seven years. As The Independent explains:
In other words, the women matter more to the men on the show now, and thus they probably matter more to the network. Never mind the fact that Bialik has already been nominated for four Emmys for her performance. But this is part of that inherent issue with The Big Bang Theory: It was built to celebrate geeky alpha men and to diminish femininity. This framing is part of its structure and has always been crucial to its success. It has always been an extremely white comedy where all the major characters are straight. And as a syndicated half-hour sitcom on American network TV, it is designed to stay the same. To repeat infinitely into syndication.
The women on this show deserve to be paid equally, but this kind of parity alone can't fix those structural issues. And while The Big Bang Theory is just one small example of how this functions in society, if the goal is dismantling the systems which hold women back — those systems which have dictated for centuries that women's lives are less valuable than men's — it seems important that we not overstate the actions of men in power. Instead, men might go further and question why the work women do becomes more valuable only when it is in support of them — and especially when it is in support of work which helps maintain white capitalist patriarchy.
We seem to be in the season of low expectations though, perhaps because we've become accustomed to the disaster in the White House. It seems easier now to fawn over a single line said by a white pundit who rose to power celebrating the hatred of others, or to spotlight Casey Affleck for vaguely "answering" a question about accusations of sexual harassment (only after he claimed an Oscar for his silence). Yet, it's crucial to remember that white people like Trump and Affleck have huge platforms which they could use to advocate for others all the time. Which they could use to not only lobby for equal pay and safer workplaces, but for systemic change in the institutions which they sit atop of. Especially as men. They don't need any reason or excuse to take action — they are well aware of their power in the world everyday.
Yet that is the kind of work that men so rarely do. And that inaction creates an environment in which it's easy to be impressed. But these people are capable of much more, and we need only look to the actions of others for evidence. Plenty of successful women of color have used their opportunities to advocate for others, including Laverne Cox and Serena Williams, and have done so without degrading people. The expectations for how men should behave then can't be based on the disappointing history of how straight white cisgender men in power have behaved, because as Irin Carmon wrote late last year, "too many men don't prove those expectations wrong, and are rewarded anyway with prizes like the presidency."
Meanwhile, as if on cue, CBS recently confirmed a Big Bang Theory spin-off show, which will be a prequel created once again by Chuck Lorre. It's called Young Sheldon, will be directed by men, and — you guessed it — its entire leading cast is white.