Baseball is back! And so are the swaggering big-market teams.
Your guide to the 2017 MLB season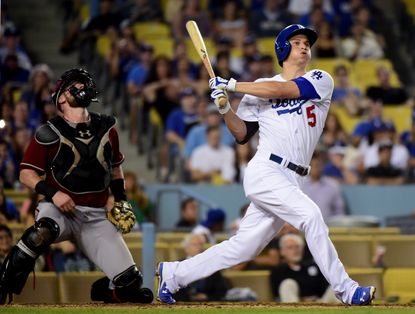 (Image credit: Harry How/Getty Images)
Baseball could not have returned at a more propitious moment for the American psyche.
The rhythm of baseball is almost like therapy in an age of twitchy digital addicts and 24-7 mutual surveillance across social media. There's something restorative in the sounds of the ball pounding into a leather glove being heard clearly within a cavern of 45,000 spectators. It's like the bell of a monastery. Here is a kind of refuge from what America looks like on our screens. Here are older rivalries that enliven, not enervate, our spirits. Instead of hoarding our attention in order to divide it, baseball proffers us a way to focus again, which in our age feels like relaxation.
The 2016 World Series and transition to 2017 may, however, be the beginning of a new era in Major League Baseball, and the end of another. This season is about the return of the swaggering big-market teams. Not because they hoarded free agents — but because they had the resources and will to retain their most treasured prospects.
Subscribe to The Week
Escape your echo chamber. Get the facts behind the news, plus analysis from multiple perspectives.
SUBSCRIBE & SAVE
Sign up for The Week's Free Newsletters
From our morning news briefing to a weekly Good News Newsletter, get the best of The Week delivered directly to your inbox.
From our morning news briefing to a weekly Good News Newsletter, get the best of The Week delivered directly to your inbox.
For a long time we've been living through the era of small-market pluckiness and the romance of finding market inefficiencies through data. It's been 15 years since the season chronicled by Michael Lewis in Moneyball, which began changing popular perception of baseball. Lewis' page-turner praised the acumen of Oakland Athletics' general manager Billy Beane, who exploited market efficiencies to make his team better, and helped to explain how a small-market team like the A's could keep up with the billion-dollar death star in the Bronx. Similar books have popped up doing the same for other teams. There was Jonah Keri's book, The Extra 2%: How Wall Street Strategies took a Major League Baseball Team from Worst to First, about the Tampa Bay Rays, the small-market team that figured out how to run against the Yankees and Red Sox powerhouses in the latter part of the last decade. And more recently there was Travis Sawchik's Big Data Baseball, about the Pirates' advanced metrics, and The Cardinals Way, by Howard Megdal, about St. Louis marrying its tradition of incredible player development to modern geekery.
This was still an era in which the Red Sox won two World Series, and the Yankees won another. And it seemed to come to an ironical end when a relatively backward small-market team, the Kansas City Royals, found that their pre-Moneyball brand of baseball — putting the ball in play and stealing bases — put teams conditioned to attrition-style baseball on their heels. In an odd twist, the universal search for market advantages bequeathed an advantage to the one team that barely knew to look for one.
But as the 2017 season kicks off, the Chicago Cubs are the reigning World Series champions, and big-market teams look primed to dominate four or perhaps five out of six divisions in baseball this year. Let's run through them.
National League West: The Los Angeles Dodgers are the biggest spenders, and willing to let money die to acquire resources. But like many other competitive teams, they tried hard to retain their most valuable young prospects. For the Dodgers that has resulted in having the services of star shortstop Corey Seager. The Arizona Diamondbacks have a new impressive brain trust, but they still aren't built to contend. Expect the Dodgers to feast on the lowly San Diego Padres.
National League Central: The champs look just as good this year as last. In fact, with Kyle Schwarber healthy again, they may be even more frightening. Their pitching rotation is a nightmare for other teams to navigate, starting with Jon Lester and Jake Arrieta, but backed up by the emergent Kyle Hendricks. It's a beautifully constructed team from team president Theo Epstein, combining gamer veterans like Ben Zobrist with young phenoms like Addison Russell.
National League East: The Washington Nationals are most people's favorite. And their success revolves around letting their kid-assets develop into franchise players: Stephen Strasburg, Bryce Harper, and now Trea Turner. But if they fail to live up to the billing, another big-market team waits in the wings. The New York Mets have made playoff runs for two years running. And it's this year when it looks like their homegrown pitching staff will have the right combination of health, youth, development, and experience to take them back to the World Series. Noah Syndergaard added a crazy 95 mph slider last year. This year he added a change-up. Watch out.
American League West: There is a darling of the geek-set in this division: the Houston Astros. They were hailed as the 2017 World Series champions by Sports Illustrated back in 2014 because of their unusual willingness to bottom out. But the Astros were anticipating the strategy that big-market teams are using without hitting rock bottom: Stockpiling and locking up prospects. Still, this author isn't convinced the Astros will leap over the slightly bigger market Texas Rangers, who may be better on both sides of the ball this year than last.
American League Central: Finally, here is your smaller-market favorite, and 2016 runners-up, the Cleveland Indians. Having acquired Edwin Encarnacion to put in the space previously occupied by Mike Napoli, they've become an even more explosive offense. And they are much healthier than they were in last October's run, having regained Carlos Carrasco and Danny Salazar. Oh, and they have the most frightening relief pitcher since Mariano Rivera in Andrew Miller, who has revived the old-school concept of the reliever as fireman.
American League East: Even with the loss of David Ortiz, the Boston Red Sox are the overwhelming favorite because they kept their young talent locked up. Their homegrown players like Mookie Betts, Xander Bogaerts, and Jackie Bradley Jr. all took a leap last year. They have a deep bench, speed, and some power. I expect a career renaissance from the humbled and slimmed-down Pablo Sandoval. And don't look now, but the old big-market behemoth from the Bronx has a great deal of young talent too, and is a fun pick to be a wild card team from this division. Sorry, Baltimore and Toronto.
As I said, in some ways, baseball offers an escape or a reprieve from the Trump era of American society and politics. But in the way that the haves are rapidly becoming have-mores, the 2017 MLB season might also reflect the era of our billionaire's government.
But I'll take it anyway. Swaggering big-market teams are fun to root for and against. Let's play ball.

Continue reading for free
We hope you're enjoying The Week's refreshingly open-minded journalism.
Subscribed to The Week? Register your account with the same email as your subscription.