Learning to let go of pregnancy and embrace motherhood
We wanted a baby, but I couldn't get pregnant. So my girlfriend started trying.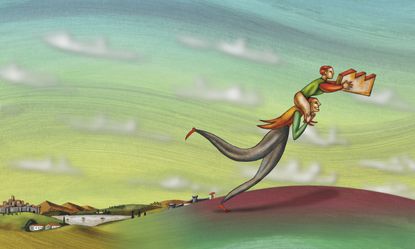 (Image credit: Illustration Works / Alamy Stock Photo)
Sign up to our 10 Things You Need to Know Today newsletter
A free daily digest of the biggest news stories of the day - and the best features from our website
Thank you for signing up to TheWeek. You will receive a verification email shortly.
There was a problem. Please refresh the page and try again.
When my partner Abbie and I decided to start a family, we were confronted with a question straight couples never have to answer: Which of us would get pregnant? We both wanted to have a biological child of our own. But how would we go about that? Who should try first? This dilemma ballooned, and after 9 months of my trying to conceive, Abbie announced that she was going to start inseminating too.
I had wanted to have a baby since I was a girl. I was 3 years old when my sister was brought home from the hospital. My mother made sure I had a little baby doll of my own to care for and love, as she cared for and tended to my baby sister. And so the seed was planted. That desire became a certainty as I passed through my teen years into young adulthood. Although in 1979, it was impossible to predict — and seemed almost impossible to imagine — that lesbians would one day raise children in families of their own creation, I knew nothing could stop me from having children. I told my friends when I was ready I would ask a male friend to help me get pregnant and that this person could be involved if they wanted.
As it turned out, my decision to start a family was postponed by life choices and relationship difficulties, but at 38, I knew it was now or never. Abbie, whom I had been in a committed relationship with for 6 years, agreed it was time to start trying. Because I was older, we agreed I'd try first. I had many times imagined my belly, hard and round. I tried to feel the stirring inside of me, the emergence of a tiny creature made of my cells, my heredity, myself.
Subscribe to The Week
Escape your echo chamber. Get the facts behind the news, plus analysis from multiple perspectives.
SUBSCRIBE & SAVE
Sign up for The Week's Free Newsletters
From our morning news briefing to a weekly Good News Newsletter, get the best of The Week delivered directly to your inbox.
From our morning news briefing to a weekly Good News Newsletter, get the best of The Week delivered directly to your inbox.
We had a live donor who lived in Boston. Each month when I was ovulating, we would climb into the car and head north for the insemination. Our system was not scientific and a bit haphazard, but a dose of ejaculate would be inserted with an insemination syringe and, with my legs in the air, I would wait for a miraculous event to take place in my body.
After four attempts, we were forced to accept that this was not sustainable. The drive was too long and the process too cumbersome. We thought I would get pregnant immediately, but when that didn't happen, we decided to try a sperm bank. Abbie and I pored through profiles and background information, including descriptions of physical characteristics, and narrowed our choices. The personnel at the sperm bank then assessed which donor looked most like us. Once done, we bought an enormously expensive amount of sperm, which also needed to be stored by the sperm bank. Still, we were excited. The donor we selected said his favorite song was "Brown Eyed Girl" by Van Morrison. This melted our hearts and set our imaginations free. Our child was conceived in our hearts.
The mind is an incredibly powerful thing; it can create the illusion, amplify the possibility, and encourage the daring to hope. Every twinge, cramp, and rumble was fodder for the belief that my egg was being fertilized, implanting in my uterine wall, and that cells were dividing into my baby-to-be. Every month, as I committed myself to a certainty that I was pregnant, I would start to bleed.
My own disappointment was hard enough to bear, but Abbie's was overwhelming. She was so eager for us to get our family started that she found the lack of positive results near unbearable. Each month she became angry and full of sorrow about my not being pregnant. After nine months of trying, Abbie's response to my not conceiving began to eclipse my own. I felt inadequate and alone. She sat me down to reassess our plan. "I think I have to start inseminating too," she said. "If we keep trying with just one of us, we might miss our chance for either of us to get pregnant."
I was crushed.
"You think I won't get pregnant?" I asked. "How would that even work? It sounds crazy to me. What if we both get pregnant?"
Abbie saw no problem: "Then we'll both be pregnant."
"And how would that work exactly? Who would be taking care of whom?" I asked.
"We would just have to figure it out," she said.
I understood that she was not asking, she was telling and affirming an outcome for me that I had not yet accepted. At that point, deflated and feeling unspeakably betrayed, I felt that I had to stop trying if she insisted on going forward with her plan.
I accompanied Abbie to her appointments and supported her as I struggled to accept that I would not be conceiving a child myself. With no more attempts for me scheduled, the focus shifted to Abbie's menstrual cycles and inseminations. When she would start to menstruate, I comforted her. When, after her fourth insemination, her period was late, we did a pregnancy test at home. As we waited for the result, I wondered how I would feel if it was positive. Would I be disappointed that it wasn't me? Would I be resentful?
The blue line called it: Abbie was pregnant.
I thought I would feel sad, angry, jealous. But to be honest, what I felt was mostly a sense of relief, followed pretty quickly by overwhelming excitement. I was having a baby. I surrendered to what was, not with resignation, but with joy. My ordeal, our ordeal was over. As we stared at that pee stick, I felt in the center of my being that I was having a baby and I did not care where it came from.
I never wavered in my joy about my son's arrival. Every day of his young life, I felt blessed to be his mother and grateful to Abbie for bringing him into my life. Five years later, we had another child, also a little boy. In the end, I did not give birth to either of my children, and ultimately my relationship with Abbie ended; even so, my children are no less mine.
Continue reading for free
We hope you're enjoying The Week's refreshingly open-minded journalism.
Subscribed to The Week? Register your account with the same email as your subscription.
Sign up to our 10 Things You Need to Know Today newsletter
A free daily digest of the biggest news stories of the day - and the best features from our website
Lisa Arnone is a Smith-educated Clinical Social Worker with over 30 years' experience as a psychotherapist working with adults, children, and couples, as well as running support groups for women, divorcing or divorced, grieving, or just trying to find their way. She is the mother of two boys and a dog. You can find her driving around the city, honking and yelling, with her eighty-year-old Italian father looking for delicacies to bring home to her boys. She writes every free minute and, like Lena Dunham, has opinions about everything.