Parents, let your sons play with dolls
Whether they're playing with Barbies or blocks has nothing to do with their masculinity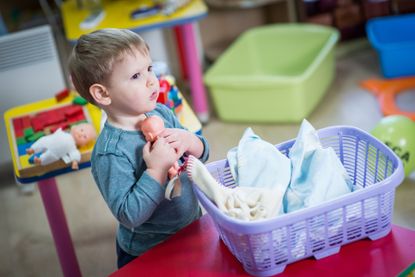 (Image credit: iStock)
"I don't know how not to cry," my little brother sobbed as I rocked him in my arms. He grabbed his throat and whimpered, "It hurts here when I try not to cry." To him, the idea that "boys don't cry" didn't make any sense.
So he cried. He cried like any other kid cries. He cried when he got hurt. He cried when he was upset. And he cried when he was told not to cry. Our father subscribed to the stereotypical sexist gender principles. He believed "real" men weren't emotional. "Real men," he'd say, "real men don't cry."
Real men, apparently, buried their emotions deep inside and drank and smoked them away. And so, when my brother, who was clearly not a "real man," would cry, my dad would command him to stop. My little brother tried to stop, even though it felt wrong. Even though it hurt. He didn't want to be yelled at and told he was "too sensitive" or called a "Mama's boy." So, I held him tight and I comforted him. And I told him he could always cry with me.
Subscribe to The Week
Escape your echo chamber. Get the facts behind the news, plus analysis from multiple perspectives.
SUBSCRIBE & SAVE
Sign up for The Week's Free Newsletters
From our morning news briefing to a weekly Good News Newsletter, get the best of The Week delivered directly to your inbox.
From our morning news briefing to a weekly Good News Newsletter, get the best of The Week delivered directly to your inbox.
In those heartbreaking moments, I became aware of the distinct difference between us. As a girl, I was allowed to be emotional. No one ever called me names for crying. No one ever told me I shouldn't. The different societal expectations placed on boys and girls became very real for me, at the tender age of 9.
Don't misunderstand. My father is wonderful and I love him dearly. But he comes from a time when machoism and sexism were the norm. Women were homemakers and men were the breadwinners. Men partied late into the night with their friends and women stayed home with the kids. Men were stoic and women were hysterical. That was the life. Those were the rules. Everyone played the part. And it stuck.
A few weeks ago, I took my 3-year-old son to Sesame Place. He was engrossed in the characters and the attractions. Before we left, we stopped by the gift shop and I bought him a small plastic Elmo. I had saved the other characters from when my daughter was little, and once we returned home, I pulled out the rest of the gang: Cookie Monster, Abby Cadabby, and Zoe.
He was immediately elated. He grabbed them all and hugged them tight, but he took a special interest in Abby and Zoe. He dropped Elmo and Cookie Monster on the floor. "I love Abby. She's my favorite," he squealed as he squeezed her and kissed her. He brought them into his bed. He even moved some of his favorite sleeping toys to make room for them. He brings them for rides in the car. He buckles them in. He holds one or the other as he runs around outside and when he rides his tricycle. Not for a single second did I reconsider letting him play with dolls.
At least, not until an unexpected comment transported me back to those years I spent comforting my brother.
"Hey! Why do you have a doll? Boys don't play with dolls," my father hollered toward my son. "Why is he playing with dolls?" he asked me as if questioning my parenting and my sanity. How dare I? Do I not realize such an act is a complete violation of the obvious order of the universe? Am I completely oblivious to the fact that "real" men don't play with dolls?
My father is more than obsessed with his grandson. They are best friends. Their love for each other is truly real and phenomenal. I wholeheartedly realize he means absolutely no harm. My father would sacrifice the world for my son. But my father is still a Russian immigrant and he doesn't understand. He dismisses my feminism with a wave of his hand. He doesn't understand my girls' nights out, the fact that I don't excessively cook or clean, or that I don't entertain my husband's friends. "If I were your husband, I would have left you already," he once said to me after I mentioned I was going out with my girlfriends and that my husband "will just have to fend for himself for dinner." My father doesn't get it, and he never will.
But it wasn't just him.
"Oh, I guess he took his sister's dolls, huh?" the daycare director asked me when I picked up my son the other day. An innocuous comment. A mere observation. Clearly, this is not your son's toy. Obviously, he borrowed it from a girl. Boys don't play with dolls, after all.
I understand these knee-jerk reactions. I know they're not meant to harm me, or my son. But they can be so hurtful, so shaming. They are the leftover manifestation of centuries of sexist words, phrases, and principles. These misogynistic ideals rear their ugly heads when a boy wants to play with a Barbie, or take ballet, or wear makeup, or wear a bracelet. These archetypes — the traditional role of strong boy and sensitive girl — breed intolerance and belittle our sons. They slap the dolls out of their hands and force them to hold back their tears.
Not in my house.
Here, no one will make my kids feel like they aren't living up to some archaic versions of gender. Not here. In my home, my kids are safe. But I know danger lurks right outside our door.
So, mothers (and fathers), we must fight. We must fight this battle up and downhill. We must plant our feet firmly into the cement and brace ourselves for the insults, for the whispers, for the dismissals. I'll be told I am "too sensitive" and that "boys will be boys." But I will never falter. I will let my son play with whatever toys he wants. I'll let him wear a dress or makeup if that's what he chooses. I'll encourage him to dance with abandon. And I'll tell him it's okay to cry.
I want my son to experience all there is to experience. I want him to be able to show his emotions to his friends, his significant others, his partners. I want him to grow up aware. I want him to grow up without needing to prove his masculinity. I want him to grow up secure in himself and his place in this world. I don't want him to whimper in pain, hurting because he is told to repress his very real feelings and emotions. I want him to be free in a society that for no real reason at all, values, celebrates, and enforces strict and sexist gender roles and ideals. I want him to be a man, a real man. The kind of real man he wants to be.

Continue reading for free
We hope you're enjoying The Week's refreshingly open-minded journalism.
Subscribed to The Week? Register your account with the same email as your subscription.