How marriage can transform your finances — for better or worse
What getting married means for your long-term finances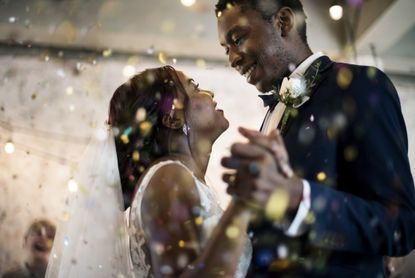 (Image credit: iStock)
Couples are counseled to have frank discussions about spending habits and other financial values before they say "I do." This is solid advice. Few things will create more marital strife than one person spending freely while another wants to save. But it's not just about relationship harmony. The financial stakes are high. Marriage comes with serious legal obligations.
People often get married before they've accumulated any significant assets, when they're earning entry-level salaries. And young couples in love understandably don't want to think about the possibility of divorce. But your financial future is tied to your spouse's from the moment the officiant announces you've wed. Take a clear-eyed look at what will happen to your income and assets over the course of a marriage — especially if that marriage ends. You should consult a family lawyer well before the wedding to understand your particular situation. But below are a few basics to think about:
1. Separate accounts don't mean separate property.
Subscribe to The Week
Escape your echo chamber. Get the facts behind the news, plus analysis from multiple perspectives.
SUBSCRIBE & SAVE
Sign up for The Week's Free Newsletters
From our morning news briefing to a weekly Good News Newsletter, get the best of The Week delivered directly to your inbox.
From our morning news briefing to a weekly Good News Newsletter, get the best of The Week delivered directly to your inbox.
Couples may plan to keep some or all of their income in separate bank accounts, sharing in joint expenses while having individual financial privacy and freedom. That's fine if it works for the couple, but just because your spouse's name isn't on the account doesn't mean the money inside it is yours only. Under the default laws in most places, in the event you divorce, your spouse can probably lay claim to half of any property you've accrued with income earned during the marriage. This also applies to retirement accounts and investments.
2. You share in the debt, too.
Debts that each partner accrued before the marriage are usually considered separate property. In the event you divorce, you're probably not on the hook for your partner's balance from that high-interest credit card they got in college, long before they met you. But under the law, you are likely to be obligated to share in any debt your spouse incurred during the marriage, even if the debt is on your spouse's individual credit card. Even if you didn't approve of your spouse's purchases, the law says you shared in them.
3. Your spouse may have a claim on your future bounty, even after divorce.
Maybe you're a graduate student in the sciences, dreaming up and tinkering in the lab with ideas that could be worth millions of dollars someday. An aspiring writer slaves away on their magnum opus after finishing their day job, knowing that messy manuscript could be a bestseller. A young entrepreneur lives like a pauper, pouring sweat equity into their startup, trusting it's going to soar in the future. If the scientist and the writer and the entrepreneur are married at the time that they're doing their early work, their spouse will be able to lay claim to part of the future earnings of that work. As part of the divorce settlement, a spouse could walk away with a large stake of a company or the right to future royalties on a work of art.
4. Alimony, alimony, alimony.
It's important to understand alimony, especially if you are likely to substantially out-earn your spouse over the course of your careers. You might be happy to share your good fortune with your spouse during the marriage. But it can really sting to send part of your paycheck to your ex each month, years after your divorce. That's what alimony does. Alimony can protect a spouse who stayed home and reduced their earning potential to take care of the kids. But that's not the only situation where alimony applies. If your spouse relies on your income for their lifestyle during the marriage, there's a good chance they'll still be entitled to part of your income for months or years after the divorce.
5. The doctrine of necessaries.
If your spouse falls seriously ill and incurs steep medical bills, under some laws, the hospital can come after you for those bills. This obligation doesn't disappear if you decide to leave your spouse, if the bills were incurred during your marriage.
6. Don't assume something is separate property.
You may have heard that student loans are usually treated as separate property, even if one partner took out those loans during the marriage. That's true. But if part of those loans were used to pay for household expenses, and in certain other situations, you may still be on the hook for part of your partner's student loans in the event you divorce. It's also typically true that property you owned before the marriage stays as your separate property. A house you bought before the marriage in your own name is your house. But what if you use income earned during the marriage to fix up the house, or to pay the mortgage? Now at least part of that house's value is marital property.
You may know that inheritances are typically treated as separate property. That's true in most situations. But if you use your inheritance for the benefit of yourself and your partner during the marriage, your spouse could argue they had an expectation to share in that property. And if you live in a community property state (Arizona, California, Idaho, Louisiana, Nevada, New Mexico, Texas, Washington, or Wisconsin) it's especially important to understand how marriage will affect your separate assets.
7. Prenuptial agreements.
Prenuptial or premarital agreements most often aren't used in the crazy ways you hear about in pop culture. Courts usually won't honor outlandish premarital contracts. What these agreements do is, to the extent allowed by law, let you and your partner alter the default way the laws of the state will treat your income and assets in the event that you divorce. You and your partner may feel strongly that if you separate, you each want to stand on your own two feet, so decide to waive alimony. It may be important to one of you to protect a family business. Maybe you want to be sure that your spouse will be taken care of and want to commit yourself to sharing your property and income with them, even if you're in a bitter divorce in the future. When considering whether you need a premarital agreement, think ahead about where you may be in five years, or 10, or 20.
Yes, marriage comes with heavy obligations. The weight of this commitment is part of why marriage is special and romantic. But do understand that you're putting your money where your mouth is when you say "I do." Having a conversation with your significant other about these issues can be awkward. But if you can talk about them frankly, it's a good sign of the strength of your union.

Continue reading for free
We hope you're enjoying The Week's refreshingly open-minded journalism.
Subscribed to The Week? Register your account with the same email as your subscription.