Let moms drink!
Just because I have kids doesn't mean I can't enjoy a glass (or two) of wine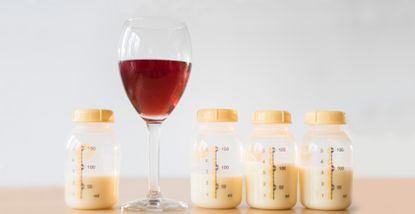 (Image credit: Blend Images / Alamy Stock Photo)
I had been looking forward to ordering a beer at the brewery near my parents' new house for almost six months. The last time we had visited them, I was approximately eight months pregnant, and all I could do was watch, salivating, as my husband and parents all sampled the local brews. I took the occasional sip of the lighter beers, but I longed to drain one of the tall glasses.
I love beer. I always have. I was one of those pregnant women who drank non-alcoholic beer while eating hot wings, savoring each and every sip.
My baby was just over five months old when we made plans to visit them again, this time during their town's annual Celtic Classic Festival, an event that brings kilt-wearing, log-tossing, bratwurst-eating lager enthusiasts from all over. I was going to eat the meats, ogle the log-tossers and kilt-wearers, all while sampling some local brews. I could not wait.
Subscribe to The Week
Escape your echo chamber. Get the facts behind the news, plus analysis from multiple perspectives.
SUBSCRIBE & SAVE
Sign up for The Week's Free Newsletters
From our morning news briefing to a weekly Good News Newsletter, get the best of The Week delivered directly to your inbox.
From our morning news briefing to a weekly Good News Newsletter, get the best of The Week delivered directly to your inbox.
The day of the festival was unbelievably hot and crowded, and the idea of an ice cold beer sounded better and better with every passing minute. With a discreet open container in one hand and my toddler's sweaty fist in the other, we meandered over to watch the river dancers. I sipped my beer happily for about one block before I started to notice the funny looks I was getting.
"That mom is drinking!" passersby whispered.
Most of the people we were sharing the sidewalk with were either significantly older, or significantly younger, and without kids. Those who did have kids with them, for the most part, did not also have a mug of boozy goodness. I saw exactly one other mother, whose children were considerably older than mine, carrying an alcoholic beverage. I mentally cheers-ed her when we made furtive eye contact.
These days, moms are shamed for all manner of decisions. From the absolutely mundane choice in baby wipes (GASP! You mean you don't use all organic, fragrance-free, made from 100 percent recycled materials butt-wipes?!), to what age they begin to feed their kids solids.
But there's one thing everyone seems to be on the same page about: Moms shouldn't drink.
Look, I get it: Being fall-down drunk is not a good look — on anybody. It's even more troubling when that person is in charge of tiny humans. But assuming you can drink responsibly, why should being a mom stop you from enjoying a large full-bodied red with your steak? Why not reward yourself at the end of the day with a lovingly made martini? Turning your uterus into a clown car doesn't suddenly take away your love of lager, and you should be able to indulge that love from time to time without anyone calling into question all the other amazing things you do as a mother.
In every online forum I have ever been a part of, whenever a mom asks about having a small glass of wine while pregnant, or drinking a beer while breastfeeding, there has been a rallying cry of "DON'T BE SELFISH!"
"It's only nine months, just wait!"
"They only breastfeed for a short while, don't taint something good with something evil!"
"If you can't not have one glass of wine then you have a problem."
I'm not arguing for or against drinking while pregnant or while breastfeeding. But I am troubled by the vicious shaming women sometimes encounter when considering how to responsibly enjoy alcohol as a mom. It's as if even asking, or thinking about asking, makes you a bad person.
I don't know about you, but I am tired of being made to feel guilty about the choices I make for my own pleasure just because I wear the title of Mom. And by shaming mothers for enjoying alcohol — even responsibly — we're essentially telling them they can neither be who they were before they had kids, nor whoever they choose to be now. They can only be one thing: a mom. That's not fair.
So from now on, I say: Let moms drink!
Yes, unfortunately, there are some parents out there who can't control their drinking, and that is horrible and dangerous. But this is the exception, not the rule. Most parents can stop after a recreational drink or two. They know their limits (and they can't stand the idea of trying to parent while hungover). For these parents, partaking in something they enjoy makes them happier, and as long as it's not interfering with their responsibilities to their kids, we shouldn't shame them for that.
And if you are a mother who wants to abstain, for whatever reason, that's a perfectly valid decision, too. Moms are allowed to be as many different things as they please.
But if I see you shaming another mother for her choices, I will be there. I will be wearing my "They whine and I wine" T-shirt, while toasting you with my "mom's sippy cup" wine glass.
Because like you, I am both a mother and a person, and I can like whatever I want, no matter how many people have called my uterus home.

Continue reading for free
We hope you're enjoying The Week's refreshingly open-minded journalism.
Subscribed to The Week? Register your account with the same email as your subscription.