The TSA is a pathetic failure
Time to abolish it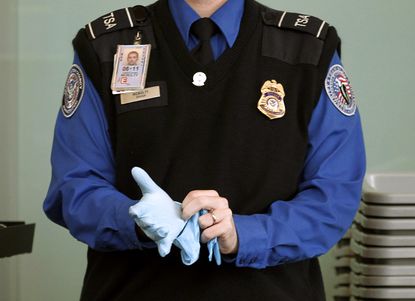 (Image credit: REUTERS/Jason Reed )
Other than wanting to grab a backpack and stuff it with ice, a glass, and two $18 bottles of Crémant d'Alsace and book an economy flight to somewhere warm, it's hard to know how to react to the not exactly astonishing news that the TSA continues to be really bad at its job.
How bad? According to ABC News, in a series of recent tests in which undercover agents attempted to smuggle guns, knives, bombs, and goodness knows what other contraband materials into the "secure" areas of various airports, the agency failed around 80 percent of the time. Probably bureaucratic flunkies will interpret this as a welcome sign of improvement, as it no doubt is better than the 95 percent rate reported a few years ago. The rest of us are just smiling blandly with our shoes off and our belts draped over our shoulders while our 2-year-olds run away with our half-open laptop cases in the direction of the body-scan machines. Please don't shoot!
It is worth recalling that, like the so-called Department of Homeland Security under which it operates, the TSA is a relic of the immediate post-9/11 era. By "immediate" I mean that this staggeringly incompetent body to which we have surrendered our freedom of movement and our dignity, physical and metaphysical, was willed into existence as a part of the Aviation and Transportation Security Act passed by Congress on Nov. 19, 2001, and signed into law by President Bush that same day.
Subscribe to The Week
Escape your echo chamber. Get the facts behind the news, plus analysis from multiple perspectives.
SUBSCRIBE & SAVE
Sign up for The Week's Free Newsletters
From our morning news briefing to a weekly Good News Newsletter, get the best of The Week delivered directly to your inbox.
From our morning news briefing to a weekly Good News Newsletter, get the best of The Week delivered directly to your inbox.
It is easy to understand why in the aftermath of that tragedy the American people were eager to see something — anything — done. It doesn't mean that years later the first draft that they scribbled on a piece of loose-leaf note paper with a golf pencil is what we should be going on a decade and a half later. There are lots of things we did during the Bush administration that we don't do anymore, most of them for the good. For years a prominent feature of network and cable news broadcasts was any statement made by the Homeland Security Advisory System, with its painfully moronic color code. When is the last time you took note of whether your chances of being blown to pieces by a stranger were "blue" or "orange" or, heaven help us, "red"? Banning water bottles and forcing women to put their cosmetic supplies in sandwich bags makes about as much sense in 2017 as listening to the deep cuts on American Idiot or pretending that Jon Stewart is funny.
In order to make sense of why the TSA still exists, it is necessary to dispense with the fiction that it has anything to do with security, whatever that word means, and everything to do with an arbitrary display of authority. This is why the Global Entry system exists, after all. We must remind upper-middle-class white people that they really are the monarchs of all they survey, that as "experienced travelers" they are entitled to the luxury of not participating in the fiction that watches and belts are really laser guns. Every time you make the touchdown signal inside the tube or submit to some Paul Blart: Mall Cop character's advances, you are not a stolid patriot making your country safer; you are a clown taking part in a circus for the enjoyment of someone who paid $100 and went through a background check for the privilege of watching you be humiliated. The Romans had the Coliseum; residents of Elizabethan London had the bear pits. In America in 2017 we have the line at DCA where the harpy shrieks "Laptops out!" three inches from your face at precisely the moment you are inserting the MacBook you removed from your bag eight minutes ago into the conveyor belt.
This is why it is the duty of every red-blooded American when dealing with TSA personnel who show the slightest sign of surliness to be as rude as possible. Be on your guard at all times. Assume that every single one of these people is a monomaniacal pervert who interviewed for this job with the sole intention of one day being able to pretend that the microscopic piece of lint in the button of the left pocket of your chinos is a switchblade or a miniaturized nuclear warhead. Address agents only as "pal" or "bub" or, in especially ripe cases, "my dude." Say things like "But we just met!" when the guy in the blue uniform informs you with sociopathic detachment that he is going to reach for your thigh.
The TSA should be abolished. They're not going to get better at whatever it is they are supposed to be doing. It's not just a question of convenience or decency. Employees sleep on the job, gamble, waste money, "forget" to search for explosives in checked luggage, and routinely engage in sexual harassment of passengers of both sexes and all ages. As recently as 2014, there was even a special codeword — "Hotel Papa" — used by agents at O'Hare to alert their fellows of a chance to view naked images and potentially grope attractive female passengers. As I write this anonymous sources inside the agency are blaming the non-existent "wall" proposed by President Trump for their failures, which is like me saying that I didn't file an article because the administration is renegotiating NAFTA.
Even if every single one of the agency's 57,600 current employees needs to be given a lifelong pension with full salary and benefits, we need to eliminate the TSA, preferably at the speed at which it was created, which would mean that it disappears next year around Epiphany. Put the airports in charge of their own security. Let the free and the brave take their chances with an occasional full-sized tube of Colgate.

Continue reading for free
We hope you're enjoying The Week's refreshingly open-minded journalism.
Subscribed to The Week? Register your account with the same email as your subscription.