The end of MoviePass as we know it
It was always too good to be true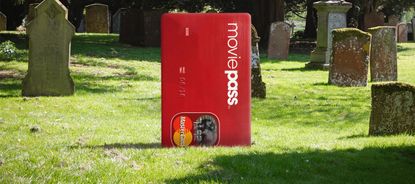 (Image credit: Illustrated | inese online/iStock)
Even in the beginning, MoviePass was too good to be true.
We asked, What's the catch? We joked that it would never last. But, delirious in our good fortune, we signed up — some three million of us by this June. And we went to the movies: Black Panther, Lady Bird, even movies we didn't really want to see, the one where The Rock fights a building or, if you were feeling brave, Gotti. Some of us ended up at the local arthouse cinema or rep theaters, where we could sink into the textures of 35mm film and the pop of the reel changes. But almost all of us can admit giddily, even now, that we saw far more movies than we ever would have — could have — seen without it.
Now it's over. By drastically limiting the number of times you can go to the theater, MoviePass is effectively no more. Those of us who took advantage of it will surely miss it, but I doubt any of us were surprised.
Subscribe to The Week
Escape your echo chamber. Get the facts behind the news, plus analysis from multiple perspectives.
SUBSCRIBE & SAVE
Sign up for The Week's Free Newsletters
From our morning news briefing to a weekly Good News Newsletter, get the best of The Week delivered directly to your inbox.
From our morning news briefing to a weekly Good News Newsletter, get the best of The Week delivered directly to your inbox.
The promise of MoviePass was always borderline ludicrous: For a relatively small monthly fee, which fluctuated over the years, you'd get the "Netflix of movie theaters," allowing you to go to an unlimited number of films with the only restriction being that it was limited to one screening a day. Sure, there were hang-ups along the way — a frequently glitchy app; an annoying 24-hour restriction that would come and go; and, by its twilight, the worst customer service I've maybe ever experienced — but for seven years, that little red MasterCard was the key to a vast kingdom many moviegoers never could have afforded otherwise.
Finally, reality caught up. First, news broke late last month that MoviePass had taken out an emergency $5 million loan in order to keep fulfilling tickets. The company subsequently flirted with hiking prices or adding restrictions on certain blockbusters. By Monday, though, CEO Mitch Lowe had announced an entirely new model: MoviePass subscribers would continue to pay $9.95 a month, but, starting on Aug. 15, they'd be able to see no more than three movies — or 36 movies a year, down from 365.
The announcement amounted to a death knell for a service that since its inception has promised users access to unlimited films. Although MoviePass claims most users only see three or fewer movies a month, the new model is more like a discounted ticket membership than a true subscription. The Wall Street Journal, which broke the news of the company's plans, notes that "some of the 15 percent of current subscribers who see more than three films a month could cancel," or change to other competitive subscription-like services, such as one offered by AMC that allows users to see a total of 12 films a month for less than $20.
MoviePass is now a ghost of the service I'd joined when it was still in beta, just after the new year in 2013. "I was going through tickets this morning and realized since the first of [January], I've spent, like, a million zillion dollars in theaters," I wrote in an email in which I weighed if the then-$35-a-month service was worth it, and decided yes. I lived in rural Vermont at the time, in a town limited to a single dinky multiplex, but I was ravenous for movies, and specifically for the joys of the theater itself: The hushed, anticipatory moment before a movie begins, the soft reactions of the crowd to the twists and turns of the plot, the disorienting thrill of leaving the building after night has fallen, with those final frames still looping through your head.
When I received my MoviePass card in the mail a few weeks later, my trips became far more frequent and esoteric, taking me as far as Albany and New York City in search of arthouse and foreign films for what felt like, at my volume of consumption, practically free.
But it doesn't take a degree in mathematics to realize that also meant MoviePass was hemorrhaging money on "power users" like myself, even five years ago. Nevertheless, the incredible — and perhaps incredibly stupid — happened: In August 2017, MoviePass announced that it was lowering its subscription price to $10 a month, a number that seemed so insane and unsustainable that some people didn't sign up out of pure suspicion. But plenty of others did. Lowe boasted that, for awhile, approximately 80,000 subscribers would join MoviePass every, "like, three days."
The app became a revolution almost overnight, the first major rethinking of moviegoing in years. Most importantly, the service brought the cost of movies back down to an affordable price for Americans for the first time in decades.
The average movie ticket nationwide cost $8.97 in 2017, meaning it would take over an hour of working at the federal minimum wage to have enough money to go to the theater (although you might not have enough left over for popcorn). In major cities like New York, prices can be much higher: To see Mission: Impossible - Fallout downtown tonight would cost me $17.40, and that's not even for a screening in 3D. Going to the movies hasn't always been such a luxury: Sixty years ago, the average movie ticket cost 65 cents, when the federal minimum wage was $1.
I watched more than 250 movies with MoviePass in five years, which, by my calculations, saved me more than $1,300. (If MoviePass had cost $10 that entire time, I'd have saved almost $3,000.). Put another way: I spent an average of $388 a year on movies — less than the average American spends annually on either coffee or alcohol — for a face value of more like $635. That margin represents hundreds of dollars I absolutely in no way could have justified spending if it weren't for the relatively low cost of a monthly subscription. Yet even with the company reporting that 80 percent of its users watched fewer than four movies a month, in most regions that still meant MoviePass was losing money. A lot of money. Fast.
The service had planned to make back its money off of advertisements to its clients, selling data, or perhaps by getting a cut of a studio's earnings. Still, even with Lowe projecting five million users by 2019, the scheme was slowly collapsing; Popdust once branded the entire model "a circus of business school no-nos."
So MoviePass' whimper of an ending is not a surprise; it's just that it has finally come true. For seven years — an impossibly long time — MoviePass subscribers gathered in the dark theaters of America. We found our favorite seats, taste-tested the best popcorn, learned the textures of each screen in the city until we knew them as intimately as we know the swirls of paint on the walls of our homes.
But now the credits have rolled, the projector cooled, and the kernels swept up from the floor. It was a better ride than we ever could have imagined, but at last, as we always knew they would, the lights have come up.

Continue reading for free
We hope you're enjoying The Week's refreshingly open-minded journalism.
Subscribed to The Week? Register your account with the same email as your subscription.