Apple got to $1 trillion the right way
Everyone should cheer Apple's valuation. Even socialists.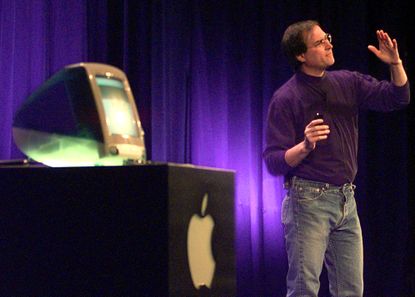 (Image credit: AP Photo/Ben Margot)
Apple is the first U.S. company to reach $1 trillion in market value — arguably the first company ever — and even left-wingers like Alexandria Ocasio-Cortez and Bernie Sanders should think that's pretty awesome. Yes, it's uber-fashionable to decry corporate power, especially that of America's technology giants whose products and services are such a big part of our everyday lives. And at least for now — here comes Amazon! — Apple is the biggest of big tech.
Some anti-tech activists will almost surely use the historic achievement as further evidence that the tech titans need to be shackled with regulation or broken up into more manageable pieces. For them, superbig is automatically superbad. Apple, Amazon, Google, and Facebook are, as critic and NYU marketing professor Scott Galloway has dramatically put it, "our new gods, our new source of love, our consumptive gods," and they must be confronted and controlled by their worshippers — us.
But think for a moment about how Apple got so big. Back in 1996, Businessweek published a cover story about "the sad decline" of what was then called Apple Computer. The whole piece may seem pretty cringey in retrospect given Apple's subsequent revival, everything from the "The fall of an American icon" headline to predictions of irrelevance — "Apple has lost something it's unlikely to win back: the technology leadership that made the Macintosh so different from other computers." But things did look pretty bleak. The only way Apple could possibly recover, the reporter concluded, was to create some "insanely great" products, a reference to the well-known Steve Jobs catchphrase.
Subscribe to The Week
Escape your echo chamber. Get the facts behind the news, plus analysis from multiple perspectives.
SUBSCRIBE & SAVE
Sign up for The Week's Free Newsletters
From our morning news briefing to a weekly Good News Newsletter, get the best of The Week delivered directly to your inbox.
From our morning news briefing to a weekly Good News Newsletter, get the best of The Week delivered directly to your inbox.
Of course that's just what happened. Jobs returned the next year, and the company got back to making innovative and elegant consumer products: from iMac to iPod to iPhone. The story of Apple is really the story of modern capitalism doing what it does best: turning imagination into reality. MIT physicist Cesar Hidalgo, author of Why Information Grows: The Evolution of Order, from Atoms to Economies, calls iPhones and iPads "crystals of imagination ... that we have generated through mental calculations and then disembodied by creating an object that mimics the one we had in our head." Indeed, some of the best stories about the history of Apple are when Jobs was presented with so-so products that didn't quite mimic the ones inside his head.
But not all companies get big that way. The other company with some claim to be the first valued at $1 trillion is China's state-owned oil company PetroChina. And one company that might greatly exceed Apple's worth if it went public is Aramco, the giant Saudi Arabian energy company that produces 10 percent of the world's oil. Its market value might be double that of Apple or even more. Yet when investors speculate about what might be the first $2 trillion American company, it's Amazon, another entrepreneurial tech company that began as a bit of imagination.
Apple is an example of American-style capitalism done right. Worried that companies aren't spending enough on R&D? Apple, like the rest of big tech, does plenty of that. It's on track to spend well over $10 billion this year.
So what's not to like? Some progressives take issue with all the money Apple gives back to its shareholders, nearly $44 billion during the first six months of this year. As HuffPost reporter Emily Peck tweeted: "Did Apple get to $1 trillion through sheer innovation and ingenuity? Um, not quite — How Trump's tax cut enabled the company to buy a record number of shares and pump up its stock price."
Like that's automatically a bad thing. Companies tend to buy back stock when they can't find high-value uses for their cash. There's also some evidence companies that buy back stock tend to outperform their peers that don't. And good luck arguing that Tim Cook, who has basically been running Apple since 2009, has been a poor steward given that the stock is up some 2,000 percent since then. Apple is a trillion-dollar company because its innovation-driven profitability creates real value, not stock manipulation.
Even capitalism skeptics should be thrilled with that.

Continue reading for free
We hope you're enjoying The Week's refreshingly open-minded journalism.
Subscribed to The Week? Register your account with the same email as your subscription.