How America is anthropomorphizing pets and abandoning babies
While the elite get "fur-ternity" leave, poor mothers don't get adequate maternity leave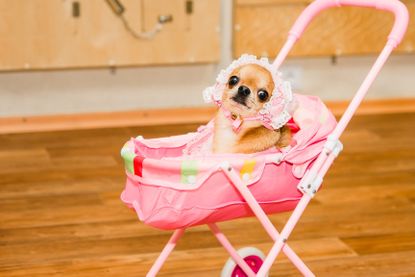 (Image credit: anna avdeeva/iStock)
Sign up to our 10 Things You Need to Know Today newsletter
A free daily digest of the biggest news stories of the day - and the best features from our website
Thank you for signing up to TheWeek. You will receive a verification email shortly.
There was a problem. Please refresh the page and try again.
No doubt in an attempt to alleviate all the serious hardships visited upon upper-middle-class pet owners, a marketing firm in Minnesota recently announced that it will grant employees who have purchased new animals the ability to work from home for a period of one week.
"Fur-ternity leave," as the policy has been internally dubbed, is "kind of a no-brainer," a representative of the company told The New York Times. In the same article, it was reported that a "data company" (imagine that) in New York (ditto) is offering two full weeks of paid time off to anyone who adopts a dog or an "exotic pet," such as an iguana.
I would say that this is nice work if you can get it, if it weren't for the whole not working part. I mean, really. Dogs are a hobby, and I, too, have hobbies. I would love to be able to email my boss and say, hey, I just got a great deal on a Rega 3 Planar turntable I found at a shady electronics store — a "rescue," you might say — and I need to take some paid, non-vacation time to get my baby used to her new home.
Subscribe to The Week
Escape your echo chamber. Get the facts behind the news, plus analysis from multiple perspectives.
SUBSCRIBE & SAVE
Sign up for The Week's Free Newsletters
From our morning news briefing to a weekly Good News Newsletter, get the best of The Week delivered directly to your inbox.
From our morning news briefing to a weekly Good News Newsletter, get the best of The Week delivered directly to your inbox.
I make no secret of my hatred of pets and (most of) their owners. My friends who have them always sigh and say that I should not let the behavior of a few pet owners color my feelings about normal, socially well-adjusted adult behavior, like claiming that you have a disease that forces you to bring your animal to bars, restaurants, airplanes, even churches. What is the hard limit on this sort of thing, I wonder? If "anxiety" is reason enough to carry Rover on a two-hour flight, why not a tarantula or a boa constrictor — or, for the Second Amendment loonies out there, an AR-15?
Dog strollers, dog birthday parties, dog hotels, dog therapy, dog aromatherapy, dog yoga, dog church, the Exquiste Dog Coloring Book: Mindfulness and Stress Relieving Patterns, "The 6 best dog swimming pools to buy in 2018." We no longer have a "dog culture" in the United States — our culture is dogs. Paid pet leave — "[i]t was not," according to our paper of record, "immediately clear whether 'fur-ternity' or 'paw-ternity' was the industry standard term" — is the foreseeable progression of several interrelated and equally deplorable trends. One is the cloying sentimentality of a country in which so much money and attention is lavished upon animals. Another is the ever-widening, now more or less Grand Canyon-sized gap between the working class and our entitled upper-middle-class professionals.
In this country millions of women every year give birth to children whom they are forced to surrender to the daycare industrial complex after two unpaid weeks away from their vital mission of ensuring that customers know how to locate the Coupon Center. Poorly remunerated, crippled with debt, they are forced to plod on because without their collective labor, GDP would drop by a fraction of a fraction of a percent and the consumerist reign of the finance bros and the tech overlords and the hangers-on who "market" all of the former's non-achievements would be stalled. The conclusion is irresistible: Babies are worth less than some people's dogs.
You don't need a conscience to find this state of affairs appalling. It is unacceptable on purely aesthetic grounds. If we're going to have an elite, they should at least use their ill-gotten gains to construct vast rococo palaces full of chinoiserie and paintings of naked shepherds and scheming cardinals. Our Netflix-dog park-tapas boboism is the least appealing decadence in the history of civilization.
By now the knee-jerk libertarian is muttering and stomping his feet because he cannot wait to unburden himself of the totally original argument that "This is, like, something private companies are free to do. Who cares?" This kind of reasoning makes me writhe with wicked glee. You're right. Giving someone two weeks of compensated free time to see to Rover's no-doubt intricate needs is something that American companies are free to do — for now. But it shouldn't be. It shouldn't be for the simple reason that the law is a teacher and among the many things the law should not teach is that the psychological fantasies that enthusiasts project upon their pets are more valuable than the well-being of actual infants.
If taking care of your pet is a duty on the same level as looking after small children, anything might be. A casual glance at America circa 2018 suggests that most of us have already accepted this premise.
Continue reading for free
We hope you're enjoying The Week's refreshingly open-minded journalism.
Subscribed to The Week? Register your account with the same email as your subscription.
Sign up to our 10 Things You Need to Know Today newsletter
A free daily digest of the biggest news stories of the day - and the best features from our website
Matthew Walther is a national correspondent at The Week. His work has also appeared in First Things, The Spectator of London, The Catholic Herald, National Review, and other publications. He is currently writing a biography of the Rev. Montague Summers. He is also a Robert Novak Journalism Fellow.